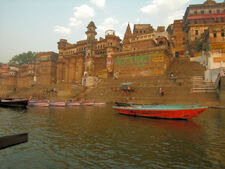 Once you reach Varanasi (also known by various other names like Benaras and Kasi), you will discover that Mark Twain, the famous writer was absolutely right, when he remarked that "Benaras is older than history, older than tradition, older even than legend and looks twice as old as all of them put together!" Yes, Varanasi is one of the oldest Indian cities, and one among the seven holiest cities of the Hindus; the place finds reference in many Hindu texts of great antiquity. The city is located on the bank of the Ganges River, considered the most sacred rivers of India; and the history, culture, and social life of the city virtually revolve round the river Ganges. From dusk to down, this city of around 1.2 million people is abuzz with religious and other activities, and this is more pronounced on the banks of the Ganges, at the Ghats. It is no wonder that the Ghats of Varanasi are considered among the 100-must see places. During its long history encompassing millennia, the city has earned many epithets, and has been variously described as the city of temples, the holy city of India, the religious capital of India, city of learning, and is considered as the cultural capital of India.
Hotels and lodging
Edit
Varanasi gets a large influx of tourists on a regular basis, both domestic and international. You should be able to find a suitable hotel within your budgets and with the amenities required by you. However, it is always advisable to go for a hotel from a reputed group, if affordable to you; or to select one having accreditation from the government's tourist department other reputed agencies. Some of the hotels which may suit domestic and international tourists and costing reasonably or lavishly are:
Hotel Clarks Varanasi - Telephone: 91-542-2501011-20 – Tariffs: USD 85 to 180
'Diamond Hotel' - Telephone: 91-542- 2276696 – Tariffs: INR 600 to 1100
Hotel De Paris - Telephone: 91-542- 2505131 – Tariffs: INR USD 22 to 35
Hotel Hindustan International - Telephone: 91-542- 351484 (7 lines) – Tariffs: INR 1650 to 2500
Hotel Ideal Tops - Telephone: 91-542-2348091-92 – Tariffs: INR 1395 to 2775
Hotel India - Telephone: 91-542-2507593-97 – Tariffs: INR 990 - 3800
Hotel Malti - Telephone: 91-542-2223878 – Tariffs: INR 500 to 1500
Nar-Indra - Telephone: 91-542-2208121 – Tariffs: INR 375 to 850
Hotel Pradeep - Telephone: 91-542-2204594 – Tariffs: INR 700 to 990
Pallavi Int'l Hotel - Telephone: 91-542-2356939 – Tariffs: INR 650 to 2250
Taj Ganges - - Telephone: 91-542-2503001-019 (Email: ganges.varanaso@tajhotels.com)
(As of October 2006, one USD was equal to around Rs. 46.50 Indian Rupee (INR). The exchange rates are liable to change on day-to-day basis. Please also note that the tariffs indicated are also liable to change without any notice)
Attractions
Edit
Varanasi being one of the holiest places of India has many temples and religious places. Apart from them, the Ghats (that is, the embankments with stairs leading down to the river Ganges) are among the UNESCO's World Heritage Sites and the local people as well as visitors from India, and many from abroad are always found at these Ghats. Important Ghats, in alphabetical orders, are:
Asi Ghat
Dasawamedh Ghat
Harishchandra Ghat
Hanuman Ghat
Kedar Ghat
Manikarnika Ghat
Panchaganga Ghat
Rana Ghat
Shivala Ghat
Tulsidas Ghat
All these Ghats have their own mythologies, and some of the above Ghats (like Dasawamedh Ghat) have legends associated with them which find mention in ancient Hindu Scriptures.
Other places
Alamagir Mosque
Benaras Hindu University
Durga Temple
Viswanath Temple
Man Mandir Observatory
Tusli Mana Temple
Things to buy:
Banarasi Silk Sarees
Brocades Fabrics
Silk Scarves
Bedspread Sets
Bottled 'Ganga Jal'
Traditional Art Pieces
Best Shopping Areas:
Recommended Shops
Maps and transportation
Edit
Getting to Varanasi
Edit
Exploring Varanasi
Edit
Practical information and resources
Edit
Currency: Indian Rupee
Electric supply: 220 Volts
Language: Hindi, though you can manage with Simple English
Restaurants
Edit
Text with links to user-reviews on other pages
Edit
Nightlife
Edit
Varanasi is one of the seven holiest cities of the Hindus, and its nightlife reflects this aspect fully. As the evening progresses to the late evenings, the multitude of never ending devotees throng various temples of the city. The chanting of religious hymns and sounds of temple bells reverberate all around. As the night deepens, the streets fall silent to awaken again very early in the morning. During the nights, the Ghats of the Ganges River acquire a different colour, the city lights at night takes on a completely different atmosphere, silence fall all around except the sounds of the waves embracing the banks. Sometimes, there may be groups of persons singing devotional songs throughout the night and using loudspeakers at full volume to carry the sound to the gods dwelling in the heaven! During the daytime, you may venture into many small and narrow streets (called galis), however, it is not advisable to venture to unknown places during the night.
In Varanasi, you may also enjoy cultural shows of Indian Classical dances and musical performances.
Varanasi by Night
Photo gallery
Edit
Everything else
Edit
Got something to say that doesn't fit in the other sections of this page? Add it here!
External resources
Edit
Add links to other sites here
| | |
| --- | --- |
| Phrase in English | Phrase in Hindi |
| Hello | Namaste |
| Yes | Haan |
| No | Nahin |
| Thank you | Shukriya |
| How are you? | Aap kaise hain? |
| Nice to meet you? | Aapse milke khushi hui? |
| What is the price? | Kya daam hai? |
Community content is available under
CC-BY-SA
unless otherwise noted.