Sydney is a world-renowned city, full of cosmopolitan areas, iconic beaches and landmarks that are ingrained of tourist worldwide. Besides being the largest city population wise in Australia, Sydney is also the most visited. The variety of attractions for tourists within this hub are plentiful; from wonderful Bondi and Manly beaches to the unforgettable Sydney Opera House.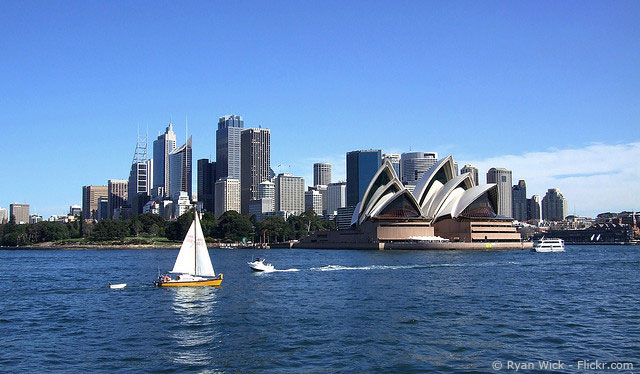 Typical Costs of Accommodation, Food and Attractions
Hostels: Hostels normally cost between $20-$40 dollars for a dorm room (sharing), whilst a private room can be between $35-$50. Some hostels in the centre of Sydney are known to tourists because of the accommodation, dedication of staff and location.
Budget Hotel Prices: Hotel prices fluctuate and vary massively from location to location in Sydney. Typically, a budget hotel in the centre will charge around $62 for a single and $90 for a double; however, if you are savvy and do your research and book in advance, you can snap up some unexpected deals. The closer you get to downtown, the more expensive the accommodation; it is worth checking out 'Airbnb' where you can rent from local Sydneysiders, thus keeping the cost of your excursion down.
Cost of Foof/Eating out: Cheap and fast food such as brugers, wraps and small meals can normally be purchased for under $14. However, larger meals, normally restaurant main courses will cost you anywhere between $27-41. Food on the harbor may cost a little more because of the iconic views offered. If you are going self-catering then your foobill for the week will cost anywhere between $68-110. Self-catering is a cheaper way to eat and aid you financially, meaning you can spend more money on landmarks you want to visit etc.
Taxi fares and other transportation costs: Sydney's public transport network is made up of trains, buses and ferries. Bus fares depend on the where you are travelling and the number of places you intend to travel to/from, but tickets normally start at around $1.50 for an adult ticket. The price of tickets on all types of transport may vary because of the amount of people in your party.
How to Save Money Whilst in Sydney
Check the local tourist office while you are in Sydney to see if there are any deals in relation to tourists attending festivities. Family/couple tickets can often be bought for a discounted price.
Check out "What's On In Sydney" on the internet to see the amount of local events that are free. Many festivals in the city offer free workshops and often encourage tourists to get involved with celebrations.
You can also use here the couporando website to search for lastminute vouchers. This can range from money off tourist attractions to percentages off food bills.
© Sydney -Ryan Wick (CC BY 2.0)
Community content is available under
CC-BY-SA
unless otherwise noted.