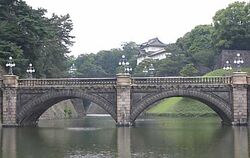 Tokyo, the capital city of Japan, used to be called Edo (also spelled Yedo or Yeddo, Japanese: 江戸, literally: bay-door, "estuary", pronounced /edo/). The city's prosperous history dates back to the 1460s, when Ohta Do-kan, one of the feudal rulers, built the original Edo Castle. In 1603, when Tokugawa Ieyasu in Edo received the title of 'shogun' and the Tokugawa shogunate began, Edo became the political centre of Japan, while the capital was in Kyoto in the west. In 1868, with the Tokugawa shogunate coming to an end, the new government decided to make Edo official capital of Japan and renamed the city as "the Eastern (東) Capital

(京)". This is when the name "Tokyo (東京)" came into being.
Population: About 12 million people — 10 percent of Japan's population — live in Tokyo. Approximately 33–36 million live in the Greater Tokyo Area, which is a large metropolitan area consisting of the prefectures Chiba, Kanagawa, Saitama, and Tokyo.
A popular destination for travelers from around the world, Japan is a country with a wonderful reputation for the latest technology and unique culture. Tokyo offers everything from pop culture to animation to advanced IT environments. People from foreign countries are often surprised by the crowded trains and traffics jams are also fascinated with the sophisticated service. Tokyo is one of the most interesting and exciting cities in the world.
In Tokyo, there are many hotels to choose from. Room rates are nearly equal to New York.
If you wish to stay in comfort in Tokyo, you will have to pay a lot. Or, you can chose an economy hotel with an Internet cafe or manga cafe which has adequate accommodation for using PC and shower 1500 Yen/night.
In brief, staying in Tokyo is expensive. I recommend staying near the following stations: Shinjuku, Shinagawa, Shibuya These are located in 3 of Tokyo's 23 wards. The best location may be the Shinjuku ward. Many people use Shinagawa due to having good access to all destinations out of Tokyo and the hotel cost in Shinagawa ward is cheaper than in Shinjuku area. From Shinagawa JR station, you can take on Shinkan-sen (Bullet train) bound for Kyoto and Nagoya, go to Haneda Airport which is the only domestic airport in Tokyo by Keikyu-Line. Shibuya and Shinjuku are towns that never sleep. Between Shinagawa and Shinjuku, it takes only 20 minutes by Yamanote Line which runs until midnight (12 a.m.).
Shinjuku
Marunouchi, Ginza & Odaiba
Shinagawa & Shibuya
Roppongi and Akasaka
Economical Hotels(-150$/night)
[
edit
|
edit source
]
There are many hotels, so you can choose one near the rail station you use. Many standard hotels are located near JR stations (Ikebukuro, Shinbashi, Shibuya, Shinagawa, Shinjuku).
Other Links
Notable sites in Tokyo include:
Tokyo Dome City is located in the center of Tokyo and provides a spa resort and some amusements from 9am to 8/9pm. The access is good from the Ikebukuro, Shinjuku and Tokyo stations. Entrance is free. You can also enjoy seeing baseball games.
Tokyo Disney Resort - This amusement park is the most famous in Japan and is located in Urayasu city, on the east side of Tokyo. The park is quite far from Tokyo but is definitely worth a visit. The park contains both Tokyo Disneyland and Tokyo DisneySea. It is recommended to buy your ticket before you visit as the park frequently sells out and closes its entrance due to overcapacity.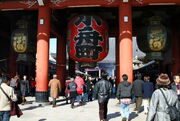 Asakusa is one of Tokyo's most traditional neighborhoods. It is well known by Old town and Asakusa Kannnon Temple, or Sensoji which has Five-story Pagoda. There is a familiar feeling when you visit the Asakusa area.
Sensoji Temple This is oldest Buddhist temple in Tokyo and very popular with visitors. The approach to the temple is Nakamise Street, which is always filled with travelers and good souvenirs. In the gate, you can see a big Chochin (Chinese Lantern).
Access: 6 minute walk from Metro Asakusa station.
Asakusa Hanayashiki is located near Senso-ji temple and is the most historical amusement park in Japan. The park can be rented for a group (over 100) or for only a few individuals. It is a classical park, but still a great experience.
Access: 5 minute walk from Asakusa Station(Tokyo Metro Ginza Line / Toei Subway Asakusa Line / Tobu Isezaki Line)
Ueno
Ryougoku
Sugamo
Recently in Tokyo, some all-day spa resorts have appeared. While it may be a strange experience for non-Japanese, some of the spas cater to foreigners.
Narita airport is the most common destination for travellers. It is located in east of Tokyo. From the airport, you will have to use Railway or Airport Bus or Taxi. Unless your destination is as far away as Narita, take the train. This may sound strange, but by bus or Taxi, Tokyo is 2–3 hours... so the train is actually MUCH faster, even for business travellers.
To local cities except Tokyo
For example, Yokohama, Tsukuba, Ohmiya around Tokyo. You should ask the bus counter. But if you want to check-in your booked hotels around Shinjuku, Shinagawa, Akasaka, Ikebukuro, you should use Airport Limousine Bus .
To Tokyo
There are 2 different way to Tokyo. Keisei-Line and JR-Line, both provide fast service between the airport and Tokyo. The station is located in same place under the airport(each Terminal(1 and 2) has each station). But the final distination is different. Keisei-Line's terminal linkes to Ueno in the eastside of Tokyo. JR-Line is connected to Tokyo and Shinagawa, Shinjuku, Ikebukuro, Ohmiya, Yokohama. JR's The Limited express "Narita Exp." runs every hour, but it is more expensive than Keisei-Line. If you want to save money, take the Keisei-Line, and transfer to JR-line at Nippori station before arriving Ueno. It takes about 60 min by Ltd. Exp. to Tokyo or Ueno. If you use local train or express, it will 90 min. ride to Tokyo or Ueno station.
Due to the chaotic traffic and the lack of car parking, it is advisable to travel around Tokyo using public transport. The bus service is economical, but is often too slow and complicated. Also, street numbers in Tokyo are very confusing because buildings are numbered based on the order they were built, not the order they are in line. Taxis are very expensive (minimum charg from 660yen/2 km). The roads in Tokyo are narrow and winding through the jungle city "Tokyo".
Outside Tokyo, driving is one of good choice to travel because the highways are excellent, and rental cars come with GPS navigation systems.
MAKE SURE to have printed maps of each destination you plan to visit.
Japan Railway company(JR)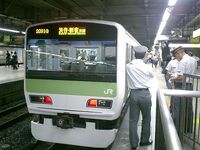 Tokyo's trains are all safe and frequently running. Especially, Yamanote-Line(circle line) runs every 2–3 minutes. The train is always very crowded. The local trains in Tokyo have no coach class except middle-distance(Tokaido-Line, Tohoku-Line..),and Limited Express, special train to home(Home Liner), Bullet train(Shinkan-sen). If you want to use JR trains. You buy ticket in the station via ticket-vending machines. The machines help you to buy tickets with English guidance.
Subways
Tokyo has many subway routes like New York city. It is not difficult to use subway for visitors. But transfer of trains is sometime confusing you. So you will use this route map. In Tokyo, there is 2 different subway operators. Tokyo Metro and Toei. You can't distinguish like me. But you will find that "Tokyo Metro" is a little cheaper than Toei. They connect each other in Shinjuku, Ohtema-chi, Iidabashi,and so on. If you find these sign, you can reach the subway stations.

Tokyo Metro, Co., Ltd. (Tokyo Metro)
Toei Transportation information
Domestic airlines are using Tokyo International Airport(Haneda Airport) near Tokyo. It is about 20 min. train ride from Shinagawa or 20 min. Monorail ride from Hamamatsu-cho. Tokyo International Airport
Practical information and resources
[
edit
|
edit source
]
Text with links to user-reviews on other pages
[
edit
|
edit source
]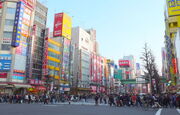 On last summer holiday, I went to Tokyo with my family for three days. On the first day, we went to Tokyo Disneyland; it is bigger than Hong Kong Disneyland. In the theme park, we took photo with the cartoon character and bought a lot of souvenir, such as teddy bear and T- shirt, we had some thrill rides, such as roller coaster and cable car. It is a wonderful program in this tour.

On the second day, we went to Akihabara, which is the animation items and computer items paradise in Japan. In Akihabara, we can buy different kinds of animation items, like DVDs, figure and posters.

In conclusion, Tokyo is great city for travel, shopping and entertainment, I also suggest you before go to Japan, you should check the public transport information, it can help you to travel in Japan easily.
Got something to say that doesn't fit in the other sections of this page? Add it here!
Add links to other sites here
Community content is available under
CC-BY-SA
unless otherwise noted.