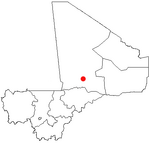 Timbuktu has been used a metaphor for places far-off and perhaps exotic locations, and the phrase going to Timbuktu has been used in that sense for so long that the idea of really going to Timbuktu may sound a bit strange. But, it is a great idea - the place has been identified as one of the World Heritage Sites by the UNESCO. Once upon a time it was rather inaccessible, but now it boasts of even an airport. It is a place located on the banks of the Niger River, Mali (the West African). Once upon a time, Timbuktu was an important trading outpost located below the Sahara Desert, and linked the deeper parts pf Africa with traders of northern parts of Africa. Due to its location, it earned the metaphor as described above and acquired a legendary position in the popular talks.
Presently, the town has lost much of its fabled position though it continues to be an important tourist destination in the itinerary of those who want to see the real life of Africa as it exists in reality in this part of Africa and who desire to feel and experience the charm of Timbuktu of once upon a time.
Hotels and lodging
Edit
Attractions
Edit
The best way to reach Timbuktu is to take a flight, though the timings are not reliable. Once you are safely entrenched in Timbuktu, you may use Taxis, camels and donkeys to take you around the place. You will find many houses and structures which are termed as Vernacular architecture, that is, a style of construction with the easily available materials. Attractions of the place are three such constructions made of mud:
Djinguereber Mosque, which El Saheli had built in 1327
Sankore Mosque [1](sometmes called as Sankore University) was buils in the early fifteenth century
Sidi Yahya Mosque (built: 1441) by Mohamed Naddah.
There is also a water tower, a terraced garden, and a museum.
Maps and transportation
Edit
Getting to Timbuktu
Edit
Exploring Timbuktu
Edit
Practical information and resources
Edit
Restaurants
Edit
Text with links to user-reviews on other pages
Edit
Nightlife
Edit
Photo gallery
Edit
Everything else
Edit
Got something to say that doesn't fit in the other sections of this page? Add it here!
External resources
Edit
Add links to other sites here