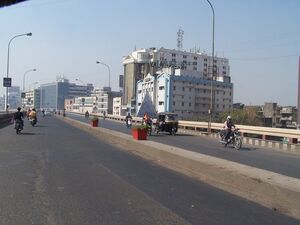 Surat may be described as the diamond capital of India, and three-quarters of the world's diamonds are given brilliance and sparkle by cutting and polishing in the city of Surat. Exports of diamond from Surat exceed US$8 billion. Surat is also one of the major centers of textile manufacturing. The city is a port city located on the coast of the Arabian Sea, in the western Indian state of Gujarat. The city covering an area of about 112 km2 and with the population of around 4.5 million (2005) is the second largest city of Gujarat state, and the ninth largest city of India. The city is set in the background of Tapti River, which flows by the side of the city. The old city gives a nostalgic feel of an age gone by, while the newer settlements present an image of a clean and spacious city. These settlements were created with the collective efforts of the people of Surat after an epidemic of plague of 1994. Recently, in 2006 too, the city suffered damages due to widespread flooding of the city areas.
It is interesting to talk a little about the city's history of about 500 years. During the heyday of the Mughal Empire (16th-18th centuries) in India, Surat emerged as an important trading and commercial hub of maritime activities. During last five hundred years, Surat has seen many rulers. By the end of the 16th century, the Portuguese traders called the shots though some ships of the British East India Company had reached the shores of Surat as early as in 1608, and by 1912, Surat came under the control of the East India Company. The city, at that time, had also a little presence of the Dutch. In the year 1664, Raja Shivaji, the great Maratha king, marched into the city and vanquished the might of the foreign rulers of the city. He returned again in 1670 and repeated his feat. However, for all practical purpose, the city remained a part of the Mughal Empire, and with the decline of the Mughal Empire, the city became a part of the British Raj, and passed under the control of the Indians with the independence of India on 15 August 1947. In the meanwhile, decades and centuries had rolled by, and the city has emerged as a significant industrial city of India, and had developed its own distinctive cultural flavour and cuisine. A person living in the city of Surat is called a Surati.
Hotels and lodging
Hotels
Address
Phone
Gateway Hotel
Ambika Niketan, Athwa Lines, Surat 395007, Gujarat, India
Tex Palazzo Hotel
Ring Road, Surat 395007, Gujarat, India
Ph : 6616018-19-20
Attractions
Surat is a historical city of India and was an important sea port during the period of the Mughal Empire and the British Raj. During India's freedom struggle, Mahatma Gandhi, the most prominent Indian leaders of modern age, led a peacful march of volunteers to a place near Surat, Dandi, to defy a rule of the colonial powers.
There are some beautiful beaches near Surat like:
Dumas, located southeast of Surat, is a health resort. The weather generally remains fine and the place is endowed with natural beauty.
Hajira and Tithal are also beach resorts facing the Arabian Sea.
Other places of interest are:
Gopipura has many temples associated with Jainism.
Old Fort was built by Mohammed Tughlak in the 14th century.
Winchester Museum, named after one of the civil servants of the British Raj, has several rare items of display.
Shopping
Hotels and lodging
Attractions
Find out where to go in the maps section below.
Shopping

If you want to shop at Surat I think http://www.shoppingsurat.com is the site your should look at.Surat Diamonds, Surat Airport,Hotels Surat,Surat Diamond Jewellry are some of major categories which is included into Shopping Surat,the largest largest Yellow Pages of Surat India.This website contains detail list and addresses of shops, business entities and shopping centers of Surat. The vary purpose of this website is to provide visitors up-to-date addresses and complete information of shopping centers of Surat India. Though there are many Yellow Pages for Surat out here but the unique feature of this website is that our visitors can browse not only by business categiries but also area wise. Information and addresses of this website has been gathered by our marketing representative by visiting shop-to-shop so that information on Surat shopping should be as authentic as possible. In the left side menu you can see list of categories from where you can find information of any shop or business. While from right side you can browse and get information and list of any category area-wise. Though we have made great effort to make this as informative and simple as possible, however if mistakes any, you are requested to report us. If your business or shop list is not added in This Surat Yellow pages, you can send us your business information.After verification we will put your address here for absolutely free.It differs from other Surat yellow pages in the sense that our main focus is to provide you full control to manage your own details.
Maps and transportation
Getting to Surat
Exploring Surat
Practical information and resources
Restaurants
Text with links to user-reviews on other pages
Nightlife
Photo gallery
Everything else
Got something to say that doesn't fit in the other sections of this page? Create a new page about it. Start by adding a paragraph exactly as above: for example, copy (from the EDIT BOX) the heading "Nightlife" and the three lines below it, paste in below that section, and change "Nightlife" (in all three places) to your new subject. If it's great, add a snippet below the heading. Then click on the new link and start on the new page.
External resources
If you want to add personal links, please do that on your user page (you can also write your profile there). If you have a link with great content that travellers need, you can add it at Surat/Links
Maps and transportation
Getting to Surat
Exploring Surat
Practical information and resources
Currency: Indian Rupee
Electric supply: 220 Volts
Language: Gujarati and Hindi. One can also manage with Simple English.
Restaurants
Text with links to user-reviews on other pages
Nightlife
Photo gallery
Everything else
Got something to say that doesn't fit in the other sections of this page? Add it here!
External resources
Add links to other sites here
Community content is available under
CC-BY-SA
unless otherwise noted.