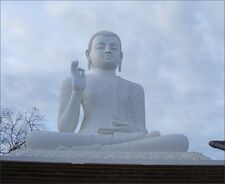 Sri Lanka (official name: the Democratic Socialist Republic of Sri Lanka) is an island nation, located 31 kilometers (18½ mi) off the southern coast of India. Sri Lanka is a charming nation with tropical forests, beautiful beaches and landscape. Its long and glorious history has afforded the country a unique cultural heritage. The island nation has been described as the Pearl of the Indian Ocean. It is home to more than 20 million people, mainly Buddhists, as also to all the major faiths of the world like Hinduism, Islam and Christianity. The island covers an area of 65,610 km² and has many beautiful spots and historical sites for the tourists. Apart from the capital city, Colombo, other major cities include Anuradhapur (population: 99,000), Batticoloa (Population:99,000), Dambulla (Population: 442,000), Galle (97,000), Hikkaduwa (Population: 990,000), Jaffna (Population: 129,000), Kalutara (Population: 1,060,000), Kandy (Population: 147,000), and Trincomalee (99,000). However, the country is facing ethnic conflicts in many regions and it is not advisable to visit all the regions of the country. A brief description of Sri Lanka's bigger and smaller cities may be found below:
Hotels and lodging
Edit
In most of the places of tourist interest, you should be able to find a hotel of your choice which falls within your budgets.
Attractions
Edit
Maps and transportation
Edit
Getting to Sri Lanka
Edit
Exploring Sri Lanka
Edit
Practical information and resources
Edit
Restaurants
Edit
While in Sri Lanka, you will not only find its natural splendour and cultural heritage really charming, you will also find that its cuisine is unique too. It has the heat of spicy flavour and coolness of tropical forests. Rice is the staple food and you will find a variety of rice preparations, mostly steamed and served with a variety of curries. Curries may feature not only vegetables but pulses, meat and fish too. There may be many side dishes of pickles and sauces. Moreover, Tamil and Sinhalese, two major ethnic groups have their distinct style of cuisines, with distinct flavours.
All around in Sri Lanka, you may find ethnic foods available in plenty. In bigger cities and hotels, you may also got dishes of other parts of the world like the Chinese, Thai or Continental. No meal in Sri Lanka shall be complete without having some real tea, for which the island nation is famed throughout the world.
Text with links to user-reviews on other pages
Edit
Nightlife
Edit
Photo gallery
Edit
Everything else
Edit
Got something to say that doesn't fit in the other sections of this page? Add it here!
External resources
Edit
Add links to other sites here
External links
Edit
---
Popular Countries:
China
,
Japan
,
India
,
Singapore
,
Thailand

Other Countries: Afghanistan, Bangladesh, Bhutan, Brunei, Cambodia, East Timor, Georgia, Indonesia, Iran, Kazakhstan, Laos, Malaysia, Mongolia, Myanmar, Nepal, North Korea, Pakistan, Philippines, South Korea, Sri Lanka, Taiwan, Turkmenistan, Uzbekistan, Vietnam (edit)

Community content is available under
CC-BY-SA
unless otherwise noted.