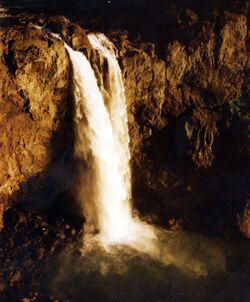 If you're visiting Seattle and have either a rental car or staying with a friend, then you must take the time to see the beautiful Snoqualmie Falls. Located about 30 miles east of the Seattle, Snoqualmie Falls is second only to the Mount Rainier in number of visitors per year. There are two ways to view the falls. The easiest is to view them from an observation platform which gives an excellent vista of the falls. This by the way is where the photograph in the upper right hand corner of this page was taken. If you want a closer look, you can always hike down the one mile trail to another observation platform at the bottom of the hill where the accompanying park is located. Located at the crest of the falls you'll find the Salish Lodge, which is at least as luxurious as the location is beautiful.
Hotels and lodging
Edit
Right at the top of Snoqalmie Falls is the Salish Lodge, and is the perfect and natural place to stay if you want to make an occasion of visiting the falls. If you look up "opulent" in the dictionary, there should be a picture of the Salish Lodge right next to is. This is a luxurious place that is a perfect location for a romantic getaway. Here's a link to their website where you can make reservations.
Salish Lodge & Spa
6501 Railroad Avenue
P.O. Box 1109
Snoqualmie, Washington 98065-1109
Toll-free: 1-800-2-SALISH (1-800-272-5474)
In Washington: (425) 888-2556
Website Link

If you're not too keen on spending at least $280.00 a night for a room, there is always the Best Western Summit Inn at the nearby town of Snoqualmie. Here's a link that for reservations and other information.
Attractions
Edit
Maps and transportation
Edit
Getting to Snoqualmie Falls
Edit
From downtown Seattle, this is the route you take:
1. Start out going NORTHEAST on MARION ST toward 6TH AVE. (0.1 miles)
2. Turn RIGHT onto 6TH AVE. (0.2 miles)
3. Take the I-5 S / I-90 E ramp toward PORTLAND. (0.4 miles)
4. Merge onto I-90 E via the exit on the LEFT toward BELLEVUE / SPOKANE. (22.9 miles)
5. Take the Highway 18 W exit - EXIT 25. (0.2 miles)
6. Turn LEFT (at the bottom of the ramp) onto Highway 18/SE SNOQUALMIE PKWY. (3.7 miles)
8. Turn LEFT onto RAILROAD AVE SE / WA-202. Continue to follow WA-202. (0.8 miles)
Exploring Snoqualmie Falls
Edit
Practical information and resources
Edit
Restaurants
Edit
Text with links to user-reviews on other pages
Edit
Nightlife
Edit
Photo gallery
Edit
Everything else
Edit
Got something to say that doesn't fit in the other sections of this page? Add it here!
External resources
Edit
Add links to other sites here
Community content is available under
CC-BY-SA
unless otherwise noted.