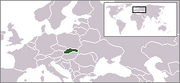 Slovakia is a landlocked country of Central Europe. Its population is five million and it is also a member of the European Union. Bratislava is the capital and largest city. It has been described as Slovakia - the Little Big Country, and its history of centuries has made it to be so, a small country but with a long history. It is a country having many interesting natural landscapes, mountains, deep caves, medieval castles and cities, folk architecture and ski resorts.
Hotels and lodging
Edit
Vacapedia.com - Hundreds of Holiday Homes in Slovakia. Great for family vacations.
Attractions
Edit
Slovakia is a country endowed with natural beauties, historical and cultural heritage, and many activities for everyone.
Natural Beauties

Natural Beauties of Slovakia include mountains, caves, gardens, lakes and reservoirs of waters and water falls.
Historical and cultural

Slovakia's grand landscape is dotted with many historical monuments and the country has a remarkable cultural heritage. This aspect of Slovakia touches architecture, religious monuments and artistic depictions. It has also some beautiful places classified under UNESCO's World Heritage Sites.
Activities

As a tourist, you have many options and you may indulge in a number of activities: there are so many that you may surely find few of your choice.
Maps and transportation
Edit
Getting to Slovakia
Edit
Exploring Slovakia
Edit
Practical information and resources
Edit
Shopping hours: 0900-1800 Monday to Friday & 0900-1200 Saturday
Restaurants
Edit
Text with links to user-reviews on other pages
Edit
Nightlife
Edit
Photo gallery
Edit
Everything else
Edit
Got something to say that doesn't fit in the other sections of this page? Add it here!
External resources
Edit
Add links to other sites here
Community content is available under
CC-BY-SA
unless otherwise noted.