Shimla is now the capital of the state of Himachal Pradesh, in India. The city is located in the Himalayas and its elevation at 2000 meters (6500 feet) makes its climate enjoyable and temperate comparable to the plains of northern India. During the scorching summers of India, tourists flock here to escape from the hot plains, and during winters they come here to see the snow fall. The long association with them has left many monuments and places having the stamp of the past of the Shimla.
History
Once upon a time, Shimla was a small village deriving its name from Shyamla Devi, an aspect of Hindu goddess, Kali. Scottish civil servant, Charles Kennedy was the first foreigner to identify Shimla as an appropriate and comfortable retreat during summer months and built the first British summer home in 1822. By the middle of the 19th century, the town has acquired a status of a sort as the summer capital of British India as the entire government machinery would move to this place and stay for months. With them came the British and Indian merchants, workers and the elite of the Indian society. Gradually, the place gained in importance and continued to expand.
Even after the independence of India (in 1947), the town remained a favourite of the Indians as a summer retreat and many visitors and tourists come to the place each year. The city has some of the best boarding and day schools in India, many heritage buildings and localities associated with the colonial past of India, and innumerable spots in and around the city to offer the visitors and the tourists the majestic beauty of the Himalayas in its splendour.
Hotels and lodging
Edit
Shimla has many hotels and guest houses and you are sure to find one of your choice and within your budgets. However, one point should be taken care of: Shimla being a preferred destination of tourists, particularly the domestic ones, it is always advisable to have confirmed reservations before hand to avoid problems and wasting time in searching for suitable accommodation. Normally, hotels may be booked by making telephonic requests, particularly if made through the hotel where you may be staying before moving into Shimla. In most of the cases, you shall surely find some accommodation in Shimla even if you reach there without any confirmed reservation though the place may not be your choice.
Some of the hotels at Shimla are:
Kurfi Holiday Resort (Telephone: 91-177-2480300)
V & PO Kurfi, Shimla - 171012 (India)
Moon International (Telephone: 91-177-2620286)
Near Secretariate, Shimla - 171001
Quality Inn Himdev (telephone: 91-177-2633209)
Kachi Ghati, Shimla - 171010
Hotel Shiwalik (Telephone: 91-177-2611122)
Near Christ Church, Shimla - 171001
Hotel Shilon Resort (Telephone: 91-177-2733343)
Shilon Bagh, PO: Munda Ghat, Shimla - 171001
Attractions
Edit
In and around Shimla, you shall find many heritage sites and places associated with its colonial past, as also many spots which present the beauty of the Himalayas in its glorious splendeour. Some of the major points of attraction are:
In Shimla
The Ridge:
The Mall
The Kali Temple:
The Jakhoo Temple:
The State Museum:
The Prospect Hill:
The Institute
Around Shimla
The Summer Hill (7 km):
The Chadwick Fall (7 km):
The Sankat Mochan Temple (7 km):
Tara Devi Temple (11 km):
Fagu (22 km):
Mashobra (12 km):
Craignano (18 km):
Naldehra (22 km):
Beyond Simla
Narkanda (60 km):
Kotgarh (82 km):
Rampur (140 km):
Sarhan (176 km):
Kharapathhar (85 km):
Junnal (90 km):
Hatkoti (104 km):
Tattapani (65 km):
Chindi (94 km):
Festivals
Apart from the usual spots of tourist interests, Shimla is famous for its many town-specific festivals organised every year:
Bharara Fair takes place in May and is a religious festival. A deity names Lord Koteshwar (meaning the Lord of the Fort) is taken out in procession and goats are sacrificed in his honour. During the festival, exotic Natii dances are performed. The festival is held in a village Bharara (near Kumharsain in close vicinity of Shimla).
Summer Festival is also held during the month of May each year, and several cultural progrmmes take place representing the performing arts like local dancing and singing styles. It is held in the famous ground near the Ridge.
Lavi Fair is held every November at Rampur (140 km away from Shimla). This is more or less a commercial affair when the nomadic tribes come down from the heights of the Himalayas and sell their goods like woolen shawls and other garments; and dry fruits including Himalayan herbs.
Winter Sports Festival starts in early December and continues until February. Shimla has a natural ice-skating ring. You have the opportunity to actually participate in the festival or watch the gaiety from the side lines. Both would be equally exciting!
Probably the Mall is the best area to indulge in Shimla Shopping. The Mall has lines and lines of shops including pavements shops too, depending on the weather which remains always unpredictable. The Government-run Himachal Pradesh Emporium also maintains a good stock of supplies for sale. In the shops at the Mall and at many other places, you will find a variety of wares at sale: well crafted and engraved wooden articles, small and big carpets, woolen garments including shawls. In an area known aptly as the Lakkar Bazaar (the bazaar of woods), you may find innumerable variety of handicrafts made of woods ranging from small key chains and decoration pieces to furnitures. The Sabji Mandi (the vegetable market) offers a variety of dry fruits, cherries, apricots and local varieties of other fruits including apples.
Maps and transportation
Edit
Getting to Shimla
Edit
You have various options to reach Shimla — by motorable road, railways and the airways. However, it is better to reach Shimla by road, as the roads are comfortable and it would also give you a chance to watch the scenic beauty as well as the countryside with people to give you a feel of the Indian society in this part of India.
Road
Chandigarh (115 km) is the nearest large city and you may reach Shimla from Chandigarh traveling on the National Highway No. 22. The other nearby towns connected with motorable roads are: Solan (55 km) and Panchkula (100 km). Both the towns, Solan and Panchkula are places of tourist interests in their own right. Delhi (365 km) is another point from where you may take a bus or taxi via Chandigarh to Shimla. The journey would take about 6–8 hours depending on traffic and weather.
Railway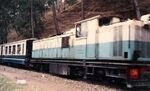 The nearest railway point is at Kalka for which the Indian Railways offer convenient and fast railway services like the Shivalik Express and many others from select cities of India. From Kalka, you may travel the short distance to Shimla by a bus or by a taxi. You may also travel by Kalka-Shimla Railway, a narrow gauge railways which moves upwards to Shimla passing through 864 bridges and more than 100 tunnels. The journey is really exciting! A ride in this train shall present a fiesta of panoramic and picturesque sights. The train passes through places like Dharampur, Solan, Kandaghat, Taradevi, Barog, Salogra, Summerhill and reaches Shimla. Each of these places nestled in the Himalayas is a tourist spot in its way.
Air
Shimla has just a small serviceable airport and only few flights are available. The nearest large airport is at Chandigarh which has flights from almost all the major cities of India.
Exploring Shimla
Edit
Shimla is a cute little place with many undulating roads, lanes and by-lanes. To enjoy the natural beauty of the Shimla, walking around is the best option to explore the place. You may also hire a taxi (of course, after suitable bargaining!) to take you to places in and around the town. Several tourist services including the government's tourism corporations operate small and bigger buses in and around the city. Most likely, you would require reservations for which your hotel people would arrange the same.
Practical information and resources
Edit
Currency: Rupee (INR) (One US $ is around 45 INR)
Time zone: IST (UTC+5:30)
Languages: Hindi and Punjabi, and local dialects like Himachali and Garhwali. You may manage with Simple English.
Language Tips:
| | |
| --- | --- |
| Phrase in English | Phrase in Hindi |
| Hello | Namaste |
| Yes | Haan |
| No | Nahin |
| Thank you | Shukriya |
| How are you? | Aap kaise hain? |
| Nice to meet you? | Aapse milke khushi hui? |
| What is the price? | Kya daam hai? |
Summary
Season
Months
Temperature
Conditions
Spring
March — April
10 °C to 20 °C
Generally clear skies with occasional shortlasting rains with thunder
Summer
May — June
16 °C to 28 °C
Generally clear skies. Sometimes forest fires in this season cause the air to be smoky
Monsoon
July — September
13 °C to 20 °C
Cool and humid atmosphere. It can rain for days continuously
Autumn
October — November
10 °C to 23 °C
Skies are clear, with evenings becoming chilly
Winter
December- February
-7 °C to 10 °C
Generally dull weather with frequent snowfall
Hospitals:
IGMC (Snowdon), Telephone: 0177 - 2654092
Kamla Nehru (Lady Reading), Telephone: 0177 - 2625097
Ambulance:
Telephone: 0177 - 2804648/102

Tourist Information:
HPTDC Marketing and Information Office, The Mall, Shimla, India
Telephone: 91-177 - 2652561 / 2658302
Restaurants
Edit
Shimla has several restaurants offering ethnic Indian foods (vegetarian as well as non-vegetarian), as also foods representing many other cuisines like the Continental, Chinese, Thai and many more. Some of the restaurants are:
Baljees Restaurant is really fine for the breakfast and a quick grab of lunch during shopping or strolling at the Mall.
26, The Mall, Shimla, Himachal Pradesh - 171 001
Kufri Holiday Resort, Kufri Village, Kufri, Shimla, Himachal Pradesh - 171 012
The Devicos Restaurant is a multi-cuisine restauran serving foods both from north India and south India, the Continental and the Chinese foods.
5, The Mall Road, Shimla, Himachal Pradesh - 171 001
The Lutyen's Room serves nice Continental foods.
Springfields, Opposite Tibetan School, Chotta Shimla, Himachal Pradesh - 171 002
Hotel Combermere, The Mall, Shimla, Himachal Pradesh 171 001
Circular Road, Shimla, Himachal Pradesh 171 001
Text with links to user-reviews on other pages
Edit
Nightlife
Edit
Like many other Indian cities, Shimla too does not have a nightlife in the conventional sense. However, its nightlife has its own charm: taking long walks after good drinks and dinner. From before the Christmas until the New Year, Shimla acquires a rather vibrant nightlife when people would celebrate parties till late into the night. You may enjoy good music in many hotels and restaurants while enjoying your drinks and dinner all round the year.
Photo gallery
Edit
Everything else
Edit
Got something to say that doesn't fit in the other sections of this page? Add it here!
External resources
Edit
Add links to other sites here
Shimla - A Website of the Tourism Department, Himachal Pradesh Government, India
HPTDC - The Himachal Pradesh Tourism Development Corporation Limited, a government organisation: information on many aspects of tourism including online hotel booking facility
Community content is available under
CC-BY-SA
unless otherwise noted.