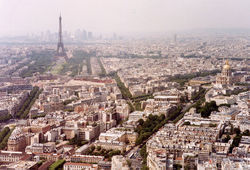 Paris, France is the capital of France and is on the river Seine. Paris has a population of 2,206,488 as of 2015.
Paris is one of the most characterful cities in the world and each particular district comes with a variety of different traits. There are thousands upon thousands of hotels to choose from, in each and every price bracket.
Hôtel Jules - Romantic and design Hotel in Paris !
Hotel Les Rives De Notre Dame, 15 Quai Saint Michel, tel, fax +33(01)43262709, [1]
Hotel Astor Saint-Honoré, 11 Rue d'Astorg, fax +33 01.53050530, [2] : sandwiched in between Champs-Elysées and the Opera districts.
Grand Hotel Français, 223 Boulevard Voltaire - 75011 Paris, tel +33 1 43 71 27 57 fax +33 1 43 48 40 05, Hotel 11e arrondissement Paris : Grand Hotel Français Paris has existed for more than 100 years and it has been an ideal stop for those who wanted to have a great time in Paris. It is located near Bastille and the Père Lachaise district.
Grand Hotel Dore, 201 avenue Daumesnil, tel +33 1 43 43 66 89 fax +33 1 43 43 65 20, Hotel 12e arrondissement Paris : Grand Hotel Dore opened its doors at the beginning of the 20th century. It is one of those Parisian hotels of charm and character combining French tradition with a contemporary approach, which has always earned Paris its reputation. Managed by one of the oldest families in the hotel business, the Grand Hotel Dore has become a place where business travellers and tourists mingle with pleasure.
Hotel Lumen, 15 Rue Des Pyramides, tel +33 1 44507700, fax +33 1 44507710, [3]
Hotel La Tour d'Auvergne, 10, rue de la Tour d'Auvergne, tel +33 1 48 78 61 60, Hotel Montmartre : A few steps away from Montmartre, rue des Martyrs, Opéra, and avenue Trudaine. This is a district where you can find authentic places, good restaurants, small cafés and bistros, nice shops and a true Parisian atmosphere.
Champs Elysées Plaza, 35, rue de Berri - 75008, tel +33 1 53 53 20 20, Hotel Champs Elysees : Rooms and suites with exceptional dimensions. Elegant and sophisticated, with high tech equipment and a comfort, they offer a unique mix of contemporary chic décor with ceiling moldings, marble fireplaces and large windows looking at two beautiful quiet streets, only two minutes from the "Avenue des Champs Elysees".
Hotel Gavarni, 5, rue Gavarni, 75116 Paris, tel +33 1 45 24 52 82, hotel Ecolabel : Located near the Eiffel Tower and the OECD and 10min. away from the Champs-Elysées, in the heart of the Passy village and its fashion boutiques, the hotel Gavarni is the first independent hotel in Paris to be rewarded with the European Ecolabel.
Hotel Apostrophe (Hôtel Poème)3, rue de Chevreuse (Métro: Vavin), ☎ +33 (0)1 56 54 31 31 (direction@apostrophe-hotel.com, fax: +33 1 43 21 01 08) Set between Montparnasse and the Jardin du Luxembourg public park, near Saint-Germain-des-Prés, the Apostrophe hotel offers you an atmosphere full of poetry.16 guest rooms equipped with all the modern comfort, jet showers with light or "Chromo" jacuzzi-bath, Audio CD & DVD player,complimentary WI FI access.Each room has its own decor and invites you in a unique setting. This is a gay friendly hotel.
Hotel Sophie Germain Paris, 12 rue Sophie Germain 75014 Paris. ☎+33 (0)1 43 21 43 75. Fax:+33 (0)1 43 20 82 89, Hotel Paris Montparnasse. Email The Sophie Germain hotel is located on the left bank of Paris. Near Place Denfert-Rochereau, just a few minutes away from Montparnasse train station and the Latin Quarter. Very easy access to events and exhibitions organised at porte de Versailles an Villepinte. The Sophie Germain hotel will be your starting point to deiscover the beauties of Paris.
Hotel Paradis, 41 rue des Petites Ecuries 75010 Paris. Métro: Bonne Nouvelle ☎+33 (0)1 45 23 08 22 e-mail Paris Hotel The paradis is a charming 2 star hotel in Paris's 10th arrondissement. The Paradis is near the Gare du Nord and offers excellent rates.
Hotel Amour, 8 rue Navarin, 75009 Paris. Metro: St-Georges or Pigalle ☎+33 (0)1 48 78 31 80, Hotel Amour This is a funky boutique hotel in the 9th arrondissement close to two metro stops. Each room is individually decorated and the hotel is situated in a fantastic part of Paris. Hotel staff are also really helpful.
Hotels near Sports Venues

Hotels near Airports
Campsites near Paris
As an alternative to staying in a hotel, many travelers choose to stay on one of the many campsites that are near to Paris. Campsites can be cheaper and offer a whole range of on site facilities and activities to keep you busy. Two of the most popular campsites near to Paris incude:
Musée du Louvre, Rue de Rivoli, Metro: Plais Royal-Louvre. A 21 metre high glass pyramid stands at the entrance to the Louvre. The museum is divided into eight sections: Ancient Oriental and Islamic, Ancient Egyptian, Roman-Greek Art, Picture Gallery with ten sub-sections, sculptures and designs. The museum is visited by an enormous number of people anxious to see the museum's three best known masterpieces, the Mona Lisa, Venus di Milo and Samotracia's Nike. The crowds and confusion can be very disturbing, it is advisable to choose a section or historical period and to concentrate exclusively upon it. The following sections are highly recommended: Egyptian, German and late-Gothic painters, Italian Renaissance painters, Flemish and French painters from the 18th Century.
Musée d'Orsay on the banks of the Seine, site of an old railway station, houses in its enormous construction of glass and steel, a collection of impressionist and post-impressionist French art, sculptures and paintings from the period 1840 to 1914, furniture, photographs and films.

The Déjeuner sur l'herbe and Le balcon by Manet, Moulin de la Galette and Déjeuner des canotiers by Renoir are not to be missed.
Notre Dame, Paris' cathedral, is a true Gothic work of art. The building, constructed between 1163 and 1345, can accommodate over 600 people. The three main entrances, each one different, are ornately decorated with statues to attract the attention of the people passing by. The interior is dominated by a spectacular rosary window and an organ with 7,800 pipes. Visitors can climb the north tower of the cathedral's west face to admire the gargoyles and a spectacular view over the city.
A visit to the sumptuous Palace and Gardens of Versailles represents one of the finest trips to be had in the surrounding area of Paris. The palace is easily reached by leaving Paris on the A13 to Rouen and then taking the D182 to Versailles Chateau. If travelling by train, catch the RER, line C to Versailles-Rive Gauche, then continue on to the palace. It was in 1668, on the orders of Louis XIV, that the Louis XIII villa was transformed into the largest palace in Europe.

The palace reflects the wishes of the King, who wanted to create a private pavilion in order to meet his lovers in secret. The gardens with their statues and fountains, can be visited on bicycle, which can be rented on site. The gardens house the Grand Canal, site of royal banquets complete with naval battles and the Orangery, a large greenhouse.
The State Apartments and the Gallery des Glaces were the site of elegant court celebrations. The building is 75 metres long, 12 metres high with 17 windows and 17 facing mirrors. It is possible to visit other areas of the palace with a guided tour.
L'Orangerie Museum - there are 8 L A R G E panels of water lilies painted by Monet. The panels are displayed in two oval shaped rooms (4 panels per room) and the lighting and gentle simplicity sets a peaceful tone to viewing these works.
Place des Vosges, which is an area of contrast (homeless and more chic), art galleries, etc. We went to the Picasso Museum in that area.
You should try out a night cruise dinner with Beateaux Parisians at River Seine. Enjoying a three course dinner, especially with the famous duck foie gras as starter and two bottles of wine, you will have a great night with your significant other in the nicely decorated boat. You will enjoy the great view along the river at night, beholding the renowned landmarks such as the Eiffel Tower, Notre Dame with the music performance.
Check out the guide to all the plaques in Paris.
There is a huge range of shops in Paris to suit any budget. For department stores, the largest on Boulevard Hausmann (RER Station Auber) are Galeries Lafayette and Printemps. There are other branches of these shops in other locations.
Many shops (small and large) do not open until 10am. Smaller shops close for lunch and many stay open until 19.00, with some having late-night openings, typically on Thursdays.
RATP [4] is the Parisian public transportation system; very useful to cruise in Paris.
A convenient ways to see the sights of Paris is with the Paris Museum Pass , a pre-paid entry card that allows entry into over 70 museums and monuments around Paris (and the Palace of Versailles) and comes in 2-day (€39), 4-day (€54) and 6-day (€69) denominations (prices as of July 2012). Note these are 'consecutive' days. The card allows you to jump lengthy queues, a big plus during tourist season when line can be extensive, and is available from participating museums, tourist offices, Fnac branches and all the main Métro and RER train stations. You will still need to pay to enter most special exhibitions. To avoid waiting in the first long queue to purchase the Museum Pass, stop to purchase your pass a day or more in advance after mid-day. The pass does not become active until your first museum or site visit when you write your start date. After that, the days covered are consecutive (Do not write your start date until you are certain you will use the pass that day and be careful to use the European date style as indicated on the card - day/month/year).
Planning your visits: Several sites have "choke points" that restrict the number of visitors that can flow through. These include: The Eiffel Tower, Sainte-Chapelle,The Catacombs and the steps to climb to the top of the Notre Dame Cathedral. To avoid lines, you should start your day by arriving at one of these sites at least 30 minutes before opening time. Otherwise, expect a wait of at least an hour. In some others renowned sites like Versailles Palace, due to the large number of visitors during peak times (especially in the summer), you may have to wait even longer, even if you have bought in advance a ticket.
Most museums and galleries are closed on either Monday or Tuesday. Examples: The Louvre museum is closed on Tuesdays while The Orsay museum is closed on Mondays. Be sure to check museum closing dates to avoid disappointment! Also, most ticket counters close 30-45 min before final closing.
All national museums and monuments are open free of charge on the first Sunday of the month, and they are also free of charge for young people under 18 years old and european citizens under 26 years old.
Good listings of current cultural events in Paris can be found in 'Pariscope' or 'Officiel des spectacles', weekly magazines listing all concerts, art exhibitions, films, stage plays and museums. Available from all kiosks.
Practical information and resources
[
edit
|
edit source
]
Currency: Euro
Electric supply: 220 Volt, 50 Hertz
Climate: Spring is the best time to visit Paris. August is hot and muggy.
Opening hours:

Shops are open Monday to Friday from 9am to 7pm, Saturday from 9am to 8pm.
Post offices are open Monday to Friday from 8am to 7pm. Some post offices are open on Saturday mornings until midday. The central post office in Rue de Louvre 52, is open 24 hours a day.
The majority of the banks are open from Monday to Saturday from 9am to 4:30pm.
Lucas Carton is in the Place de la Madeleine It's delectable and they propose a lovely wine with each course. Go for lunch or an early dinner and plan on spending a couple hours in sumptuous gastronomic pleasure!!and very very expensive...
Text with links to user-reviews on other pages
[
edit
|
edit source
]
The main magazines detailing the weekly activities in the city are the Pariscope and the Officiel des Spectacles. The magazines are printed on Wednesdays and detail what's on in Paris. The choice of club and discothèques is extensive and is able to satisfy the musical tastes of everyone.

WorldFlicks in Paris Visit Paris: photos of the highlights shown on map or satellite
Got something to say that doesn't fit in the other sections of this page? Add it here!
Add links to other sites here
Community content is available under
CC-BY-SA
unless otherwise noted.