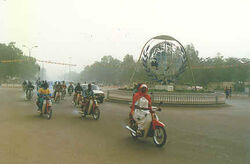 Ouagadougou (WAH-GAH-doo-goo) is the capital of Burkina Faso. It is the country's largest city, with a population of 960,116 (2000) and is the communications, cultural and economic centre as well as the administrative centre. Its name is often shortened to Ouaga. Ouagadougou is the capital of Burkina Faso. Burkina Faso was called the Independent Republic of Upper Volta when it attained independence from France in 1960. It was renamed Burkina Faso by Thomas Sankara in 1984. Edit this section or read more
Hotels and lodging
Edit
Attractions
Edit
There are many interesting spots in and around Ouagadougou:
The Bangr-Weoogo Urban Park (area: 2.63 km²) used to be a sacred forest but over a period of time it was developed as a Park during the 1930s. Its present name is "Parc Urbain Brang-Weoogo", which means "the urban park of the forest of knowledge." You may come here to enjoy a feeling of solitude.
L'Unite Pedagogique is in the city and animals are kept in semi-freedom. It is a botanic garden covering an area of over80,000 m². The Park also serves as a Museum of country's history.
Other Attractions

Naba Koom is a 6 m high statue of a woman and facing the railway station. It stands majestically to welcome the visitors.
Jardin de l'amitie Ouaga-Loudun, that is, the Garden of Ouaga-Loudun Friendship, is spacious and is a green space inside the city. It is considered a symbol the twin city relationship between Ouagadougou and Loudun in France.
La Place du Grand Lyon is a monument which reflects the relationship between this city and Lyon in France.
A zoo named Parc Animalier de Ziniare is located 30 km east of the city.
Musee de Manega is located 55 km northwest of the city and on displays are many musical instruments of Burkina-Faso.
Laongo, 30 km east of the city, displays artistic sculptures and other works on granites; the displays represent all the five continents.
Maps and transportation
Edit
Getting to Ouagadougou
Edit
Exploring Ouagadougou
Edit
Practical information and resources
Edit
Restaurants
Edit
Text with links to user-reviews on other pages
Edit
Nightlife
Edit
Photo gallery
Edit
Everything else
Edit
Got something to say that doesn't fit in the other sections of this page? Add it here!
External resources
Edit
Add links to other sites here
Community content is available under
CC-BY-SA
unless otherwise noted.