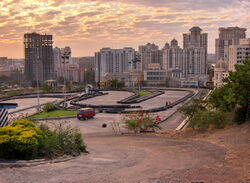 Mumbai, the commercial, financial and entertainment capital of India, is the capital city of the western Indian state of Maharashtra. With its own and its population of 13 million, it is the largest city of India; and with its suburban population, its metropolitan area consist of a population of 20 million, which makes Mumbai world's fifth most populous metropolitan area. The population of Mumbai represents the ethnic and cultural diversity of India, and at the same time it has its own blend of culture and social life, ethos and values that sets Mumbai apart from the other parts of India. If you live, work, and belong to Mumbai, you are known as a Mumbaikar.
MUMBAI WIKI 
Edit
This is just a single page of information about Mumbai . Just like travel wiki, there is Mumbai Wiki too . If you want to know more about Mumbai then visit Mumbai Wiki .
Hotels and lodging
Edit
Attractions
Edit
The largest metropolis of India has many places and Mumbai has remained the most-visited city of India for decades. It is not possible to have a complete feel of Mumbai in few days, yet everyone who comes to Mumbai should move around to see at least few of the major places:
Attractions

Gateway of India
Victoria Terminus Train Station
Taj Mahal Hotel
Royal Bombay Yacht Club
Town Hall & Library
Flora Fountain
Bombay Stock Exchange
General Post Office
Chowpatty Beach
Sassoon Dock
Towers of Silence
Elephanta Caves
Marine Drive

Places of Worship

Afghan Church
Bascilica of Mount Mary
St. Thomas Cathedral
Mahalakshmi Temple
Walkeshwar Temple
Haji Ali Mosque

Zoo & Parks

Nishiland Water Park
Kamala Nehru Park
Hanging Gardens
Suraj Water Park
Fantasy Land
Mumbai Zoo
Tikuji-Ni-Wadi
There are many places around Mumbai or in relatively closer from other parts of India, which are also important tourist destinations.
Maps and transportation
Edit
Getting to Mumbai
Edit
By Flight
Edit
International travelers can get a direct flight to Mumbai International Airport from their respective countries. Domestic travelers can reach Mumbai by any domestic flight.
Edit
Following are few of the domestic airlines which fly to Mumbai on regular in intervals:
Kingfisher
Jetlite (formerly "Air Sahara")
Paramount Airways
Indigo Airlines
Mumbai is well connected with other cities via road network. Various travel modes like Bus, train and taxi services are available to get into Mumbai city.
Exploring Mumbai
Edit
The metropolitan Mumbai with a population of 20 million, which makes it world's fifth most populous metropolitan area, has numerous points, joints and spots from where you may begin exploring Mumbai. It would be an exciting experience to do so. You may start your exploration from one of the World Heritage Sites located in the heart of this mega city, the Victoria Terminus (currently known as the Chhatrapati Shivaji Terminus, CST in short) - the most heavily used among the 800 World Heritage Sites across the world. Yes, more than 3 million commuters, equivalent to the population of Turkey's capital Ankara pass through the Victoria Terminus each day: in fact, it is a railway station covering an area of about one km2 with built up structures of around 74,550 sq feet in three levels. The Victoria Terminus was built about 125 years before in the year 1888 as headquarters of the Great Indian Peninsular Railways, a euphemism for the railway-empire of the colonial India. While constructing the Victoria Terminus, stones of fourteen different types were used to create a spectacular structure which has withstood the test of time: overuse by commuters, brutal rains of Mumbai, and the saline and humid climate of the city. Once you complete exploring the 125 years old majestic structure, you may move on to explore many more places.
And, one of them is INS Vikrant.Would you like to feel and be part of a recent piece of India's history while you are in the metropolis of Mumbai? Interested? Fine. You may like to see the INS Vikrant, now the Indian Museum Ship. It was built in 1961 and had begun its life as Hercules in the Royal Navy of the Great Britain, but later on became a part of the Indian Navy. It was retired in 1997 and during its active life of 37 years, the Vikrant has traveled 499,066 nautical miles, equivalent to 15 rounds around the world. The 56-storey tall Vikrant now remains anchored in a dockyard in South Mumbai. In case, it is open for visitors on a day you are in Mumbai, you may visit the ship and have a rendezvous with a part of India's naval history. You are not alone – until 2006, more than a million persons have visited the ship since it was opened for the public.
Now, moving away from the stage and the theatre of war (that is, the INS Vikrant) and moving to the stage of lights may sound a little bizarre. But, perhaps it is worth the trouble! In case, you feel so, you may plan to watch one or more performances at Prithvi Theatre, a living tribute to the dream of Prithvi Raj Kapoor, a legendary figure of Indian Cinema. In 1944, he has assembled a troupe of around 150 persons including actors, choreographers, dancers, writers, technicians, musicians, cooks, helpers, errand boys and girls. For 16 years he moved around in different parts of India performing many stage shows. He had a dream to build a theatre complex to provide amateur artists a stage to present their performances. However, as he got deeply involved in acting in Hindi Cinema, his dream remained unfulfilled during his lifetime. In 1972, six years after Prithvi Raj Kapoor's death, one his sons, Shashi Kapoor (himself a famous actor of Indian Cinema) and his wife Jennifer Kendall gave shape to the dream of the Papajee as Prithvi Raj Kapoor was popularly called in the Indian Cinema Circle. The Theatre is organized as a not-profit outfit, and every year around 65,000 persons watch the performances there. Average audience is hardly 80 per show, but in case you are interested in the ethnic theatrical performances of India, watching a performance would be highly interesting. You would mostly find Hindi, Marathi, and Gujarati performances, but the language would not be a barrier to experience and feel a living cultural legacy of India.
Practical information and resources
Edit
Currency: Indian Rupee
Electric supply: 220 Volts
Language: Marathi and Hindi. One can also manage with Simple English.
Restaurants
Edit
Text with links to user-reviews on other pages
Edit
Nightlife
Edit
Mumbai has a vibrant Nightlife, sparkling with action, colour and variety. Apart from the usual movie houses where most of the Mumbaikars spend their evenings, the metro has many discos, pubs and bars. Mumbai life is tiring even if you are their as a visitor, spending few hours in a disco or bar may give you the needed thrill and respite to regain vigour. Some discos allow only couples, and some also levy entrance fees. It is always exciting to enjoy Mumbai's nightlife but one should be sure of the credentials of the place one may select to visit.
Photo gallery
Edit
Postal Code
Edit
Mumbai District Follow Pin Code 400 001 to 400 107. and Jaipur City Pin Code 400001.
People of Jaipur District use Marathi, Hindi and English Language for communication.
Everything else
Edit
Got something to say that doesn't fit in the other sections of this page? Add it here!
External resources
Edit
Add links to other sites here
Community content is available under
CC-BY-SA
unless otherwise noted.