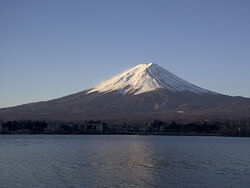 Mount Fuji, Fujisan in Japanese, is Japan's highest mountain rising to 3776 meters. In fact. Mount Fuji is a dormant volcono which last erupted in 1707. This is a perfectly shaped mountain and Japanese have been worshipping Mount Fuji for ages and a large volume of folklore has evolved about it ove a period of time. Presently it is a popular tourist destination and many people from Japan as well as from many other places of the world come here for sight seeing, as also for climbing the mountain.
Mount Fuji is surrounded by five lakesm namely, Lake Kawaguchi, Lake Yamanaka, Lake Sai, Lake Motosu and Lake Shoji. These five lakes and the nearby Lake Ashi provide excellent views of the mountain and its summit. Mount Fuji is a part of the Fuji-Hakone-Izu National Park.
Mount Fuji has erupted sixteen times since 781 A.D. The crater of Fuji is 2,295 ft(700meter) across.
Tips for: backpackers • business travelers • luxury/exotic travel • hitchhikers • families • seniors • LBG travelers • pet owners
Hotels and lodging
[
]
Attractions
[
]
The perfect shape of Mount Fuji is a marvel to watch. While you are in Japan, you may make a trip to Mount Fuji.
Climbing

You may simple while away your time moving around the Mount Fuji and watching the natural splendour of the Mount Fuji and the five lakes which surround it or you may try to be a little active and adventurous, and indulge in climbing. You shall find that you are not alone, particularly during the peak season of July–August.

The Five Lakes

Mount Fuji is surrounded by Five Lakes: Lake Kawaguchi, Lake Yamanaka, Lake Sai, Lake Motosu and Lake Shoji. These five lakes and one more nearby lake, Lake Ashi aew collectively called Fujigoko. From these lakes you may have a nice view of the mountain depending on the weather condition. Moreover, these lakes are also attractive in their own right, and you may indulge into activities like hiking, camping and fishing by way of outdoor activities. After a fun-filled day, you may have relaxing time in any of the resorts near the lakes. One more attraction of the region is Fujikyu Highlands, an amusement park.
Hakone

While you are in the vicinity of Mount Fuji, you may visit Hakone where there are many hot springs. The place gives a beautiful view of Mount Fuji. Even from Tokyo you may make a trip to Hakone as it is only about 100 km from Tokyo, the capital of Japan. Hakone is part of the Fuji-Hakone-Izu National Park. In fact, Hakone is a very popular tourist destination for the Japanese and even the international tourist desiring a break from the life of Tokyo. Some of the popular spots of Hakone, apart from the Hot Springs are:
Lake Ashi, a beautiful mountain lake
Hakone Detached Palace, a public park, giving a clear view of Mount Fuji
Hakone Tozan Railway is a wondeful mountain train line
Owakudani is famed for its sulfurous vapors and warm rivers
Hakone Shrine is the most famous shrine of the area
Old Tokaido has rmains of a path used in ancient time
Hakone Open Air Museum has many sculptures and paintings
Shopping
[
]
Maps and transportation
[
]
Getting to Mt Fuji
[
]
Exploring Mt Fuji
[
]
Practical information and resources
[
]
Restaurants
[
]
Text with links to user-reviews on other pages
[
]
Nightlife
[
]
Photo gallery
[
]
Everything else
[
]
Got something to say that doesn't fit in the other sections of this page? Add it here!
External resources
[
]
Add links to other sites here