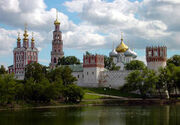 Moscow (Russian: Москва́, Moskva, IPA: [mʌ'skva]) is the capital of Russia and the country's principal political, economic, financial, educational, and transportation center, located on the Moskva River. The city's population of 10.4 million permanent inhabitants within the city boundaries constitutes about 7% of the total Russian population. Certain sources suggest that Moscow has more than 13 million residents, but this has never been confirmed due to absence of reliable registration system. It is the most populated city in Europe. The city is in the Central Federal District located in the western part of the Russian Federation. Historically, its position was central in the Russian homeland. It was the capital of the former Soviet Union, and Muscovite Russia, the pre-Imperial Russian state. However, during the reign of Peter the Great the capital was moved to St. Petersburg, but later on returned to Moscow. It is the site of the famous Kremlin, which now serves as the ceremonial residence of the President.
Moscow's architectural and performing arts culture are world-renowned. Moscow is also well known as the site of the Saint Basil's Cathedral, with its elegant onion domes, as well as the Cathedral of Christ the Savior. The Patriarch of Moscow, whose residence is the Danilov Monastery, serves as the head of the Russian Orthodox Church. Moscow also remains a major economic center and is home to a large number of billionaires and is perennially considered one of the most expensive cities in the world. It is a home to many scientific and educational institutions, as well as numerous sport facilities. It possesses a complex transport system that includes the world's busiest metro system which is famous for its architecture. Moscow metro transport around 9 million people a day. Moscow also became the host of the 1980 Summer Olympics.
Hotels and lodging
Edit
Attractions
Edit
Shopping
Edit
Maps and transportation
Edit
Getting to Moscow
Edit
Exploring Moscow
Edit
Practical information and resources
Edit
Restaurants
Edit
Text with links to user-reviews on other pages
Edit
Nightlife
Edit
Photo gallery
Edit
Everything else
Edit
Got something to say that doesn't fit in the other sections of this page? Add it here!
External resources
Edit
Add links to other sites here
Community content is available under
CC-BY-SA
unless otherwise noted.