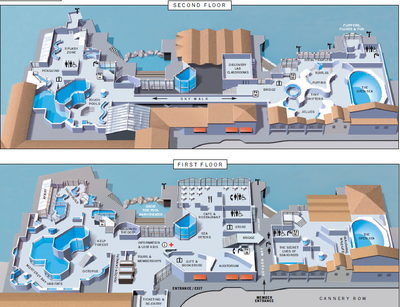 The Monterey Bay Aquarium (or MBA, founded 1984) is located on the former site of a sardine cannery on Canerry Row of the Pacific Ocean shoreline in Monterey, California. It has an annual attendance of 1.8 million visitors. It holds thousands of plants and animals, representing 623 separate named species on display. The aquarium benefits by a high circulation of fresh ocean water which is obtained through pipes which pump it in continuously from Monterey Bay.
EXHIBITS
Kelp Forest: Discover an underwater forest—at 28 feet, the Kelp Forest is one of the tallest aquarium exhibits in the world. You'll get a diver's-eye-view of Pacific sardines, leopard sharks, wolf-eels and a host of other fishes as they weave through swaying fronds of kelp, just like they do in the wild. There is also Rockfish, Cabezon, California sheephead, Garibaldi, Senorita, Kelp bass, Horn Sharks, and Bat Stars.
| | |
| --- | --- |
| Date opened | October 20, 1984 |
| Location | Monterey, California, USA |
| Number of animals | 35,000 |
| Number of species | 623 |
The Secret Lives of Seahorses: The Aquarium has more than 15 species of seahorses and their kin—one of the nation's largest collections of these charismatic animals.
Meander through four multimedia galleries and discover how these shy and secretive animals grow up, attract mates and give birth—this is the only family in the animal kingdom in which the males get pregnant! Learn how you can help save seahorses and the vulnerable marine habitats they call home.
See Dwarf, Pot-bellied, Cape, Pacific, Longsnout, Yellow, Lined, Zebrasnout seahorses, Leafy Sea Dragons, Ribbon pipehorses, and more.
Splash Zone and Penguins: Discover a place where families can explore the ocean together. Dive into a kelp forest. Visit a coral reef kingdom, and explore a rocky shore. Rockfish, sharks and penguins call these places home. Meet them in their magical worlds. See animals like the Hermit Crab, Seahorses, Sea Dragons, Anemones,Red otcopus, Decorator crabs, Bat Stars, Pharaoh Cuttlefish, Kelp rockfish, Tomato clownfish, Swell Shark, Purple and Fragile pink Sea Urchins, Zebra moray eel, various Coral, and African black-footed Penguins.
Open Sea: Out to sea and on the go—life's in constant motion in the open ocean. Welcome to the Aquarium's largest exhibit, a place where Tunas, Anchovies and Hammerhead sharks speed past, sardines swarm in huge, glittering schools, and Green sea turtles swim lazily across the 90-foot window. Nearby, colorful Tufted puffins await their next meal, and brilliant Black Sea nettles pulse through the water and see the large Ocean sunfish. There is also a Great White Shark on exhibit. For the sixth time since 2004, the Aquarium's husbandry team has successfully brought a juvenile great white shark from the wild to temporarily reside in the million-gallon Open Sea exhibit at the Monterey Bay Aquarium. He was collected by our team in a purse seine net in waters near Malibu, and arrived at the Aquarium August 31, 2011.
Sea Otters: Enjoy the antics of playful southern Sea Otters as they romp, tumble and wrestle like their brethren in the bay. On the second floor of the exhibit guests can watch them swim at the surface, while first-floor windows give an underwater view. Feeding and training sessions are held three times daily. The youngest and smallest sea otter pup ever to go on exhibit at the Aquarium made her debut June 28. Pup 540 was found washed up on a Cayucos beach in California on April 28, and is now paired with a surrogate.
Rocky Shore: The shoreline is the border between two worlds, a fluid boundary where the water advances and retreats with the rhythm of the tides. Here, barnacles stand on their heads and wave their feathery legs in the currents and brilliant ochre stars ply the rocks. Also see Carolline sculpins, Sea lemons, and Rough limpets.
Wave Crash: Some animals thrive on the full force of a crashing wave, while others know how to hide in this dramatic walk-through gallery
Rocky Shore up Close: Steer and zoom a camera by remote control to find a new view, as the tide rises and falls.
Wave Splash: Watch Tube snails catch food with their elaborate mucus strands, as well as Bat stars, Striped shore crabs, Giant green anemones and Owl limpets.
Touch Pool: Get up close and personal with Decorator crabs, Sea cucumbers, Urchins, Abalones, Hermit crabs, Snails and California Mussels.
Filter Feeders: Turn the wheel and watch live acorn barnacles turn to face the current and get a meal.
Giant Pacific Octopus: Beautiful, bashful and brainy, the Giant Pacific octopus leads a life of mystery. With a personality that's as complex as its appearance, this animal is a master of disguise that can solve a maze, recognize our aquarists, and has the power to jet across the exhibit in a whoosh of water. Recently, the Monterey Bay Aquarium's giant octopus exhibit has been looking a little like a preschool play session. Several days a week, aquarist Adam Frantz has been challenging the two, 11-pound octopuses with balls, jars with hidden treats inside, and plastic mazes. It's all part of the Aquarium's "enrichment program" for these inquisitive and intelligent animals.
Monterey Bay Habitats: Explore the waters of Monterey Bay, where Broadnose Sevengill ahrks, Leopard sharks, Spiny dogfish and White sturgeons glide through the deep reef, Common murres plunge from the surface and flatfish nestle in the sandy sea floor. This hourglass-shaped exhibit is over 90 feet long, and highlights five different habitats beneath the bay and the amazing creatures that live there. This exhibit holds 350,000 gallons of water and the acrylic windows are three to four inches thick. Also see Wolf eels, Halibut, Black perch, Yellowtails, Giant Sea bass, Fish Cabezon, Rock fish, Bat rays and many more.
Sandy Shores: Investigate a world of mud flats and marshes rich with life, a place where long-legged birds ply the sands and flounders lie flat to keep from being found. Watch our birds forage for insects, just as they would in the wild, and gently touch the back of a Bat ray as it skims along the bottom of our touch pool.
Birds: Snowy plover, Red phalarope, Western sandpiper, Long-billed curlew, Ruddy turnstone. the aquarium's first snowy plover chicks of the season hatched behind the scenes. Each year plovers in distress and abandoned eggs are brought to the Aquarium, one of the main rehabilitation sites for shorebirds in northern California. Our goal is to release these chicks to the wild!
Fish Species: Bay ghost shrimp, Leopard shark, Shovelnose guitarfish, Sand crab, Burrowing anemone, Starry flounder.