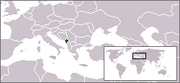 Hotels and lodging
Edit
The best hotels to stay at are on the coast of Montenegro. Resort communities dot this nation's coast, from Ulcinj in the warm, sunny south of Montenegro, to Budva in the north climes.
Hotel La Rosa Negra - The only hotel in Ulcinj which is located just 20 meter to the most famous beach Velika Plaza. 180 degree pannora views overlooking the Adria. Each hotel room has seaview. Free sun loungers. Bar and Restaurant including stone oven pizzeria. Las Rosa Negra is famous for its event facilities and is able to cover large weddings or event with up to 400 guests. Hotel La Rosa Negra - Ulcinj Montenegro
Hotel Mediteran* (3 stars)
Situated in the historic coastal city of Ulcinj, the Hotel Mediteran overlooks the Old Town (Stari Grad Ulcinj) and is just steps to the city beach, beach promenade, and town restaurants, shops, and nightclubs. The Hotel Mediteran features 134 guestrooms, each with an outdoor patio featuring a view of Old Town Ulcinj and the Adriatic Sea. Part of a master-planned resort community including the new Illyrian Resort and Spa, opening in 2012. Hotel Mediteran Resort - Ulcinj ]
Medina studio apartments are the symbol of holiday in peaceful and nice area. Located in the mount of Pinjes which is in Ulcinj known as the best holiday are. the distance to the sea from Medina studio apartments is not big. Since there are a lot of beaches in that area, the nearest one and at the same time the best one is in 600 m distance. Parking places in every beach in Ulcinj is not a problem, and since this street which takes You to the beach is not crowded You will be at the beach in less than three minutes, of course, if You decide to go to the beach by car. The studio apartments Medina are very well equipped. every apartment has its own terrace. Since there are nine studio apartments, five of them have sea view terrace of their own. TV, airconditioning, bathroom, kitchenette are amenities with which every unite disposes. Parking place is also somehing You do not need to worry about, because every our guest has it for every apartment booked. Since medina Studio apartments are finished in 2009 year You do not need to worry if something does not works or is broken. During the summer and the lack of rain, in Ulcinj sometimes can happen to be some dry periods without a water during the day, but being accommodated in Medina studio apartments You do not need to worry about that, since we have 24 h water in every time of the year.
LOCATION OF MEDINA STUDIO APARTMENTS
The mount Pinjes is the name of the area where Medina studio apartments located are. From the apartments to the beach there is not a big distance, it marely has the distance of 600 meters, which if we consider that You will have the peace and not noisy accommodation, will not make a big problem. Our experience tells us that those 2, 3, 4 or even ten minutes closer or further to the sea does not make a decisive difference when You find yourself a nice and comfortable accommodation which suites You.
Beautiful green garden, big enough for every guests peace a space, and for children enough playground. Nice equipped room, each of them with TV, AC, bathroom, terrace or balcony. Two kitchen only on our guests disposal are located on the second floor of sars apartments.
Wireless internet connation free of charge for all guests, with the computer. At the lobby room with a nice atmosphere, equipped also with a LCD TV, which is used as a TV room. 11 rooms which we have at your, are ready to accommodate up to 25 guest.
Large parking place, secures free of charge parking for every car per room. 7 room on the ground floor 3 from them of the 2 + 1 beds capacity the others are double bed rooms. Up on the second floor over with the same conditions are the room down. The structure of the rooms is : two 2+1 bedroom, 1 double bedroom, and 1 single bedroom. Two rooms on the second floor are with sea view and have separate terraces.
Studio apartments in Ulcinj Pontino is consisted by 6 accommodation units of different size and capacity. Studio apartments are divided in two floors. Each floor has 3 studio apartments and every of them has its own separate entrance to studio.
Three studio apartments are placed on ground floor of Pontino Ulcinj apartments. Two of three studio apartments have an capacity of three beds, and one studio apartments has the capacity of 4 bed. Every of those studio apartments have its own divided terrace in front of the accommodation, of course overlooking to clear and blue Adriatic Sea. Suggested for families with small children
In this floor are also placed three studio apartments, but are a little more spacious and with larger capacity. One studio apartment is a triple, one studio apartment is 4 bed studio and the third is 4+1 studio apartment.
FACILITIES OF ULCINJ APARTMENTS PONTINO STUDIO
Pontino studio apartments are recommended from our side to families, who are looking for an holiday near the beach and enough comfort to host whole family in one accommodation unit. Every studio apartments is equipped with:
TV
Ac
Bathroom
Kitchenette with all necessary dishes
Terrace or balcony with sea view
Parking Place
Towels
Illyrian Resort and Spa* (4 stars)
Opening in 2012, the Illyrian will be the first new 4-star resort and spa facility to be built along the Montenegro coast in more than 30 years. Featuring state-of-the-art guest rooms, meeting facilities, and spa, as well as a restaurant with stunning views of the Adriatic Sea, the Illyrian is intended to bring a new standard to guest accomodations to coastal Montenegro. A primary feature of the resort will be a 2-story clear-span indoor pool complex, with spa, sauna, and fitness facilities, all finished with a Hollywood flourish in design, amenities, and signature facilities. Part of a master-planned resort community including the historic Hotel Mediteran Resort.
Hotel Splendid, Bečići (5 stars)
Most luxurious hotel on the coast, according to many of the locals. The hotel has 322 rooms and suites in total, each with king size beds, private balcony, most with beach front or mountain view, and is consisted of: 254 double rooms, 56 connected rooms, 6 rooms for handicapped, 2 VIP suites (1 penthouse suite (215 m²) and 1 presidential suite (385 m², private pool, terrace panoramic view)), 4 junior suites with sea view (54 m²) and 13 wellness executive suites (84 m²). Along with these accommodations, the hotel also has a Spa and Wellness Center, which have the following facilities: hammam, jacuzzis, 3 inside & 3 outside heated pools, various In-outdoor sauna (thermal, steam, infrared, herbal, etc.), gym, solarium and a hotel beach.
Hotel Kosta's, Podgorica (5 stars)
Rooms are air conditioned and equipped with stereo with CD player, television and satellite programmes, a telephone and the internet connection, a minibar with ecologically-still drinking water (hot and cold), anti allergic air conditioned mattresses. All the rooms have kitchen, some of them are equipped with computers, saunas, gladiators, jaccuzi and hydro massage baths. Rooms cover the area of 40m² to 102m². The capacity of the hotel is 46 beds. Within the hotel, the guests can enjoy and use the restaurant, salon, a non-stop working cafe, massage parlor and room service.
Hotel Iberostar Bellevue, Bečići (4 stars)
The hotel offers accomodations like spacious double or twin-bedded rooms with air-conditioning, shower, balcony, telephone and cable TV with local and international programming in each of their rooms. Bathrooms are with bath or shower and have a hairdryer. It also offers laundry service, as well as a private beach.
The hotel offers one large, round swimming pool and an additional adults pool and children's pool in the garden. They also offer free sunbeds, as well as a snack bar. The non-smoking, air-conditioned restaurant offers an all-you-can-eat international buffet which serves breakfast, lunch and dinner.
There are many activities in the hotel. The International animation team keep you occupied throughout the day with activities and light evening entertainment such as tennis, mini-football, basketball, darts, aerobics, aqua aerobics, sports, table tennis, waterpolo and volleyball. Watersports are available on the beach (under separate management). There are daily top scorers of each activity and win certificates for their accomplishments. The hotel also holds competitions and offers quizzes, bingo, cabaret and karaoke. Children can play at a special playground near the pools or at a designated playroom within the hotel.
The hotel also holds plays during the nighttime, where they act out various famous plays, like Grease. They also hold comedy shows, as well as parties for toddlers and adolescents. Unlike many of the hotels, the hotel serves as a location for a local tv show broadcasted by TV Budva, and is viewed by many through syndication on RTCG, a national tv station.
Hotel Crna Gora, Podgorica (4 stars)
Hotel Crna Gora has 142 rooms and 7 apartments with a total of 290 beds. All of the rooms have mini bar, TV with satellite programs, Internet and room service. The hotel has a casino, gift-shop, hairdresser, a restaurant, tavern, cafés, aperitif bar and night club. Four vast salons favourable for receptions and banquets with a total capacity of 300 seats and can be inter-connected into an auditorium with 750 seats, favourable for holding symposia and congresses. There are 1000 seats in the summer terrace available during the summer.
Attractions
Edit
Maps and transportation
Edit
Getting to Montenegro
Edit
Rent a Car in Montenegro — Car hire services and shuttle transfer to and from airports Podgorica, Tivat and Dubrovnik Car Rental Montenegro
Rent a Car in Montenegro — Car hire services and shuttle transfer to and from airports Podgorica, Tivat and Budva-Sixt rent a car Montenegro
Exploring
Edit
Montenegro
Edit
Practical information and resources
Edit
Restaurants
Edit
Text with links to user-reviews on other pages
Edit
Nightlife
Edit
Photo gallery
Edit
Everything else
Edit
Got something to say that doesn't fit in the other sections of this page? Add it here!
External resources
Edit
Add links to other sites here
Community content is available under
CC-BY-SA
unless otherwise noted.