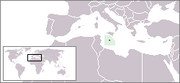 Malta is situated in the Mediterranean Sea 93 km from Sicily, consist of Malta 390 square km, Gozo at 65 km and Comino 2.5 km. The islanders (a 400,000 strong population tracing their origins to before 4000 BC) owe their faith to the apostle Paul who was shipwrecked on Malta in AD60. Their language is basically Semitic which constitutes a group of the Afro-Asiatic languages that includes Arabic, Aramaic, Amharic, and Hebrew, however uniquely Maltese, owing mostly to the Arabs who ruled for 268 years; and their deep sense of democracy is due to a 164 years of British connection. The islands achieved independence in 1964 and became a republic in 1974. Malta joined the European Union on May the 1st 2004. The current President of Malta is Dr Edward Fenech Adami.
Tips for: backpackers • business travelers • luxury/exotic travel • hitchhikers • families • seniors • LBG travelers • pet owners
Hotels and lodging
[
]
Attractions
[
]
The Hypogeum, or underground cavity, is a unique monument and a splendid example of architecture in the negative. This unique monument is inscribed in the UNESCO World Heritage list.
Ggantija Temples in Xaghra, Gozo, are one of the most important archaeological sites in Malta. The origins of Ggantija date back to the Ggantija phase (3600 – 3200 B.C.). The Ggantija megalithic complex consists of two temples surrounded by a massive common boundary wall. The temples at Ggantija are built with rough, coralline limestone blocks. The gigantic dimensions of the megaliths have always struck a chord with popular imagination. In centuries past, some locals even believed that the Islands' temples, in particular those of Ggantija, were the work of giants. This particular temple site in Gozo bears witness to this ancient legend: its name, Ggantija, is Maltese for giant.
Shopping
[
]
Maps and transportation
[
]
Getting to Malta
[
]
Exploring Malta
[
]
Practical information and resources
[
]
Restaurants
[
]
Text with links to user-reviews on other pages
[
]
Nightlife
[
]
Paceville is Malta's main nightlife area. Paceville lies on the hill between Spinola Bay and St George's Bay. It is the scene of Malta's year-round nightlife and offers leisure, entertainment and dining to suit all tastes. There is plenty to choose from as Paceville has the latest in club DJ music, as well as piano bars, an elegant casino and superb restaurants. The casino is in Villa Dragonara, once the private home of a 19th-century Maltese aristocrat. The island has plenty of nightlife as well as the usual mix of restaurants, festivals and bars. The Maltese know how to party too. For almost half the year, rarely a day goes by without a feast or celebration held in one of the villages or towns on the island. Fireworks abound as tradition celebrations extend into night-time parties.
Photo gallery
[
]
Everything else
[
]
Got something to say that doesn't fit in the other sections of this page? Add it here!
External resources
[
]
Add links to other sites here