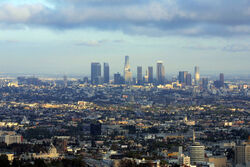 Los Angeles, the USA's second most populated city after New York City, is a major industrial and commercial centre. The city's world –wide fame is linked to the film-making and television industry, however Los Angeles, with its mild winters and warm summers is also a popular holiday destination.
Los Angeles was founded in 1781 by Spanish Franciscan monks and given the name Nuestra Senora Reina de los Angeles. The city belonged to Mexico until 1848, when, together with California, it became part of the USA.
Los Angeles, 80 km long and with a surface area of 1200km2 is too large to rotate around one city centre. The city's construction has never followed a rational building plan and the result is a de-centralised city with a number of individual built-up areas linked by a dense network of roads. (Santa Monica, Beverly Hills, Culver City, Hollywood, Inglewood, Long Beach, Pasadena) Los Angeles is a notable cultural centre and is home to numerous academies including: the California State University(1947); the Loyola Marymount University (1911) and the University of California-Los Angeles UCLA ( 1919), worth a visit, in order to gain an idea of an American university campus.
The city does not possess many significant or important monuments or buildings, however its title as the capital of the cinema industry, makes it's a great attraction. A guide d tour of Los Angeles usually starts in the Hollywood district, where a tour of Universal Studios is obligatory. The studios house the Universal Amphitheatre, where international rock groups and pop stars perform. Hollywood Boulevard, a large open-air amphitheatre in Highland Avenue is home to the Los Angeles Philharmonic Orchestra. The pavement, outside Mann's Chinese Theatre, is famous for its foot and handprints of show-business stars. The 40 km- long Sunset Boulevard, immortalised in the 1950 film of the same name, best shows the vast economic and architectural differences of the city. The road stretches from the rich and famous Bel Air and Beverly Hills to Hollywood and Downtown, the oldest part of the city.
Neighborhoods
Edit
Los Angeles International Airport(LAX)
Tarzana
Woodland Hills
Hotels and lodging
Edit
Residence Inn Burbank Downtown , 321 S. First Street, Burbank CA 91502, +1 818 260-8787. All-suite downtown Burbank suburb hotel. Minutes away from Bob Hope Airport, Glendale and Studio City.
The Grafton on Sunset , 8462 West Sunset Blvd, West Hollywood, CA. Boutique hotel situated next to the Mondrian Hotel and down the street from the House of Blues. Small but efficient rooms are either one floor up (on level 4) or 1 - 2 floors down. Pool on level 1. Wireless Internet is $3.99 plus tax.
Torrance Marriott South Bay , 3635 Fashion Way, Torrance CA 90503, +1 310 242-4311. A luxury Torrance hotel. The Marriott South Bay hotel near Redondo Beach features comfortable guest rooms, savory dining and convenient hotel amenities.
Marina Del Rey Marriott, 4100 Admiralty Way, Marina Del Rey CA 90292, +1 310 301-3000. The Marina del Rey Marriott offers a distinctly modern, yet sophisticated hotel experience with 370 guest rooms offering both water and mountain view.
Manhattan Beach Marriott , 1400 Parkview Avenue, Manhattan Beach CA 90266, +1 310 546-7511. Located in the upscale South Bay area, the Manhattan Beach Marriott sits on 26 beautifully landscaped acres 3 miles south of the Los Angeles International Airport. Also features a 9-hole golf course and 2 miles away from the beach.
Chateau Marmont, 8221 Sunset Blvd, Hollywood, CA 90046, +1 323 656-1010.
Renaissance Los Angeles Airport Hotel , 9620 Airport Boulevard Los Angeles, California 90045; A luxury hotel in Los Angeles, the Renaissance Los Angeles Airport Hotel is centrally located near the LAX airport.
Los Angeles Airport Marriott The Los Angeles Airport Marriott Hotel is a refreshing way to enjoy Los Angeles. Experience our sophisticated LAX hotel boasting a resort style pool and stunning outdoor areas for social events or a relaxing day in the sun.
JW Marriott Los Angeles L.A. LIVE In the heart of Downtown Los Angeles, just steps from STAPLES Center, JW Marriott Los Angeles L.A. LIVE Hotel.
Weather For Los Angeles,California

| | | | | | | | | | | | | | |
| --- | --- | --- | --- | --- | --- | --- | --- | --- | --- | --- | --- | --- | --- |
| Month | January | February | March | April | May | June | July | August | September | October | November | December | Year |
| Average High F(C) | 65.7F(19C) | 65.8F(19C) | 65.5F(19C) | 67.5F(20C) | 69.1F(21C) | 72.0F(22C) | 75.4F(24C) | 76.6F(25C) | 76.6F(25C) | 74.5F(24C) | 70.3F(21C) | 65.8F(19C) | 70.4F(21C) |
| Average Low F(C) | 47.8F(9C) | 49.3F(10C) | 50.5F(10C) | 52.9F(12C) | 56.3F(13C) | 59.5F(15C) | 62.8F(17C) | 64.2F(18C) | 63.1F(17C) | 59.2F(15C) | 52.9F(12C) | 47.8F(9C( | 55.5F(13C) |
| Daily Average F(C) | 56.7F(14C) | 57.5F(14C) | 58.0F(14C) | 60.2F(16C) | 62.7F(17C) | 65.7F(19C) | 69.1F(21C) | 70.4F(21C) | 69.8F(21C) | 66.8F(19C) | 61.6F(16C) | 56.8F(14C) | 62.9F(17C) |
| Precipitation inches(mm) | 2.4in(61.0mm) | 2.51in(63.8mm) | 1.98in(0.53mm) | 0.72in(18.3mm) | 0.14in(3.60mm) | 0.03in(0.80mm) | 0.01in(0.30mm) | 0.15in(3.80mm) | 0.31in(7.90mm) | 0.34in(0.60mm) | 1.76in(44.7mm) | 1.66in(42.2mm) | 12.02in(305.3mm) |
| Average Precipitation Days | 4.5 | 4.6 | 4.9 | 2.5 | 0.6 | 0.2 | 0.2 | 0.4 | 1.0 | 1.4 | 3.1 | 3.8 | 27.2 |
Attractions
Edit
Travelling westwards the visitor arrives at the self-governing Beverly Hills, home of Rodeo Drive and its luxurious shops. The most ostentatious houses are located along Benedict, Colwater Canyon and Laurel Canyon. The original nucleus of "Nuestra Senora la Reina de Los Angeles del Rio de Porciuncula" is the Downtown administration centre, around Olivera Street and near to the City Hall. Olivera Street is the oldest street in the city; it resembles an old Mexican market square and has some buildings that date back to the 18th Century .The Union Passenger Station is located along Alameda Street. This 1939 railway station, a mile-stone in Los Angeles architecture, connects the city to San Francisco and San Diego.
El Pueblo de Los Angeles is a historic park which preserves the atmosphere of an old Spanish village. The park houses the Plaza Church (1822) and the Bradbury Building (304 South Broadway); this national monument, a masterpiece of marble, steel and precious wood, has an open cage lift and was featured in the Ridley Scott film, Blade Runner.
From Malibu to Newport, the Los Angeles' coast is lined with beaches: Venice, Malibu and the enormous Santa Monica with its famous Pier which houses fairground attractions from the last century. A cycle route runs along the coast from Pacific Palisades until Marina de Rey.
Los Angeles has numerous beautiful parks including: Griffith Park, which houses the city zoo and the Gene Autry Heritage Museum; Exposition Park, with the Museum of Science and Industry and the Museum of Natural History and Hancock Park, between the residential districts between Melrose, Wilton and Wilshire, noted for its 1920's architecture. The Los Angeles county museum of Art is located on Wilshire Blvd and houses collections of contemporary, Asiatic and Middle-Eastern art.
Other notable museums include the Museum of Contemporary Art; the Southwest Museum; the Hollywood Bowl; the Malibu and the Paul Getty Museum, a reconstruction of the Villa dei Papiri in Ercolano, home not only to the museum, but to an art research and study centre, set up by the millionaire Paul Getty. The museum's collection includes 18th century American artists, Renaissance, Baroque, Roman and Greek art. Los Angeles, with its large and heavily congested Freeways, is best visited by car. During rush hour it is possible to travel at the slow speed of 40 km per hour. Apart from the beaches, the only part of the city, where it is possible to visit on foot is: Little China town, Little Tokyo and Olivera St.
The three metropolitan lines ( blue, red and green) and numerous bus routes, connecting the various centres, make moving around the city relatively easy.
Trump National Golf Club Los Angeles, California Trump National Golf Club has reached the pinnacle of the luxury golf experience. With world-renowned restaurants, unmatched service, exclusive amenities, and the most spectacular panoramic Pacific Ocean views, Trump National has no equal.
Maps and transportation
Edit
Getting to Los Angeles
Edit
Los Angeles International Airport
Exploring Los Angeles
Edit
The coastal town of Santa Barbara, marks the imaginary Southern Californian line, where travelling northwards, the visitor leaves behind him the influence of Los Angeles. The town is dominated by Spanish architectural style. Its white painted houses, covered with red-tiled roofs are decorated with ornate wrought-iron balconies. In the 18th century the Spanish gave this place the name of " Tierra Adorada" and founded the Santa Barbara Mission, an excellent example of a Franciscan mission and which today houses a museum.
One of the most beautiful national parks in America is located on five small islands off the coast of Santa Barbara. The park is so extraordinary, that is has been declared an International Biosphere Reserve by the United Nations. The channel, which separates the islands from the mainland, is a migratory route for whales and sea lions.
Any tour of the island should start from the port of Ventura, where a visitor centre provides all the necessary information about this archipelago. The park is a real paradise for divers and for those wishing to observe the park's flora and fauna. The island of Catalina, located 30 km. off the coast of Los Angeles, is a carefully protected nature reserve. The visitor centre rents glass bottom boats, which allow the visitor to admire the extraordinary sea bed, giant algae and multicoloured fish. The Mojave National Reserve is located approximately 200 km. to the east, along Interstate 10 and 15. The reserve comprises 600 hectares of arid and fascinated desert. The various roads, which cross the Mojave, allow the visitor to appreciate mysterious volcanic landscape, sandstone cliffs, shimmering salt flats, abandoned mines and sand dunes, which reach a height of 180 metres. The reserve is home to the desert tortoise, big horn sheep and the American black tailed hare, known as the "Jackrabbit".
Venice, overlooking the Ocean, is a lively and colourful location of artists, break dancers, punks, surfers and musicians. Marina del Rey separated from Venice Beach by a Quay, is a huge tourist port. The port is overlooked by Fisherman Village and is the site of numerous beautiful walks.
Long Beach in South Bay offers two attractions: Queen Mary, the famous transatlantic liner,now a museum and the Spruce Goose, an enormous seaplane, built during the Second World War, by the millionaire and Hollywood producer Howard Hughes. Disneyland, created in 1955 by Walt Disney, is located in Anaheim,and is easily reached travelling along the Santa Ana Freeway, exit at Katella avenue. The park is divided into six zones which depart from Main Street : Frontierland, Bear Country, Adventureland, Fantasy Land, Tomorrow Land and New Orleans Square. The Main Street is the site of the Electrical Parade,an evening procession of cartoon characters and floats, illuminated by thousands of fairy lights. The parade finishes with a magnificent firework display.
Take a ride on " Colossus", the largest and fastest big dipper ever built. It is 3 km long and reaches a speed of 100 km per hour. The big dipper is located at Six Flags Magic Mountain on Interstate 5 near Valencia to the north of Los Angeles.
Practical information and resources
Edit
Currency : US Dollar, subdivided into 100 cents.
Electric supply: 110-120 volt, 60 hertz.
Climate : Mediterranean, with warm and dry summers with mild winters.
Opening hours : Shops are usually open Monday to Saturday, from 10 am. to 7 pm. Many are also open Sunday at the same times.
Telephones : Telephone codes: 213 / 808 /
Los Angeles Resort Life - Vacation guide to local resorts, attractions, recreation, festivals and other fun activities.
Restaurants
Edit
If you are in the South Bay area of Los Angeles, check out "Rice Things". It is a small Japanese restaurant on Artesia Boulevard in Redondo Beach. Very affordable and good. Two item meal (like chicken katsu and beef teriyaki) plus rice, salad and drink are under six dollars. Many other items available as well. Clean and friendly place. A local favorite.
Rice Things
2401 Artesia Boulevard Suite 105, (corner of Mackay and Artesia)
Redondo Beach, CA 90278
(310) 214-9033
Review of Rice Things at SeeTheGlobe.com
This is a local restaurant that has a great reputation. I think that most of its patrons are regulars. Food is always fresh and prepared perfectly. For breakfast, they will serve you a complimentary basket of mini muffins which are to die for. Lunch and dinner items are served in large portions but not skimping on quality. You must try their bread pudding, served with a pear and their wonderful sauce.
Misto Caffe and Bakery
24558 Hawthorne Blvd.,
Torrance, CA 90505
Phone: (310) 375-3608
Review of Misto Caffe and Bakery at SeeTheGlobe.com
Text with links to user-reviews on other pages
Edit
Nightlife
Edit
Photo gallery
Edit
Everything else
Edit
Got something to say that doesn't fit in the other sections of this page? Add it here!
External resources
Edit
Add links to other sites here
Community content is available under
CC-BY-SA
unless otherwise noted.