We're Getting Mutants in the MCU - The Loop
Play Sound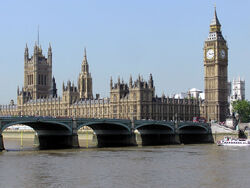 London, the capital city of the United Kingdom (or England, as Americans call it), which was originally a small settlement on the north bank of the river Thames. The city now boasts 32 districts (called boroughs) and 7 million inhabitants. Confusingly, two of the central districts are themselves called 'cities': the City of Westminster, and the City of London or "Square Mile". Its residents come from the four corners of the globe, speak a total of over 300 languages and represent all the world's religions.
As London grew it swallowed up many small villages, so it is now a city with many hearts, which the visitor can find fascinating and at the same time disorientating. The city's many centres are in a state of constant change, both architecturally and socially.
London is a busy and complex city, an intricate web of buildings, spaces and people; where there is the ever-present risk for the visitor of getting lost. It is vast and would require years in order to explore it in-depth. A list of things to see could also be misleading, given the richness and diversity of what the city has to offer. Therefore, it is advisable for each person to choose those things in which he is most interested. A possible solution may be for the visitor to limit himself to the five zones which contain the highest concentration of London's major sights: Whitehall, Westminster, The City, Soho, Trafalgar Square, South Kensington and Knightsbridge.
The City, located on the north bank of the Thames, is now the financial heart of London. This area was the original site of the Roman city, which over a period of 2000 years has become the present day London. Parts of the old city walls are still visible just south of the Barbican, and the sites of the several gates in the walls survive as place names: Aldersgate and Ludgate, for example. An open-space in the centre of The City marks the point where eight roads converge. This space is the site of the Bank of England, the Old Stock Exchange and the residence of the Mayor of London. The City of Westminster, a short distance up-river, began to develop in the 11th Century, shortly after the Norman conquest. Home to Westminster Abbey, the coronation site and the final resting place for England's kings and queens, which today functions both as an official church and as a national museum. Westminster Hall, now incorporated in the Houses of Parliament,is all that remains from the period of reign of the Norman kings.
Buckingham Palace, the official London residence of the Queen, stands at one end of St James' Park. The park's grounds stretch from Parliament to Trafalgar Square, home to the tall column which commemorates Lord Nelson. It is possible to see inside during some of the summer months, when the Queen herself is not in residence.
Number 10 Downing Street is located a short distance away and is the official residence of the British Prime Minister. Security railings prevent visitors from entering the street, but it can be viewed through them.
The road which runs from Westminster to The City is the most important in London. This road bears two names, at its western end, it is referred to as the Strand, whilst in The City it becomes Fleet Street.
In order to protect the city and its port, the Norman kings built the Tower of London. The building, which also served as a prison, and home to the English kings from William the Conqueror to James I (who had been James VI of Scotland), now houses the crown jewels.
The elegant districts of the West End, Mayfair, Belgravia, Marylebone and Kensington stretch to the north and west of Westminster, and contain numerous spacious parks: St James, Hyde Park, Kensington Gardens, Regent's Park.
These districts are criss-crossed by large busy streets including: Piccadilly, Bond Street, Park Lane, Knightsbridge, Regent's Street, Oxford Street, Charing Cross Road and Haymarket. In the eastern part of the city, in the boroughs of Newham, Tower Hamlets and Southwark, near the area of the old docks, serve as a reminder of the poverty of this zone of the city, although the dockland area itself has recently seen a boom in building and has become a second financial district. The residential districts stretch throughout the city towards the green slopes of Hampstead, Highgate and St John's Wood and onwards to Wimbledon and Richmond parks; ideal for those who love long walks. The public transport network is enormous. London is divided into six circular zones and tickets are valid for individual travel within each zone. Visitors usually limit themselves to travelling within the first three zones. It is recommended to purchase a travelcard, available from station ticket-booths. Once purchased, the travelcard permits the holder to travel anywhere within the chosen zone on all means of public transport, including buses and the underground railway (the Tube), the Docklands Light Railway and British Rail trains within that zone. Day travelcards are valid on night buses until 4am the following day, and there is a surcharge for day travelcards purchased before 9:30am. The Weekly Travelcard is valid 24 hours a day, 7 days a week, for travel in the chosen zone.
everyone should visit London .it has many attractive places like Big Ban, London Eye , nightclubs  


Tips for: backpackers • business travelers • luxury/exotic travel • hitchhikers • families • seniors • LBG travelers • pet owners
Districts
Central London
Camden
Hackney
Southwark
Westminster
City of London
Waterloo
Lambeth
Inner London
Greenwich
Hammersmith and Fulham
Kensington and Chelsea
Wandsworth
Outer London
Barnet
Croydon
Harrow
Hillingdon
Kingston upon Thames
Richmond upon Thames
Waltham Forest
Hotels and lodging
London hosts a variety of different hotels, from luxurious pads in Knightsbridge to budget B&Bs.

Hotels near Sports Venues

Airport Hotels
Hotels near Exhibition Centres
Attractions
Take the Tube to

Charing Cross station

and walk the few yards to Trafalgar Square in order to visit the National Gallery. It is advisable to divide the gallery tour into various different days, in order to see its vast quantity of European masterpieces. Entrance is free and the gallery houses a café, restaurant and a book and souvenir shop. The restaurant has nice views over the rooftops towards Trafalgar Square.
The Victoria and Albert Museum has galleries housing paintings, designs, sculptures and clothing. A café and self-service restaurant are located in the gallery courtyard. Tube stop, South Kensington: on the District, Circle and Piccadilly lines. A mid-week visit to the British Museum, in Great Russel Street, is highly recommended. Entrance is free and the museum houses two copies of the Magna Charta, the Parthenon Frieze, a watch and miniature collection and the world's largest collection of antique art. The museum also has a large and well-stocked book and souvenir shop. Tube stop; Russell Square on the Piccadilly Line.
The Tate Modern hosts important contemporary art exhibitions. Entrance is free. The gallery is in the old bankside power station on the south bank. Map.
Visit

Kew gardens

: its historic green-houses, allow the visitor to admire the vast assortment of flora gathered from around the world. Tube stop: Kew on the District Line
One of the most evocative walks in the city, is a stroll along the banks of the River Thames, best undertaken either early in the morning or late in the evening, when the light reflects off the water, the bridges and the fronts of buildings. Depart from

Waterloo Station

on the south bank of the river, an ideal view point to appreciate the city's myriad of colours.
A visit to the South Bank Centre is a must. This complex houses cinemas, museums, galleries of art and the Bramah Museum: a museum dedicated to coffee and tea, which has a shop with the same theme, located below

Tower Bridge

.
Exploring the English countryside, is possible either by car, boat, on foot or using public transport. There are many places to see as day trips near London, and the interesting seaside town of Brighton is just an hour away by train on the South Coast.
Shopping
London can satisfy the shopping tastes of everyone. Naturally it helps to know where the best places to shop are located. There are shops which offer end of line and designer sales; articles of fashion from past collections and second hand shops, which are now very much in vogue.
The various flea markets are a veritable treasure trove: Bermondsey Market( Tower Hill tube-stop, bus route 78) Portobello market in Portobello Road ( Notting hill Gate or Ladbroke Grove tube-stop), Camden Lock (Camden tube-stop). For Victorian Antiques. Camden Passage (Angel tube-stop). For fashion shops and boutiques: Sloane Street. Marks and Spencer is located in Oxford Street. Marble Arch is home to Virgin, HMV, H&M, Top Shop, Borders, Next, Gap and Muji. Markets in East London include the Columbia Market flower market on Sundays, Spitalfields Market near Liverpool Street (also on Sundays) and Smithfield Market in Clerkenwell (London's working meat market).
Soho is the home of all things musical including the historical music shop Chappell of Bond Street
Burberry, Aquascutum, Church's, Jaeger, Country Casuals, Dickins and Jones and Hamleys are all located in Regent Street. Covent Garden is the place to go to find oriental handcrafts and food.
The Charing Cross book stores offer rare and antique books covering all topics: Foyles and Bell, book and Radmall (Leicester Square tube-stop). The large department stores are original but the visitor can find the size of these shops a little disorientating: Harrods, Harvey Nichols( Knightsbridge tube-stop) and Liberty's in Regent street. Most districts have their own fruit and flower markets. Brixton ( Brixton tube-stop) is the most interesting and exotic in the south of London, with Afro-Carribean food, fashion and music. The Leadenhall Market has a medieval theme (Bank tube-stop).
Maps and transportation
Getting to London
For overseas visitors to London there are 5 airports and 1 Train station with connections to Central London.
Heathrow Airport is the biggest and busiest and is located 20 miles to the West of London.
Gatwick Airport is 30 miles South of London
Gatwick has its only railway station which is connected to the airport's South Terminal. The Gatwick Express service offers a 30-minute, non-stop service to Gatwick from London Victoria Station. A free inter-terminal shuttle service operates 24 hours a day between the South and the North Terminals.
London Luton Airport is 30 miles North of London
Stanstead Airport is 35 miles North-East of London
London City Airport is 7 miles East of the City of London
St Pancras International Train Station is located within Central London and is the new UK destination for Eurostar from Paris and Brussels.
Airport Parking
Cheap Stanstead Parking Offers the best prices on parking your vehicle at Stanstead Airport.
Heathrow Terminal 5 Parking Where to park your car at Heathrow's newest terminal.
Heathrow Valet Parking a meet and greet service available at all terminals of Heathrow Airport
Exploring London
It is possible to view the city from one of the famous red double-decker buses, heritage routemasters, on the routes number 9 and 15. The buses leave daily from Piccadilly Circus every half hour from 10am until 5pm
London has a comprehensive day and night bus network with some routes being 24 hours. Not all routes travel through the night so make sure you check the at the bus stops. Most night buses have a N before the route number e.g. N8 but not all. Buses in London charge a flat fee of 2GBP or 120p with an Oyster card for a journey. If you are getting a bus in zone 1 you cannot purchase a ticket on-board therefore you need a valid ticket or Oyster before boarding. Tickets can be purchased from machines at bus stops.
The London Underground, the Tube, is the oldest underground railway system in the world. The system operates every day of the year with the exception of Christmas Day. From Monday to Saturday the first train is 5:00 am, the last 12.30am on most lines; on Sunday it is 7.30am to 10:30pm.
London is split into 9 zones on the public transport maps with zones 1-2 being Central London. Most major attractions are based within zones 1 and 2 and within walking distance to a Tube station. Trains can be busy in peak hours so visitors may find it easier and cheaper to travel after 9.30am Mon-Fri.
There are 11 main Tube lines each with a name and are represented by different colours on the tube map, which you can obtain free at any station. Be aware that this colour scheme is not echoed by the trains themselves, and always check the front of the train for the correct destination. It is not so bad as long as you remember if you need to go Northbound, Southbound, Eastbound or Westbound for your journey as this is how you will be directed via the signs in the Tube stations. Prices on the underground depend upon the zones you are travelling within. Zones 1-2 journeys cost 4GBP or 2GBP with Oyster during peak hours Mon-Fri and with Oyster 1.50GBP off-peak and weekends.
There is also the Docklands Light Railway which connects the City with the Docklands in the East and also Maritime Greenwich.
Now there is also London Overground which is a new rail service running on the North London, West London, Gospel Oak to Barking and the Euston to Watford lines. It will be extended in the future to create an orbital service around London. Oyster pay as you go is accepted on these trains.
London is situated on the river Thames and so offers river services which offer great views of the city day or night. There are several piers for boarding and services head East towards Greenwich and the Thames Barrier and also West towards Richmond and Hampton Court. Tickets can be bought on the piers.
Taxis, called black cabs, charge by using meters and can be hailed in the street and can be expensive for long journeys; minicabs, which can be pre-booked by phone, are less expensive and call directly to the door. Never get into a minicab that you have not booked by phone. The main railway terminals are favourite sites for unlicensed cab drivers who prey on tourists.

Follow these liks to find out more about public transport in London, different tickets available.
Practical information and resources
Currency : English pound, sub-divided into 100 pence
Electricity supply: 240 volts. The plugs require the use of an adaptor.
Climate : May and June can be both cold and sunny. July and August are the only months when fine weather is guaranteed, with temperatures which vary from 25 °C to 28 °C. The temperature drops below freezing in winter with strong winds and rain. The wettest months are April, September and November.
Opening hours : The banks are open Monday to Friday from 9:30am to 3:30pm. Post offices are open from Monday to Friday from 9am to 5:30 pm. Shops are open from Monday to Saturday from 9am to 6pm; some open until 10pm and others close at 5:30pm Larger supermarkets are open 24 hours from Monday to Saturday, and during the day on Sundays. Smaller supermarkets will close around 8pm with late night-shopping one day during the week, usually Thursday. Sunday opening is allowed,but only for a six- hour period, either 10am to 4pm or 12:00 to 6pm. Museums and galleries are open Monday to Saturday, from10am to 6pm and Sunday from 2pm to 6pm.
Telephones : To call to London dial 0044, followed by the area code without the initial zero.
Restaurants
London offers international cuisine from around the world. With the creative and refined high-quality of its chefs, London has become the Mecca of gastronomy. Global Food, modern European and Cal – Ital ( a mix of Italian and Californian) are the terms used to describe this phenomenon. The majority of the restaurants serve lunch from 12.30 to 2.30 and dinner from 7pm to 11pm.
Many pubs also serve food, ranging from the most basic "pub grub" (fish and chips, sausage and mash, etc.) to the restaurant-like food served in the rather posher "gastropubs". The most common pub opening hours are roughly 11am to 11pm Monday to Saturday and noon to 10:30pm on Sunday; but note that some pubs will close in the afternoons, particularly on Sundays. It's always safest to check in advance. Some pubs serve food all day, others only at lunchtimes and evenings, others only at lunchtimes, and others not at all.
Favorite Sushi Restaurants
Donzoko is a great little find tucked in Soho just between Carnaby Street and Liberty department store. It's best to go for dinner, since the menu is more extensive than at lunch time. The traditional sushi is delicious, as are some of the smaller cooked dishes like nasu dengaku, spinach, and whitebait fish. 15 Kingly Street, London W1B 5PS, 0871 332 8395
Ten Ten Tei is a typical small sushi restaurant that's just perfect for lunch in Soho. People working locally tend to come here quite frequently. The lunch specials are good here, as well as any of the dishes from the more extensive menu. The pork curry is also quite yummy here. 55 Brewer Street, London W1F 9TJ, 0871 332 8399
Jin Kichi is perfect if you're in

North London

, located just around the corner from Hampstead tube station. Another small place in London for great sushi and cooked food as well, including superb skewers like chicken wings and asparagus. 73 Heath Street, London NW3 6UG, 0871 332 8406
Ubon is the essence of high-end, pricey sushi in the

Docklands

. If you book a table by the window and go for dinner, you'll also be treated to a wonderful view of the Thames river as it snakes into central London. This is the second of the Nobu restaurants in London, and gives diners all they have come to expect from Nobu in any city around the world — exquisite quality, extensive choice, and an exorbitant bill ;-) 34 Westferry Circus, Canary Wharf, London E14 8RR, 020 7719 7800
Great Sandwich Places When You're On The Go
Benugo's sandwich chain is just fantastic! You'll be pleasantly surprised by the interesting mixture of sandwiches on offer here, and you can even ask for custom-made sandwiches if you'd like to make your own creations. The salads here are also really yummy, as are the egg muffin breakfast sandwiches and deserts. The original location is in Clerkenwell, and you can also find them on City Road, Corzon Street, Great Portland Street and Shoreditch. They've even opened a location at the

Victoria and Albert museum

now too.
Apostrophe is another refreshing sandwich chain with selections of sandwiches and pastries reminiscent of great French and Italian eateries. The coffee is also excellent here, as is the Italian style hot chocolate (though not for the faint-hearted). The original location is at 42 Great Eastern Street, London Ec21 3CP, 0871 332 0874. But you'll also find other Apostrophe locations across London — they're hard to miss with their hot pink store fronts.
Walking into Bar Italia is like walking into a corner of Italy right in the middle of London's busiest Soho streets. This 24 hour restaurant is packed all day and night long. An old bar with original vintage fixtures and till, a slight obsession with boxing paraphernalia, and a large screen in the back which usually shows music videos or Italian football games. The coffee here is outstanding, and the chicken foccacia sandwiches are simple but yummy and huge (so be ready to share with your friends!). 22 Frith Street, London W1D 4RF, 020 7437 4520.
Modern European Restaurants Around Hoxton Square and Spitalfields
Home Bar and Kitchen has an eclectic and frequently changing menu but that is predictable only in that the dishes are always wonderful. The staff is friendly and the atmosphere is somewhat loud and laid back. Check out the uni-sex loos too. The bar downstairs is also nice. 100-106 Leonard Street, London, EC2A 4RH, 0871 3328482.
Great Eastern Dining Room is another good bet in this funky and lively neighbourhood. Located just around the corner from Home, the atmosphere in the Great Eastern Dining Room is less eclectic than Home and more typical of what you'd expect from a London restaurant with "pan-Asian" food. The food is good and there is usually plenty of energy in this place. 54 Great Eastern Street, London, EC2A 3QR, 0871 3327616
Cantaloupe is almost across the street from the Great Eastern Dining Room. This is a popular bar in a fairly large open space. The food is also good here, but this is definitely less of a typical sit-down dinner type of restaurant than either Great Eastern or Home. 35-42 Charlotte Road, Shoreditch, London, EC2A 3PD, 0871 3328501
Cargo is a restaurant and night club which is practically around the corner from Home, Great Eastern and Cantaloupe. The location is fun and fairly unique, with Cargo located under a viaduct so the ceilings are high with large arches and the walls are all made of brick. This is a good place for drinks, dinner and live music. Weekend brunch is also a favorite at Cargo, particularly for locals. Kingsland Viaduct, 83 Rivington Street, Shoreditch, London, EC2A 3AY, 0871 3328480
Text with links to user-reviews on other pages
Nightlife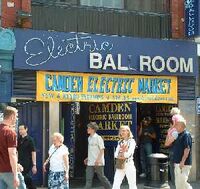 London has a very active night life and going out in the evening is part of any London holiday. Every evening there are is a wide choice of entertainment from drag acts to comedy from dance clubs to classical music. Choosing is made easier by the publication of the magazines Time Out, Evening standard and Melody Maker, which give detailed information on what the city has to offer. Tickets for exhibitions and shows are bought well in advance from the ticket booths located at Charing Cross Road and Shaftesbury Avenue. An evening in the dischoteque usually follows a pre-chosen theme, with the show starting around 11pm. London is second to none in offering classical music concerts. Its world-famous theatres include Covent Garden and the English National Theatre. Here you can find more cool fun things to do in London.
London is arguably considered as the world's clubbing center; attracting visitors from all over the globe; coming eagerly to experience the infamous London night life. London is well known for the best nightlife venues and nightlife experiences. If you are wondering about what to do in London, you should definitely party at venues such as: Cafe de Paris, Cirque le Soir, Libertine, Mahiki, and many more in which celebrities join every night! Check the full list of nightlife venues in London here to find out more detailed information.
Every day of the week there is a party going on in London, so if you're planning to visit London you can join one of the party any day! Make sure you only book with legit nightlife concierges in London so you don't waste your time and money on the wrong people.
London has been attracting tourists because of its rich culture, history and breathtaking landmarks. And nightlife in London doesn't mean only clubbing. If you're a night owl and wanting to make your nights in London a little bit more adventure-filled, then London is the place to be! Seeing London architecture and details from the London Eye and seeing the twinkling lights at night are both spectacular views that you should experience.
Here you can check some recommendations on top 5 things to do enjoy nightlife in London.

The Electric Ballroom
The Electric Ballroom has existed in Camden Town, north London for over sixty years. The establishment has served as a venue for many rock bands through the years. On weekends the building has an indoor market with about fifty stalls selling a variety of fashionable, lifestyle and music related goods. The two main club nights are Sin City (formerly full tilt, however, the two events are ran by different companies), playing rock, and alternative genres on a Friday night, while Shake plays mostly pop and dance from the 70's onwards on a Saturday.
It was proposed to demolish the Electric Ballroom in order to allow the redevelopment of Camden Town tube station, but the planning application for the redevelopment was rejected by Camden Borough Council in 2004. A revised proposal from Transport for London in 2005 to demolish the whole block including Ballroom, Buck Street Market and the Dr Martens flagship store was rejected by Deputy Prime Minister John Prescott which has allowed the Electric Ballroom to continue to thrive.
The source of this article is the [http://nightlife.wikia.com/wiki/Electric_Ballroom Nightlife Wikia.
Photo gallery
Everything else
Got something to say that doesn't fit in the other sections of this page? Add it here!
External resources
Add links to other sites here