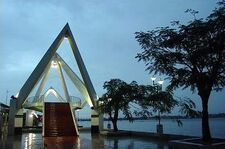 Kochi is a city in the southern Indian state of Kerala. It is also known as Cochin. For all practical purposes, Ernakulam and Kochi are the same city. The population of the city is 650,000 and the population of the extended city is estimated to be 1,600,000, making it the second largest city of Kerala state, the first being the state capital, Trivandrum.
Kochi located on the coast of the Arabian Sea has remained a well known port city, and has earned its well deserved nickname of the queen of the Arabian Sea where the waters of the sea enters into the hinterland few kilometers away from Kochi to make great lagoons. These lagoons are called the backwaters of Kerala, and are nature lover's delight. In ancient literature and texts, Kochi has been referred to variously as Cocym, Cochym, Cochin, and Cochi. It is of the major centers of spice trading in Kerala. In cultural development Kochi lags far behind other major towns in Kerala. Hardly any writer of note has rose to prominence from Kochi. For centuries, people of Kochi have remained associated with many cultures of the world, and this has imparted a distinctive flavour and dimension to its culture alongside its own brand of the culture, which is truly Keralite in character.
Hotels and lodging
Edit
Attractions
Edit
Kochi also known as Cochin has many places of tourist interest. The major ones are:
The Art Complex (Madhavan Nayar Foundation), Edappally
Bolgatty Island
Fort Cochin
Chinese Fishing Nets
Dutch Palace, also called Mattancherry Palace
Hill Palace Museum, Tripunithura
Paradeshi Synagogue
Kalli Kota
Gallery of contemporary Art
Light House, Vypin
Mangrove Forest, Ernakulam
History Museum, Edappally
Pallipuram Fort, Vypin
Santa Cruz Cathedral, Fort Cochin
St. Francis' Church, Fort Cochin
St. George Forane Church, Edappally
Vamanamoorthy Temple, Thrikkakara
From Kochi, you may also take many boat cruises in the picturesque lagoons (called backwaters) and enjoy the beauty of Kerala, aptly described as God's Own Country by the government and tourist officials of Kerala state of India. Kochi also serves as the point from where you start your journey to Lakshadweep islands, the gem of the Indian Ocean located around 200–300 km off the Kerala coast. These islands are parts of India and consists of twelve coral atolls, three coral reefs, five banks, and numerous islets.
Interesting Kerala in the only state in India, and perhaps very few in the world to have a Tourist Police suitably geared to look into all the complaints of the tourists, both domestic and international.

This page is empty. please add content.
Maps and transportation
Edit
Getting to Kochi
Edit
Exploring Kochi
Edit
Practical information and resources
Edit
Currency: Indian Rupee
Electric supply: 220 Volts
Time zone: Indian Standard Time (IST), which is UTC +5:30
Language: Malayalam and Hindi. One can also manage with Simple English.
Restaurants
Edit
Text with links to user-reviews on other pages
Edit
Nightlife
Edit
Kochi does not have the nightlife as understood in the conventional sense. However, you have an option to watch a variety of cultural programs including performing arts of Kerala like Kathakali or Mohiniaattam dances. You may also spend your evenings and late evenings in any of the pubs and bars attached to restaurants and hotels.
Photo gallery
Edit
Everything else
Edit
Got something to say that doesn't fit in the other sections of this page? Add it here!
External resources
Edit
Add links to other sites here
Community content is available under
CC-BY-SA
unless otherwise noted.