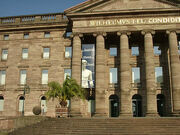 Kassel in Germany is the only major city in northern Hesse and the third largest city in the state of Hesse. Kassel was a historic capital of Hesse, and has served from 1277 to 1866 capital functions. The city is now home of the county government. It forms one of the ten regional centers of the state of Hesse.
Internationally known is Kassel, which is situated on both banks of the Fulda, especially through the hillside mountain park Wilhelmhoehe in Kassel Habichtswald and the art exhibition documenta.
The region around Kassel has lot of large forests and is perfect for ramblers and hikers.
Since 1955 the Documenta, an international exhibition of modern and contemporary art, has been held regularly in Kassel. The fourteenth documenta (d14) will take place in Kassel from June 10, 2017, to September 17, 2017.
thumb|400px|left|The region of Kassel in Germany - Visit Germany
Sightseeing
Edit
Since 2013 the Bergpark Wilhelmshoehe is the 38. UNESCO World Heritage Site in Germany. The best places for tourists are the Herkules Monument with the Lions Castle and the Palace Wilhelmshoehe and also the Karlsaue with the Orangerie Palace in the near of the Fulda River. Inside the large Orangerie Palace is the Museum of Astronomy and Technology, and a Planetarium. The water arts in the hillside park Wilhelmshoehe take place annually from 1st  May until  3 October, on Wednesdays, Sundays and public holidays from 2:30 pm. Entrance is free.
Kassel is the home of many interesting museums, like the Museum Fridericianum, the Neue Galerie, the Brothers Grimm Museum, the German tapestry museum, the Ottoneum or the Museum of sepulcral culture.
Restaurants
Edit
One of the nicest little restaurants is the Spanish restaurant "El Erni".
Hotels and Lodging
Edit
There are some good hotels in Kassel, most of them are located in the neighbourhood "Bad Wilhelmshöhe". Hotels in Kassel
Nightlife
Edit
Kassel has a lot of wine and beer bars. In the moment there are also some interesting dance clubs for young people, which are open at the weekend. Two of them: The Caramel Club Kassel and the Soda Club Kassel.
Kassel is a centre of the European and worldwide solar energy research and hosts also some worldwide best known solar product companies like the SMA Solar Technology. Many other companies like the Exhibition Stand Designer Knauf are working international.
University
Edit
Founded in 1971, the University of Kassel is the newest university in the state of Hessen. Current enrolment is approximately 25,000 students.
Tourism and Conventions
Edit
Kassel is a good place for conventions due to its centralized location in Germany and also in Europe. The city has many exciting venues for conferences and a big cutting-edge
convention center
. Contact for visitor groups is the
Kassel Marketing GmbH
, the tourist information and convention office of the City of Kassel. The city can also reached with airplanes:
Kassel Airport
.
Community content is available under
CC-BY-SA
unless otherwise noted.