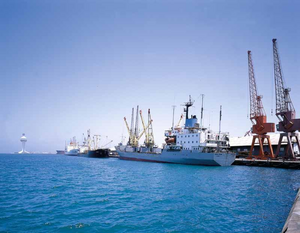 Jiddah, also spelled as Jeddah, is the second largest city (Population: around 3.4 million) of Saudi Arabia, the largest one being Riyadh, the capital city. While Riyadh is the political capital of Saudi Arabia, Jiddah is like its financial and commercial city and is one among the richest cities of the Middle East and Western Asia. The city is the most important seaport of Saudi Arabia. The city of Jiddah is also noted one for another significant reason: it the gateway to Mecca, the holiest city of Islam.
Hotels and lodging
Edit
Qasr Al Sharq is unique. 60 kilos of Gold was used on the ceilings and walls. A massive gone-with-the-wind staircase and chandelier anoint the entry way. The suites can cost over $10,000 and have Italian furniture, marble, plasma and more. There are 7 business center areas, a marble spa, a pool and spa.
List of other hotels in Jiddah
Hotel Name
Rank
 
Hotel Name
Rank
Westin Hotels, Jeddah
5 Stars
 
Hilton Hotel Jeddah
5 Stars
Crowne Plaza Hotel
5 Stars
 
Durrat Al-Arus
5 Stars
Sheraton Tower and Villas
5 Stars
 
Le Méridien, Jeddah
5 Stars
Sands Hotel
5 Stars
 
Mövenpick Hotels & Resorts Hotel
5 Stars
Marriott Hotel
5 Stars
 
Radisson SAS
5 Stars
Radisson SAS Hotel
5 Stars
 
InterContinental Hotel
5 Stars
Durrat Al-Arus
5 Stars
 
Sheraton Beach
5 Stars
Jeddah Orchid Hotel
5 Stars
 
Al Attas Hotel
5 Stars
Al Bilad Hotel
5 Stars
 
Al Sofaraa Suites
4 Stars
Al Sultan Palace
4 Stars
 
Holiday Inn Jeddah
4 Stars
al Hamra Sofitel]] Hôtel
4 Stars
 
Red Sea Palace Hotel
4 Stars
Al Harithy Hotel
4 Stars
 
Al Bustan Mercure Hotel
4 Stars
Holiday Inn Resorts
4 Stars
 
Al-Banawi Resorts
4 Stars
Jeddah Trident Hotel
4 Stars
 
Casablanca Hotel
4 Stars
Kaki Hotel
4 Stars
 
Ramada International Royal Villas
4 Stars
Habitat Hotel
4 Stars
 
Khaldiyah Palace
3 Stars
Rihana Plaza Hotel
3 Stars
 
Kandara Palace
3 Stars
Mövenpick Hotels & Resorts Resort
3 Stars
 
Sunset Hotel
3 Stars
Madina Palace
3 Stars
 
F.K.S Suites
-
Manzil Al-Tahlia Suits
3 Stars
 
Jeddah Regency
3 Stars Salhia Lotus Beach Resort 5 Stars
Attractions
Edit
There are many private beaches in Jiddah: Al Remal, Shums, Bait Albahar, '''''''Salhia Beach Resort 5 Star(Most exclusive high end full serviced Beach Resort is the best in the region) , Family Cabins and Al Nakeel and several other resorts. These places are famous for offshore coral reefs of the Red Sea. The resort of Durrat Al-Arus is an integrated tourist village located around 40 km from Jiddah and is functional from 1996. It has all the privacy and modern amenities. Apart from the seashore resorts and beaches on the Red Sea, Jiddah has another attraction, a fountain, King Fahd's Fountain [1] is a man-made fountain and the water gushing out reaches a height of around 300 meters. The spectacle is wonderful and is a landmark of Jiddah. It is also known as Jiddah Fountain.
Maps and transportation
Edit
Getting to Jiddah
Edit
Exploring Jiddah
Edit
Practical information and resources
Edit
Restaurants
Edit
Lots of places to eat out in Jeddah :
1) Fast food - KFC, Burger King, Pizza Hut, Dominoes, McDonald's etc. all have multiple outlets
2) For fine restaurants, most nationalities are available - a selection is listed below
  Yildizlar Restaurant  6531150       

  Palm Beach Restaurants  6394078        

  La Cuisine Restaurant  6630363       

  Olives Mediterranean Restaurant  6610627        

  Le Chalet Suiss Restaurant  6696248        

  Osaka - Japanese Restaurant  6696248        

  Jehan Group Holding Co.  6978040        

  Nations Restaurants  6646699       

  Chinese Golden Palace Restaurant  6690377        

  Sky Diving Center  6580000

Text with links to user-reviews on other pages
Edit
Nightlife
Edit
It is awesome
Photo gallery
Edit
Everything else
Edit
Got something to say that doesn't fit in the other sections of this page? Add it here!
External resources
Edit
Add links to other sites here
JeddahFood.com, is The Major point of call for all those wishing to find out about the latest restaurants and hot spots in Jeddah, Saudi Arabia. With Independent Reviews, Searchable Database, and tips on the top places to eat at in town. Definitely worth a look if you like eating out or even Takeaways.
Find more about Restaurants and hotels in Jeddah Saudi Arabia from Sufrati.com
Find apartments, villas, duplexes, homes, lands, offices and buildings for sale and rent in Jeddah and in all cities of Saudi Arabia. Visit Maskny.com.
Community content is available under
CC-BY-SA
unless otherwise noted.