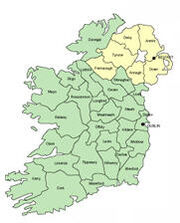 The island of
Ireland
, situated at the westernmost tip of Europe, has long been known for its warm welcomes, rich culture and history, and stunning landscapes and seascapes.
History of travel to Ireland
Edit
Among the earliest visitors to Ireland were the Phoenicians, who were reputed to travel annually to the south west of Ireland to mine copper at Mount Gabriel, returning home every winter. The bardic traditions of pre-Christian Ireland encouraged cultural travel between bardic schools in Ireland and centres of learning across Europe. This cultural and scholarly travel continued throughout the heyday of monastic learning, until the destruction of monasteries under the reign of King Henry VIII.
Celtic tiger
Edit
In recent years, Ireland became known as the Celtic tiger, when the country changed, in a just a few years, from being one of the poor relations of Europe to one of the richest countries in the world. During this time, Ireland became a costly destination for travellers and the locals were too busy enjoying their new-found wealth to have much time left to welcome visitors or share their time with them. But the wealth was built on the rocky foundations of cheap loans and foolish dreams and the tiger collapsed even more dramatically than it first appeared.
The death of the Celtic tiger is good news for travellers to Ireland. Accommodation is much cheaper, due to oversupply in every sector, and aggressive competition between airlines and ferry companies keeps travel costs down. When the tiger was roaring, it sustained the growth of an artisan food sector, incorporating great local ingredients to make great food. The tiger is whimpering now, but Ireland's food renaissance is building momentum, with year-on-year growth in food exports set to play a pivotal part in economic recovery.
Getting there
Edit
You can fly directly to Ireland from most UK airports, from several European destinations, and from the United States. You can also travel by car ferry from ports in Scotland, England, Wales and northern France.
What's there
Edit
The republic of Ireland (Eire) occupies most of the island, while the north eastern corner, Northern Ireland, is part of the United Kingdom.
Hotels and lodging
Edit
Almara Accommodations Dublin (free finder)
Imperial Hotel Cork City - four star central hotel in Cork.
The Kingsley Hotel Cork - Great hotel for business or pleasure not far from Cork City centre.
Fota Island Resort - 5-Star luxury resort located approximately 15 minutes from Cork City.
Newpark Hotel Kilkenny - Family-friendly hotel located in the cultural town of Kilkenny.
Vacapedia.com - Hundreds of Holiday Homes in Ireland. Great for family vacations.
www.hiddenireland.com a unique collection of historic private houses which offer stylish accommodation and great Irish hospitality
Attractions
Edit
Enjoy Ireland Ireland's information site of upcoming attractions.
The Ring of Kerry is a lovely, loop in the southwest of Ireland that is popular with tourists. Much of the route goes along the coast, and there are plenty of bed and breakfasts, pubs and other enjoyable stops along the way.
Black taxi tours of Belfast.
---
A truly amazing experience, travel into west Belfast, and see the wall murals, memorials, and gardens. All erected to remember the historical struggle, that has went on for over 100yrs. www.belfastcitytours.com are a leading company, with top guides. Dublin Hints and Tips
---
There is a fun local website called Hidden Dublin http://www.hidden-dublin.com that is packed with money saving tips.
Maps and transportation
Edit
Getting to Ireland
Edit
Lots of options for getting here, with a convenient mode of transportation being Ireland Fly Drive - flying and car hire combination to allow you to explore at your own pace.
Exploring Ireland
Edit
Car rental is a good option if you wish to explore Ireland. There a number of car rental companies in Ireland, main brands would be Europcar , Irish Car Rentals , Thrifty , Car Rental in Ireland and more. 
Most car rentals are available from Dublin Airport , Cork, Shannon, Galway, Kerry, Knock and Northern Ireland. 
See Ireland/Tips for backpackers and Ireland/Tips for hitchhikers.
Practical information and resources
Edit
Dublin and Ireland Visitors Guide Great Ireland resource for visitors
Restaurants
Edit
You've got your bookings, your flight, your hotel, your rental car, etc.? Have you got your restaurant, too? With the smartphone app or on the website of MyTable you find a complete restaurant directory of restaurants in Ireland and whole Europe. You can search by name, location, kitchen style, price range, etc. So when you are travelling around and don't know where to go, just search for the right place nearby (the app detects your actual location and makes proposals). Or if you want to try the special local food, search for the kitchen type you like. Or search for any other feature which is important to you (terrace, child-friendly, dogs allowed, etc.). You can make your reservation directly online and you'll get the confirmation by email or sms. Also, you can see the restaurant's menu, as well as ratings and recommendations of restaurants written by other users. MyTable services are available in English, German, French, Italian and Spanish.
MyTable.com Restaurants
Text with links to user-reviews on other pages
Edit
Nightlife
Edit
Photo gallery
Edit
Everything else
Edit
Got something to say that doesn't fit in the other sections of this page? Add it here!
Ireland/Tips for luxury seekers
10 Great Reasons To Visit Co Clare In The West Of Ireland
Cork County Cricket Club - historic sports club in the heart of Cork City

External resources
Edit
Add links to other sites here