India, geographically located in the Indian sub-continent, in South Asia, represents an ancient civilization and culture. The civilization and culture of India, extending to a time frame of around four mile, has passed through different phases and changes. It is a land of exotic places and people, and the antiquity of its cultural tradition and values are comparable to other ancient civilizations like China and Japan. It is a land of diversity, and at the same time represents a unity of continuity of traditional values. The first urban civilization in India arose around 3300 BC in the Indus river valley, and over a period of time India became a sort of a "hub of ancient trade routes, the seat of vast empires, and a center of cultural innovation and synthesis." The modern India came into existence in 1947 after it gained independence from the British Rule.
India with a population of more than 1,324,171,354 (2016) is the second most populous country of the world, preceded by China. It is land of ethnically diverse people who make the unique culture of India, the Indian culture; a land of charming landscapes with all the possible seasons; and a land where you may watch many archaeological remains and historical monuments and thus be part of an age gone by. And, at the same time, the resurgent India presents all the modern facilities to the domestic, as also the international tourists to make their stay here comfortable and memorable. India is a declared nuclear state with a "no first use" policy in effect.
India has,is and will be a Knowledge Super Power. Right from the invention of Number 0 to Bosons, Indians have always been great innovators.
Tips for: backpackers • business travelers • luxury/exotic travel • hitchhikers • families • seniors • LBG travelers • pet owners
Hotels and lodging
[
]
In bigger cities and metros of India, a number of hotels are available catering to all classes of visitors and tourists. In smaller places, unless suitable accommodation is available, it is advisable to stay overnight in nearby bigger places with accommodation of your choice. In case, your budgets may permit a little more indulgence and splurging, you may also decide to stay in a class of hotels classified as Heritage Hotels.
The Pathfinder - A directory detailing names of many Hotels of India
Heritage Hotels of India - Details including booking facilities for a group of Luxury Hotels of India
HolidayIQ - A comprehensive resource for travelers to India with listing of over 5000 hotels, hotel reviews, hotel photos, destination reviews and destination photos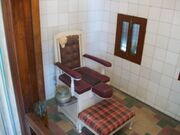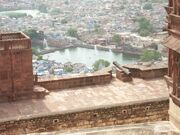 Attractions
[
]
Some one has described the cultural heritage of India as The Poetry of the Past, and this is really an apt description of Indian locations, which you as a tourist would wish to see, and saviour. When you are in India, it would be a great idea to visit as many such locations as may be possible (of course, depending on you time, plan, and inclination) to relish the great Indian cultural heritage.
Taj Mahal, (Agra): A World Heritage Site is a marvel in white marble; an expression of the love and affection of a Mughal Emperor, Shāh Jahān for his most favourite wife, Arjumand Bano Begum, better known as Mumtāz.
Qutub Minar, (Delhi): It is world's tallest minaret constructed of bricks. The constructed was started in 1193 and continued for next 175 years!
Jama Masjid, (Delhi): It was built in the 17th century by the Mughal Emperor, Shah Jehan.
Humayun's Tomb, (Delhi): It is a tomb of the second Mughal Emperor, Humayun (1508-1556), and was built in 1570. It ois the first garden tomb of the Indian sub-continent.
Shalimar Gardens, (Srinagar): Laid by the Mughal Emperor, Jehangir, for his wife, Mehrunissa, titled Nur Jahan.
Alchi Monastery, (Ladakh): Located in Alchi village and famous for 11th century wall paitings on the walls of the Monastery.
Maitreya Buddha, (Ladakh): An ancient stone carving of Buddha at Mulbeck. It marks the rise of Buddhism in this part of the world.
Jaisalmer Fort, (

Jaisalmer

) - It was built in 1156, and is the oldest fort of Rajasthan state of India. It may be covered during your visit to Jaipur.
Jodhpur Fort, (

Jodhpurr

) - It may also be covered during your visit to Jaipur. It was built around 500 years before by Rao Jodha.
Ghats of Varanasi, (Varanasi): Be high on devotion and divinity, and if you are looking to feel the religious bathing rituals in the mornings and evenings. UNSECO has declared them as a group of World Heritage Sites.
Bara Imambara, (Lucknow): Built in 1784 by the-then rulers of Lucknow to give employment to famine struck villagers. It is considered the pride of the city.
Chishti Dargah, (

Fatehpur Sikri

) - It may visited during your stay in Agra. It is a white marble tomb of Salim Chisti, a Muslim saint of Sufi order and is revered by people of all faiths. The legend states that the Mughal Emperor, Akbar was not getting any offspring, and he prayed to Salim Chisti. Salim Chisti blessed the emperor and a son was born to him.
Adalaj Vav, (Ahmedabad): A well preserved step well dating back to the 16th century. Stepping down inside the well takes you to an era gone by.
Dholavira, (

Kutch

):
Chhatrapati Shivaji Terminus, (Mumbai): Better known by its original name, Victoria Terminus (VT), it a railway terminus in the heart of Mumbai; mostly heavily used World Heritage Site, about 3 million commuters pass through it every day.
Ajanta, and Ellora Caves, (Aurangabad): These caves are also World Heritage Sites. The caves are famous for their paintings dating back to 2nd century BC and are considered as the earliest expression of India's visual art.
The Basilica of Bom Jesus, (Goa): Since 1665, the Basilica (now a World Heritage Site) houses the mortal remains of St. Francis Xaviers.
Jehangir Mahal, (

Orcha

): The ruler of Orcha (presently in the

Madhya Pradesh

state of India]] built the Palace as a gift to the Mughal Emperor, Jehangir.
Gwalior Fort, (

Gwalior

): The saying goes that Babur, the First Mughal Emperor described the Fort as a pearl among the fortresses. The fort stands on an isolated rock and its greatest length from north-east to south-west is 2.4 km, and the greatest breadth 820 m; the rock attains its maximum height of 104 m.
Khajuraho, (

Chatarpur

): It dates back to 950 AD and the stone carvings are the most celebrated manifestation of erotic art revealing the stories of love of men and women in intimate action.
Mysore Palace,(Mysore): One of the main tourist attraction in India,started construction in 1897 and completed in 1912 a century old palace traditionally gives city name City of Palaces.
Jahaz Mahal, (

Mandu

):
Victoria Memorial, (Kolkata): It was commissioned by Lord Curzon (1859-1925), the Viceroy of India, to commemorate the memory of Queen Victoria of Great Britain. The beautiful white marble structure has become synonymous with the metropolis of Kolkata.
Sher Shah's Tomb, (

Sasaram

): It is a tomb of Sher Shah Suri (1472-1545), the Pathan who ruled large parts of India very briefly. It was constructed in 1540 during Sher Shah's life time.
Konark Temple, (

Konarka

): The legend states that the 13th century Hindu Temple built in the shape of a chariot took 16 years and 12,000 workers to build. There are many erotic carvings and sculptures, and a marvel to watch.
Sanchi Stupa, (Sanchi): A World Heritage Site dating to the 3rd century BC and was commissioned by Ashoka the Great.
Sarnath, (

Sarnath

): Located around 13 km from Varanasi, it is the place where Gautam Buddha who propagated Buddhism gave his first sermon.
Gol Gumbaz, (

Bijapur

): With one of the biggest domes in the world, it is also renowned for acoustical effects. Actually it is a mausoleum Muhammad Adil Shah II (1627–57).
Vitthala Temple, (Hampi): One of the temples which remained after the destruction of Hampi, the capital of Vijayanagara Empire which ruled most of South India from mid-15th century to early 16th-century.
Padmanabhapuram Palace, (Trivandrum): From this unique wooden palace now a World Heritage Site, rulers of Travancore (now Kerala state) ruled their kingdom.
Sundareshwar Temple, (Madurai): The legend states that 2,500 before Lord Shiva (a Hindu God) married Parvati, his consort here. The celebrations are repeated every here in the temple town of Madurai. The Temple is an architectural wonder and has a history of several centuries.
To all fairness to the richness of several other destinations, it may be added that the above is just an illustrative list of places to understand and enjoy your India experience. There are certainly many more exotic destinations in India covering not only like the Heritage Sites and Monuments noted above but many more relating to Mountains, Wildlife and Beaches.
More Heritage Sites & Monuments

Apart from many monuments and places described above, India's rich cultural and religious legacy has left many more equally major sites which dot the vast landscape of India, and they include Temples of Tanjavur (Tamilnadu state) constituting the World Heritage Sites, Ruins of Nalanda (Bihar state), Nalagarh Fort of Himachal Pradesh, Sun Temple of Modhera (Gujarat state), Armenian Church of Chennai, Gwalior Fort (

Madhya Pradesh

state), Bodhgaya and Rajgir of Bihar state, Mehergarh Fort of Jodhpur (Rajasthan state).
Mountains

The magnificent Himalayas on the north gives a majestic backdrop to India's many mountain hideaways and there are incredible number of beautiful places across India nestled in the Himalayas and many other mountainous ranges of India. Some of them are Twang (Arunachal Pradesh), Chikamangalur near Mangalore, Gulmarg (

Jammu & Kashmir

), Mcleodganj (Himachal Pradesh) state, Coonoor (Kerala) state, Munnar (near Kochi) and Khecheopalri (Sikkim) state.
Wildlife

India's wildlife is perhaps characterized by a majestic tiger walking in its natural habitat, but India has a variety of fauna and flora on "display" at many of its Wildlife Sanctuaries like Wildlife Sanctuaries in the Idduki of Kerala state, Kaziranga National Park and Manas Tiger Reserve (both in Assam) state, B. R. Hills near Bangalore, Madhav National Park (near

Gwalior

, angling in the Cauvery River (Tamilnadu state), Kanger Valley National Park, the Rann of Kutch (Gujarat state), Corbettt National Park (Uttar Pradesh state) and Tadoba National Park (Maharashtra state),
Beaches & Islands

And, the heritage sites, mountains and flora and fauna do not end your India experience: you have a choice of beaches that line India's long coastlines — India is surrounded on three sides by sea, on the east by the Bay of Bengal, on the south by the Indian Ocean and on the west by the

Arabian sea

. Moreover the cluster of islands of Andaman and Nicobar have some of the enchanting beaches of India. Many beaches of India, apart from several ones in the group of Andaman and Nicobar islands, include beaches of Pondicherry near Chennai, the Papanasam Beach near Trivandrum, Erangal, Manori & Kelva Beaches near Mumbai, Gopalpur-on-Sea and Chandipur Beaches of Orissa, state), Majuli Island (Assam state), Murud Janira Beach (near Mumbai), the Gulf of Kutch (Gujarat state) and Benaulim Beach (one among many in Goa).
Shopping
[
]
India may provide you a variety of shopping experiences, from ecstasy of buying an possessing something really wonderful to an own something which is really awesome. In case, you are a little careful, you may get the both and carry home some items which are really unique. However, for a better shopping experience in India, you should not rush and buy immediately. Except large stores and government emporiums, you should bargain a bit - no one would mind, it is a common buying practice in India to haggle and bargain and then strike a price. In many case, you would find that the price finally paid by you ultimately was quite below the original price demanded by the seller. Please be careful of persons who claim to escort you to a good store - most likely you shall have to pay and the quality may also not be good. There are many items uniquely Indian which you may buy in India. Some of them are:
Wood Carvings: Indian wood carvings are really wonderful. You shall find in any good store selling handicrafts and similar items, many types of wood carvings, artwork, small and bigger furnitures, boxes and bowls, and innumerable varieties of other pieces.
Stone and Marble works: Like wood carvings, there are many items to select from and you shall surely find few of your liking's. Similarly, many types of metal works of brass, bronze and different alloys are also available.
Dress materials: Certain types of Indian dress materials are very attractive and unique in design. In a good store you may get hand-spun cotton cloth Khadi, silk, clothing's for women like saris, salwar and kameez and for men like kurta-pyjama. These are really light and free dresses. Different regions of India has their own tradition of weaving clothes and though people now-a-days mostly use mill-produced cloth materials, they continue to use the traditional dress materials during festivals and special occasions. Silk shawls as well as wollen shawls with intricate patterns and design look very attractive and ethnic. Possessing a few pieces of clothing shall be fine for reminding you of your India experience if you a visitor from abroad. In case, you are a domestic traveler, you shall find the differences interesting and would certainly like to buy some of them.
Paintings: Over past many centuries, the Indian paintings have evolved, and it has many schools like Tanjore painting, Mughal painting, Rajput painting, Madhubani painting. Buying a few paintings shall give you a lasting impressions about India.
Jewelry and ornaments have remained a part of adoration's used by Indians, particularly women since the time immemorial. You will get many uniquely Indians designs.
Maps and transportation
[
]
Getting to India
[
]
Domestic tourists generally travel through trains while some fly down to their destination. International tourists arrive in India mostly through the air route and land in one of the bigger metros like Mumbai, Delhi, Kolkata, Chennai and Bangalore. From all these metros, several international airlines including the Air India (the flag carrier of India) operate flights to Delhi and most of the major destinations around the world. Once the international tourists land in any of these places, they have a choice to undertake air journeys to most of the places they intend to visit or to take train journeys to reach their destinations.
Exploring India
[
]
India is a vast country, the 7th largest, covering an area of around 3,287,590 km². To travel from one point in India to another, people mostly use the Indian Railways, while there is also an option to take flights to many places. Relatively shorter distances are covered by using taxis or buses.
The Indian Railways
India has a well developed railways network and the railways connect most of the important places. There are many fast trains like Rajdhani Express and Shatabdi, which connect state capitals, major cities and metros of India and are faster than other trains. You may also plan your itinerary and journeys sitting in the comforts of your home or the lounge of your hotel or a restaurant if you hold a widely accepted credit card and internet connectivity is available: you may book your tickets online and the same are normally courier-delivered within two-to-three days at any locations in India. The Railways Booking Counters function from 8 am until 8 pm on most of the days except on Sundays and national holidays when they work up to 2 pm only. From any Computerized Booking Terminal, you may buy railway tickets for any destinations within India. In most of the places, travel agents are available who may assist you in obtaining railway bookings. It is advisable to travel with confirmed reservations in better trains. While traveling be careful about your valuables and do not leave the luggage unattended. People in India generally chain-lock the luggage during journeys and for this suitable facilities are in built in the couches of the trains though you have to use your chains and locks.
The Airways
All metros and state capitals and many other cities of India, particularly the ones frequented by the domestic and the international tourists are covered by air services. There is facility of booking through telephone or online through internet access apart from through the travel agents and directly from the offices of the airlines concerned. Of late, many airlines have come up in India while few years before there used to be only one, the Indian Airlines.
The Roads
The shorter distances of few kilometers to few hundred kilometers are to be essentially covered through road travels. It is never advisable to travel long distances by roads as India is like a sub-continent and making long road journeys are difficult, risky and strenuous. From the focal point of your stay, you may take luxury buses to nearby destinations. Thus, for example, while in Delhi, you may travel to Agra or Mathura by bus. You have always the option to take taxis in lieu of buses.
Once in the destined place, you may use a variety of modes to travel: taxis, local tourist buses operated by the tourist offices of the state or federal government, private tour operators, and auto rickshaws. Most of the Indian cities do not have comfortable local transportation and as such it is always advisable to arrange your own transports through local tour operators or directly with the assistance of your hotel people. This should not daunt your desire to see and experience India, as this particular experience shall itself become part of your experience. However, certain parts of India like the South India have well developed tourist infrastructures and the Indian state of Kerala (called as God's Own Country!) has a very co-operative Tourist Police dedicated to guide and assist the tourists, both domestic and international.
Practical information and resources
[
]
Agra Fort - Ajanta Caves - Champaner-Pavagadh Archaeological Park - Chhatrapati Shivaji Terminus - Churches and Convents of Goa - Elephanta Caves - Ellora Caves - Fatehpur Sikri - Great Living Chola Temples - Hampi - Humayun's Tomb -Kaziranga - Keoladeo - Khajuraho - Mahabalipuram - Mahabodhi Temple - Manas Wildlife Sanctuary - Darjeeling and Nilgiri Mountain Railways - Nanda Devi and Valley of Flowers - Pattadakal - Qutub Minar - Rock Shelters of Bhimbetka - Sanchi - Sun Temple, Konarak - Sundarbans - Taj Mahal
Restaurants
[
]
Paul Levy, a writer of international fame and co-inventor of the word Foodie, has found India a good destination from the point of view of a food tourist. Although he like many others believes that to relish the enjoyment of authentic Indian cuisine, one has to go beyond the confines of establishment restaurants, and a tourist in India always faces the Indian food paradox in the sense that it is very difficult, if not impossible, for a tourist to relish and enjoy the best of Indian regional cuisine in its own area of origin. Still there are many good restaurants that offer a real taste of India. Some of the Delicious Destinations serving the authentic regional food of India from many places of India are given below:
For Regional Cuisine
[
]
Dahlia
Grasshopper
Ponnuswamy
Sunny's
MTR
Benjarong
Karaikudi
Sarvana Bhavan
Basil & Thyme
Karims
Great Kabab Factory, Noida
Moti Mahal
Olive Bar & Kitchen
Veda
Abhiruchi
Shadab
Angeethi on Rd. #1
Grain of Salt
Kewpie
Mainland China
Nizam
Oh Calcutta
Tangerine
Indigo
Joss
Mahesh Lunch Home
Moshe's
Sejo & the Soul Dish
Urban Tadka
Big Brand Restaurants
[
]
Italia At The Park
Karavalli, Taj Gateway
Citrus, Leela
Blue Ginger, Tajwestend
Dakshin, ITC : Dakshin means the South, and this restaurant is famed for authentic South Indian cuisine, including foods from the coastal regions of Kerala to Tamil and other regional cuisines of the South.
Southern Spice, Taj Coromandel, brings a celebration of foods of South India.
La Plaazza, Hyatt
ThreeSixty, The Oberoi
Sakura, Nikko
Orient Express, Taj
House of Ming, Taj
Bukhara, ITC Maurya
Taipan, The Oberoi
Spice Route, IMperial
Alfama, Cidade De Goa: The specialities consist of excellent regional Goa cuisine, as well as many Portuguese delicacies.
Tex Palazzo Hotel: The First Revolving Restaurant in Asia...!! (Hotel in Surat), India first Revolving hotel in Surat. Tex Palazzo Hotel at Surat is a Business leading Hotel in Surat.Luxury Hotel for Business Meeting or Corporate Conference in Surat, Gujarat - India. Best Restaurant in Surat, Gujarat - India.
Fort Cochin Casino Hotel: Here apart from many other delicacies, you have the option to select the fish of your choice, and decide the way it is cooked. You many also watch it to be cooked!
Zen, The Park
Baan Thai, Oberoi Grand
Sonargaon, Taj
Eden Pavilion, ITC
Chinoiserie, Taj
West View, ITC
Taj Mahal Palace Hotel

Wasabi By Morimoto [1] is a part of the India's most renowned Taj Hotel Group (which derives its name from the Taj Mahal, a World Heritage Site, Agra). Wasabi by Morimoto overlooks the Gateway of India and the Arabian Sea. The restaurant serves many dishes, and its sushi bar and the Japanese cakes are really wonderful!
Spices, [2] a part of the JW Marriot Hotel Group is famous for its foods featuring cuisines from Thailand, Japan and Sichuan (China).
Pan Asian, Grand Maratha
Peshawari, Grand Maratha
Konkan Cafe, Taj President
Golden Dragon, Taj Mahal
Kebabs And Kurries, ITC Grand Central
Dum Pukht, Grand Maratha
Few Exotic Indian Dishes
[
]
The Indian Cuisine is varied and it is natural to be so – after all, it is a nation of more than one billion people with a history of more than two millennia, and the country has come into contacts with various cultures and civilizations. Naturally, the Indian dishes present many types of foods. While all most all the luxury restaurants, independent ones, as also attached to the well known hotel chains, serve foods from almost all the contents, you should enjoy the taste of India while in India. Some of the select dishes, which are now ethnically Indians but which have involved over decades and centuries after assimilating local and outside influences, are:
Appam & Stew - a favourite of the people of the Indian state of Kerala and you should enjoy a dish of the same while in Kochi or Trivandrum. Appam is made of rice and juice of tender coconut and is fluffy and almost melts in the mouth. The accompanying side dish of stew may be of vegetables or of meat and fish.
Batata Vada - is a snack from the western Indian state of Maharashtra, and while in Mumbai you may order few pieces. Its nearest western incarnation would be vegetarian burger.
Chole Bhature is a delicacy of the north western Indian state of Punjab, and while in Chandigarh or Ludhiana, you should surely taste this dish. In fact it is one-in-two and there is no corresponding dish anywhere. Basic ingredients are whole pulses and wheat flour.
Chicken 65 is an Indian culinary innovation! 65 indicates that 65 chilies are used to prepare one kg of chicken! Though it may not be actually so.
Chicken Kathi Rolls at Nizam's is also like a bread roll of kebabs. It was born in a hotel in Kolkata in 1932 and is now available at select outlets, though "look-alike" and "taste-alikes" are available at many places.
Dhansak is a dish of Parasis of India; now available in many places particularly the western parts of India and restaurants in the metros like Mumbai and Delhi.
Dhokla and Khandvi are made of grains and pulses and steamed cooked. It traces its genealogy to Gujarat, and while in Ahmedabad and Surat, you would surely be able to get the steaming dish. Good for weight watchers, and if you are unable to take spicy foods which abound in India, a plate of Dhokla and Khandvi would be fine. Presently, the dish has become omnipotent in almost parts of India.
Dosa is a dish from the South India and consist of grains and pulses. In Chennai every year a Dosa Pageant is held and 100s of types of Dosas are prepared and served.
Dum Aloo is a spicy curry of potatoes and onions and many other ingredients. It spread to different parts of India particularly in North India from the Indian state of

Jammu & Kashmir

.
Egg Curry (Akuri): It is like Dum Aloo; only difference being that Aloo (Potatoes) are replaced by boiled eggs and sometimes scrambled eggs.
Gobhi Manchurain is an "Indian Chinese" vegetarian dish prepared of cauliflowers. "Indian Chinese" as it originated in India with mostly Indian style of preparation, but people consider and consume it treating it to be a Chinese dish!

Golgappa, sometimes also called Puchka or Panipuri, are light shells prepared of flour (no description is possible!) and inside bits of spicy vegetables and lime juice are placed. One shell at a time is gulped one by one!
Goshtaba is meat based dish from Kashmir.
Kadi with basic ingredients of pulses and curd and look like dumplings.
Haleem is a thick porridge of wheat, pulses, meat, and spices. The legend associated with Haleem states that it was "invented" by the Persian king Kusarau in the 6th century!
Hyderabadi Biryani - Hyderabad may be a modern destination for many global corporations of the IT sector, but it is also famous for its rice preparations called Biryani. People of Hyderabad claim that there are at least 49 types of such biryani, and the dish has travelled to all parts of India.
Kakori Kabab originated in a remote village called Kakori and is a kabab of minced meat prepared in a style that the kabab almost melts in the mouth. The recipe is a well guarded secret by the people who prepare it!
Jalebi is also a dish which can not be described except that it is sweet. It is purely Indian and no similar preparation exists any where. For an idea of its look it may be compared to a sweet pretzel, dipped in a syrup of sugar. The name is derived from an Arabic word, Zalabiya and a Persian word, Zalibiya.
Lal Mass literally means red meat and is a preparation of the Indian state of Rajasthan, and is a preparation of lamb meat.
Maacher Jhol is a spicy curry (Jhol) of Maacher (fish) and is a dish from Bengal but has reached all parts of India.
Momos are dumplings served with soup, and is common in the Himalayan regions of India like Darjeeling.
Muligatawny Soup took birth at the hands of the Indian cooks during the British Raj and became a craze among the British people stationed in India. It is soup of pulses and vegetables.
Murg Makhni or Butter Chicken is a spicy chicken preparation. It is also called Chicken Tikka Masala (may be translated as spiced chicken).
Porial is a preparation of vegetables, prepared in a dry style or with gravy. Generally it is taken with steamed rice.
Prawn Balchao is a spicy curry of Prawn and is popular dish in Goa.

Rosgulla is prepared of cottage cheese, perfect spheres floating in a syrup of sugar.
Sambhar, the simple curry of pulses and vegetables, is taken with steamed rice, and is a side dish for many dishes of South India like the Dosa.
Shrikhand is a yoghurt based aweet dish from Gujarat but now available in almost all parts of India, particularly in western cities (like Mumbai, Pune, Ahmedabad, surat) and bigger metros. It is a sweet dessert sort of dish.
Sikandari Raan at Bukhara has the distinction of having enjoyed the "love" of the President Bill Clinton during his visit to India and he liked it at Bukhara restaurant. It is a thigh of a lamb, marinated in rum, lightly spiced and cooked in a traditional oven called tandoor. Bukhara restaurant has been declared as the best Indian restaurant for last three years.
This is just few among many ethnic food preparations of India. While in India and while experiencing the historical and cultural heritage of India, and watching the natural splendor of India, you would surely love to taste at least some of the above dishes.
Text with links to user-reviews on other pages
[
]
Nightlife
[
]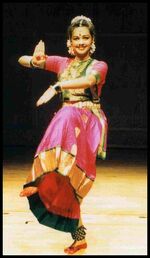 In most cities of India you will not find the nightlife [3] as the term is generally understood in the countries of the West – in most of the cities the Indian nightlife is rather bland and if you are searching for the usual nightlife activities perhaps you would be disappointed thoroughly as the nightlife may be confined to watching movies in the theaters or watching performing arts like Indian classical dances and listen to classical music. On a broader scale, the Indian nightlife depends on the particular place you may be located at a particular point of time. As such, the nightlife in India is location-specific. Thus, the nightlife of Varanasi, one of the seven holiest cities of the Hindus, reflects this aspect fully. As the evening progresses into the late evenings, the multitude of never ending devotees throng various temples of the city. The chanting of religious hymns and sounds of temple bells reverberate all around. As the night deepens, the streets fall silent to awaken again very early in the morning. During the nights, the Ghats of the Ganges River (they are also UNESCO's World Heritage Sites) acquire a different colour, the city lights at night takes on a completely different atmosphere, silence fall all around except the sounds of the waves embracing the banks. Sometimes, there may be groups of persons singing devotional songs throughout the night and using loudspeakers at full volume to carry the sound to the gods dwelling in the heaven!
On the other hand, in a place like Goa, the nightlife is an acceptable reality for the people. The Goa's are fun loving and friendly people, and in the evenings tourists, visitors, and the local population throng the pubs and discos which are many in Goa and spread almost all parts of the state, both in the bigger cities like Panjim as well as in smaller places. Sometimes, you will find a pure Goa atmosphere if you are able to spot a joint which is just a part of a house, a room or a hall, serving a variety of drinks and foods. It is not only cheaper but authentic too. There are many Bars and Pubs scattered all around Goa, and they serve a variety of drinks and delicacies, including the famous locally brewed Feni, an alcoholic drink. Like Goa Mumbai's nightlife is also vibrant, sparkling with action, colour and variety. The metro has many discos, pubs and bars. Mumbai life is tiring even if you are there as a visitor, so spending few hours in a disco or bar may give you the needed thrill and respite to regain vigor and vitality. Some discos allow only couples, and some also levy entrance fees. It is always exciting to enjoy Mumbai's nightlife but one should be sure of the credentials of the place one may select to visit.
Varanasi, Goa and Mumbai present extremes of Indian nightlife, and like the Gautam Buddha's middle path for attaining salvation, as a tourist you may find many hybrids of the nightlife in different places of India.
Photo gallery
[
]

These four photographs reveal unity in diversity of India, a unique experience which you as a visitor would surely find amazing. The first one is s Buddhist Stupa (tower) while the second one is an inside view of Paradeshi Synagogue, the oldest Synagogue in the British Commonwealth! The Church, one among the thousands in India, is located in Goa a state on the western Arabian Sea coast of India, and the other Church is in Tamilnadu state on the coromandel Coast (Eastern Coast) of India.
The Mosque is the Jama Masjid, the largest Mosque of India and is located in Delhi. The second picture is of the Golden Temple, the most sacred place of worship of the Sikhs. The third picture is a Hindu Temple in Chennai while the last picture indicates the grandeur of India when Emperors and Princes ruled India.
Work
[
]
Foreigners need a work permit to be employed in India. A work permit is granted if an application is made to the local Indian embassy along with proof of potential employment and supporting documents. There are many expatriates working in India, mostly for multinational Fortune 1000 firms. India has always had an expatriate community of reasonable size, and there are many avenues for finding employment, including popular job hunting websites.
There are many volunteer opportunities around the country including teaching. India has a reasonable presence of foreign Christian missionaries, who for the most part form the non-local religious workers, since the other major religions of the world either grew out of India or have had a long term presence.
A living can be made in the traveler scenes by providing some kind of service such as baking Western cakes, tattooing or massage.
Previously, an AIDS test result was required as part of the work visa application process. It is highly recommended that applicants obtain test results in their home country beforehand if at all possible.
New Delhi-based Knowledge Must [4] publishes free guide books for everybody who is interested in either doing an internship [5] or doing volunteer work [6] in India.
Learn
[
]
There are many Universities imparting education but at the helm are Indian Institutes of Technology(IITs) for technical graduation and Indian Institutes of Management(IIMs) for management post-graduation which are world class institutes. Most of the ambitious students who want to get a good high level education thrive to get into these institutes through admission processes which are rather very difficult ones both due to nature of test and the prevailing competition. For example, IIM Ahmedabad (the most sought after IIM) selects 300 students from 300,000 students who appear for CAT Exam. But still students have a great desire to get into these institutes. These institutes offer degrees to foreign students also.
Apart from undergraduate, postgraduate and doctoral courses, there are many training and diploma-level institutes and polytechnics that cater to the growing demand for skill-based and vocational education. Besides conventional educational institutes, foreigners might also be interested to study with Pandits to learn Hindi and Sanskrit in genuine settings as well as with Mullahs to study Urdu, Persian, and Arabic. They might also like to live with famed Ustads to study traditional Indian music. Whether people are interested in philosophy or religion, cuisine or dance, India will have the right opportunity for them. The free guide book "Study in India" gives a broad overview on study opportunities in India [7].
Everything else
[
]
Got something to say that doesn't fit in the other sections of this page? Add it here!
Chicken Tikka Massalla Recipe By Real Indian Chef In UK

External resources
[
]
Add links to other sites here
---
Popular Countries:China, Japan, India, Singapore, Thailand

Other Countries: Afghanistan, Bangladesh, Bhutan, Brunei, Cambodia, East Timor, Georgia, Indonesia, Iran, Kazakhstan, Laos, Malaysia, Mongolia, Myanmar, Nepal, North Korea, Pakistan, Philippines, South Korea, Sri Lanka, Taiwan, Turkmenistan, Uzbekistan, Vietnam (edit)