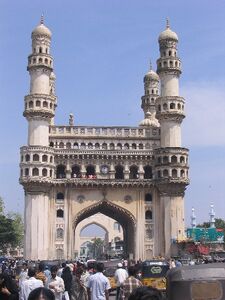 When people talk of Hyderabad, they generally think of a city with the charming Charminar, that is, the four minarets. Compared to several other cities of India, Hyderabad is a relatively new city, with a history of only 400 years. Over a period of time, the city has grown to encompass within its confines ancient Mosques and minarets, forts and palaces, parks and gardens, art galleries and museums. And, alongside all these, the city has emerged as a preferred destination for several transnational Information Technology corporates including a Microsoft India Development Center.
Hyderabad together with its associate city, Secunderabad, has a combined population of over 6.1 million and is the 6th largest metropolitan area of India and the 40th largest metropolitan area of the world. It is the capital city of the Indian state of Andhra Pradesh. Hyderabad is uniquely located in the Indian peninsula; in a sense, it is the meeting point of the North India and the South India. For people of the North India, Hyderabad is a city of South India, whereas many south Indians consider it to be a city of the North India. In fact, the city is a meeting point of the Northern and the Southern parts of India.
The city has earned the euphemism of Hitech City, a short form of the Hyderabad Information Technology Engineering Consultancy City (HITEC City). Despite many modern developments and emergence of industrial facilities including high-tech knowledge based facilities, the city continues to hold its charm and cultural traditions of an era gone by, an era when the Nizams (once among the richest families of the world) ruled the city and the surrounding regions hardly half-a-century before. Whether you are a business or a corporate visitor, or a common tourist on a move, you will find the twin cities of Hyderabad-Secunderabad an interesting place, with several spots in and around the place, with the oriental charm and mysticism.
Hotels and lodging
Edit
Best Western Hotel Amurutha Castle, 5-9-16, Saifabad, Opp. Secretariat,
Hyderabad – 500063,
Tel: +91-40-55633888, Fax: +91-40-55828222,
E-mail: amruthacastlebw@eth.net
Taj Banjara, Road No. 1, Banjara Hills, Hyderabad – 500034,
Tel: 91-40-5566 9999, Fax: 91-40-5566 1919,
E-mail: banjara.hyderabad@tajhotel.com
Taj Krishna, Road No. 1, Banjara Hills, Hyderabad – 500034,
Tel: 91-40-5566 2323, Fax: 91-40-5566 1313,
E-mail: Krishna.hyderabad@tajhotels.com
Taj Residency, Road No. 1, Banjara Hills, Hyderabad – 500034,
Tel: 91-40-5566 3939, 2339 3939, Fax: 91-40-2339 2684,
E-mail: residency.hyderabad@tajhotels.com
Hotel Ashoka: 6-1-71, Lakdi-Ka-pul, Hyderabad – 500 004,
Tel: 040-23230105/55510222 Fax: 040-55510220, 90 Rooms, Rs. 500-980 approx
Belsons Taj Mahal Hotel: 82, Mainguard Road, Secunderabad – 500 003,
Tel: 040-27810810 (8 Lines)
Fax: 040-27810815, 55 Rooms, Rs. 795-1450 approx
Hotel Dwarka Heritage: 116, Chenoy Trade, Secunderabad – 500 003,
Tel: 040-27845020, Fax: 040-27841455, 49 Rooms, Rs. 550-1300 approx
Fortune Katriya Hotel: #8, Rajbhavan Road, Hyderabad – 500 082,
Tel: 040-23325678, Fax: 040-23394411, 132 Rooms, Rs. 2500-4500 approx
The Manohar: Adjacent to Airport Exit Road Hyderabad – 500016,
Tel: 040-27903333/55318999, Fax: 040-27902222, 135 Rooms Rs. 3200-8000 approx
Mount Opera: NH-9, Bastasingaram – Hayathnagar, Hyderabad,
Tel: 040-23352337/55788721 Fax: 23352321, 37 Rooms Rs. 1195-3000 approx
Hotel Minerva: H. No. 3-6-199/1 Himayatnagar, Hyderabad – 500 029,
Tel: 040-23220448 (10 Lines), Fax: 040-23222068, 57 Rooms, Tariff: On Application
Hotel Park Lane: 115 Park Lane, Secunderabad – 500 003,
Tel: 040-27840466/27840399, Fax: 040-27840599, 60 Rooms, Rs. 495-1600 approx
Hotel Rukmini Rivera: 6-1-1062, Lakdi-Ka-pul, Hyderabad – 500 004,
Tel: 040-55785566, Fax: 040-55660631, 48 Rooms Rs. 625-1850 approx
Hotel Rajdhani: 15-1-503, Siddiamber Bazar, Hyderabad – 500 012,
Tel: 040-24740650 (10 Lines), Fax: 24617478, 86 Rooms, Rs. 500-1100 approx
Hotel Sangeetha International: Above Renuka Silks, Hyderabad – 500 482,
Tel: 040-26622142/26627142, 29 Rooms, Rs. 375-800 approx
Attractions
Edit
Hyderabad has a number of places in and around the city which you may watch and experience. Some major attractions are;
Charminar
Salarjung Museum
St. Joseph Cathedral
Mecca Masjid
Birla Temple
Asurkhana
Shilparamam
Qutubshahi Tombs
Chowmahalla Palace
Golconda Fort
Falaknuma Palace
Himayatsagar Lake
Purani Haveli
Archaeological Museum
Ramoji Film City
Necklace Road
You would love doing shopping in Hyderabad. Whether you are rich, middle class or poor the city embrasses you with same warmth. You have high-end Shopper Stop, Life Style, West Side, Hyderabad Central, Brisah, Kalanjali and many more. You'll get beautiful pattu sarees, gadwal, pochampally and many more at reasonable prices at Chandana Bros, RS Bros, Kalaniketan, kalamandir. Apart from these nicely decorated shops we have Madina, Charminar, Badichowdi, Sultan Bazar, Abids, Begum Bazaar, Afzal gunj where you'll get almost anything from ballpin to gold, pearls. Happy Shopping at Hyderabad
Maps and transportation
Edit
Getting to Hyderabad
Edit
Exploring Hyderabad
Edit
Exploring Hyderabad is not going to be so easy, as once you feel that you are done with Hyderabad, you may discover that you missed something. This is the charm of Hyderabad, the city of Minarets and the Charminar, monuments and museums, and many delicious foods to taste and many cultural extravaganzas to enjoy. The city would continue to unfold its charms to you in a never ending flow.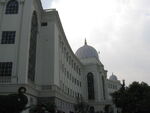 You may begin with a visit to the Salar Jung Museum. Although only 400 persons visit the museum every day, which may be a small number, these visitors are rather well informed about the treasure trove held at this museum: a collection of 173 pieces of rare value with estimated cost of around 25,000 million INR. There is a fiesta of splendour and grandeur awaiting you at the museum - rings, armbands, belts, cufflinks, necklaces, turbans ornaments, earrings, buttons, feet ornaments and many more types of exotic ornaments. There are two special marvels: the first is a pair of bracelets with 270 pieces of diamonds, and the other is a belt studded with 245 diamonds. The pride of the places is an uncut diamond, the Jacob Diamond, one of the seven biggest diamonds of the world. Its weight is 184.75 carats and was mined in Africa in 1867, and bought by the-then rulers of Hyderabad, the sixth Nizam, Mahboob Ali Khan in 1891. Interestingly, the uncut diamond was used as a paperweight by his son, Osman Ali Khan.
After seeing this treasure trove at the Salar Jung Museum, you may see other displays at the museum. And, although you may not feel like moving away from the museum leaving behind the treasures unattended, you have to come out as there are many other charms that Hyderabad would unfold before you!
Practical information and resources
Edit
Currency: Indian Rupee
Electric supply: 220 Volts
Time zone: Indian Standard Time (IST), which is UTC +5:30
Language: Telugu, Urdu and Hindi. One can also manage with Simple English.
Restaurants
Edit
During its history of more than 400 years, people of Hyderabad have developed a distinctive style of cooking and many dishes, and some of them are:
Biryani preparations of rice and meat
Mirchi Ka Salaan, a vegetable dish of chilli curry which accompanies Biryani
Murghi Korma, a chicken based dish
Haleem is a type of porridge of cereals and vegetables
Sheer Korma is like a pudding of vermicelli
Double Ka Meetha is a sort of bread pudding
Garja Ka Halwa is carrot pudding
Qubani Ka Meetha is a pudding of apricots
When you are in Hyderabad, it is a good idea to have some local dishes - only trouble shall be that they may be hot and spicy even for Indians from other parts of India. There are many restaurants and Hyderabad which serve the local dishes, as also many Indian and international dishes.
Text with links to user-reviews on other pages
Edit
Nightlife
Edit
Like most of other Indian cities, Nightlife in the conventional sense does not exist in Hyderabad. There are many bars and pubs but they have to close down by 12 pm and in many cases even by 11 pm. Of course, there are several private party circuits in Hyderabad which are rather active. However, you have to know some local people to get access to them.
Photo gallery
Edit
Everything else
Edit
Got something to say that doesn't fit in the other sections of this page? Add it here!
External resources
Edit
Add links to other sites here
Community content is available under
CC-BY-SA
unless otherwise noted.