Hong Kong
Country

•

Capital

•

Flags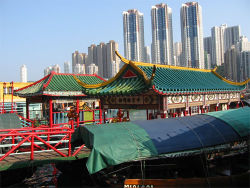 Hong Kong is exotic, yet urban. A city of contradictions, it is sometimes dirty, sometimes opulent. There's a lot to do and the views are to die for. The energy or buzz you feel is unlike many other cities than New York. Hong Kong is often described as a city where East meets West. This is reflected in all aspects of the culture, but especially in its Shopping, nightlife, and dining.
A popular destination for shoppers from around the world, Hong Kong has everything to offer from the latest European fashion to traditional Chinese wares. Malls, department stores, and designer boutiques offer an amazing contrast to the bustling open-air Stanley Market and Jade Market shopping areas. Every district in Hong Kong has old-fashioned stores that sell Chinese herbal medicine. The largest concentration of these shops is along Bonham Strand and Bonham Strand West in Sheung Wan, where all types of pills, plants, and dried animals are for sale.
Hong Kong has an active nightlife centred around two major entertainment districts, Lan Kwai Fong (Central) and Wanchai. Both areas are frequented by expatriates and locals alike. For a more quiet evening, a trip to Victoria Peak offers a spectacular view of the city. There is also a promenade along the Tsim Sha Tsui waterfront, which is popular among young Chinese couples. Shopping, a form of entertainment for the people of Hong Kong, is even done at nighttime as evident in the Temple Street Night Market.
The city's cosmopolitan flavour can also be seen in the wide variety of cuisines available. While different varieties of Chinese selections, especially seafood, are most popular, there also many European, American, Japanese, Korean, and other restaurants. Ethnic dishes served in cha chaan teng and dai pai dong are also popular. The people of Hong Kong take their food seriously and many top chefs make their way to the city to show off their talents to these discriminating diners.
Hotels and lodging
Edit
Conrad Hotel Situated above Pacific Place Mall Executive floor is currently being rennovated (Sept 06). Good central location. Part of the Hilton group
Four Seasons, Hong Kong Island, Central
Sweeping harbor views, free use of the boardroom for guests, executive lounge with a balcony on the 45th floor
Grand Hyatt, Wanchai
The executive rooms and lounge are in a separate private area that could be its own hotel and include free DVD rentals, a great lounge and butlers. I stayed in the presidential suite, which not only has a 30 foot long window view of the harbor, but comes equipped with a high powered set of binoculars to make sure you can see every detail.
The upper lounge of the hotel has harbor views, buffet breakfasts and a great gym for all to use.
Hotel LKF, Central
This is a boutique executive hotel near Lan Kwai Fong. Each room has an espresso machine, plasma TV's, Herman Miller chairs, broadband, butler service and more. There is a business center and a small rooftop garden. Intercontinental Hotel, Kowloon
has great harbor views, a nice lounge and more. The suites offer iPod docking stations and Bose sound systems.
Shangri-la, Kowloon
Shangri-la Island Located next to the Conrad Hotel above Pacific Place Mall. Reckoned to be one of the best hotels in Hong Kong.
Langham Palace, Mongkok
Marco Polo Hotel, Kowloon
JW Marriott, Hong Kong Island, Central. In Pacific Place Mall. Sweeping harbor views, executive lounge, and the terrific service you have been known to expect from the JW level Marriott hotels

Attractions
Edit
Festivals including Chinese New Year, Mid-autumn Festival (lantern celebration), parades, Chung Yeung Festival (dragon boat races), fireworks (second day of Chinese New Year and National Day) are all worth scheduling around
Helicopter tours of the city are a unique treat.
The ferry from Central to Kowloon provides a great view of both sides of the city
Lan Kwai Fong is the tourist meeting place, packed with bars and restaurants, as well as many small shops nearby
Mid-Levels Escalator, is 800-metres long and is the world's longest covered escalator. It links Des Voeux Road Central at the harbour to Conduit Road in the Mid-Levels
Wing Lok Street offers shops with birds nest, herbal remedies, ginseng and more
Hollywood Road (Antiques Street) was built by the British in 1844. It offers everything from tourist trinkets, to junk, to very high end antiques and sculptures.
Hiking Over 70% of the territory of Hong Kong are national park - a territory that is not urbanized and relatively untouched. Hong Kong has many mountains and hills, this provides a lot of opportunities for Hiking. You can enjoy beautiful sceneries as well as the physical activity while hiking. I like hiking at Sai Kung High Island Reservoir, the view is beautiful.
Here is the list of places where you can hike Places to Hike
There are many great places to shop in Hong Kong, but surely you will not want to miss Stanley Market.
Mong Kok - great place for shopping and eating. Things are quite cheap here. But the streets are crowded with people after 4pm and on Saturday & Sunday.
For an upscale shopping experience, head for the huge Pacific Place Mall.
Maps and transportation
Edit
Getting to Hong Kong
Edit
Cathay Pacific offers inexpensive high quality service out of Hong Kong. For the best possible experience
Singapore Air is probably 20% better, especially in business class.
Don't pay for a bus or cab, take the train from the airport. The train service is faster, cheaper, clean and safe. When leaving, the train to the airport offers luggage check-in downtown at the trainstation. Your bags can be checked directly with your airline at the train station, minimizing any hastles for you.
Exploring Hong Kong
Edit
Practical information and resources
Edit
Restaurants
Edit
For a nice selection of restaurants in Stanley, be sure to visit Murray House which houses both the Hong Kong Maritime Museum as well as several lovely restaurants.
If it's Central, Hong Kong where you would like to dine, our first choice would be the many restaurants in the JW Marriott Hotel. they have a lovely (and fancy by US standards) coffee shop called the 'Marriott Cafe'; a great Chinese Restaurant called 'Man Ho' and a wonderful fine dining restaurant called 'JW's California and JW's Sushi Bar'. Oh, I also believe they have a 'Fish Bar' on the pool deck and a 'Wine Bar' in the lobby.
If it's out-of-hotel dining you are interested in, we always enjoy the 'Red Pepper' Sichuan style restaurant in Causeway Bay. A bit pricy but very enjoyable with great food. It has a large following among the city's expatriates
Another favorite of ours is 'Maxim's Catering' at Hong Kong City Hall. This branch of Maxim's is noted for its Dim Sum... but be prepared for a wait.. there is always a line to get in, mostly locals!
Text with links to user-reviews on other pages
Edit
Nightlife
Edit
Lan Kwai Fong is the tourist meeting place, packed with bars and restaurants. Most tourists end up here at some point.
Photo gallery
Edit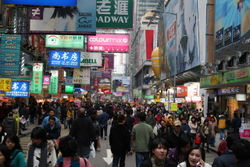 It's great.
Everything else
Edit
Got something to say that doesn't fit in the other sections of this page? Add it here!
External resources
Edit
Add links to other sites here
Community content is available under
CC-BY-SA
unless otherwise noted.