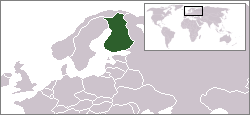 For people planning on visiting Finland, I'd divide Finland into a couple of regions with different flavor. The most familiar place for foreigners is probably the city of Helsinki on the south coast of Finland. Then there's the beautiful Åland (Ahvenanmaa) archipelago off the southwestern corner of Finland. My personal favorite is the gorgeous southeastern lake region with literally thousands of lakes and islands. The western coastal area is mostly flat fertile fields used for agriculture. Finally, in the north there's Lapland, the land of the midnight sun and home of Santa Claus (one of many places making that claim).
The best time of the year to visit Finland is summer, from late June to late August. During that time the temperatures are nice and warm, and the nights are so bright that you could read a book outdoors through the night without additional lighting. Staying out a whole night to experience those bright nights is really something you won't forget. It's not necessary to go all the way north to Lapland to experience the "white nights".
If you are interested in winter sports (slalom, cross country skiing, etc.), winter is not a bad time to visit Finland. Lapland is especially good winter travel destination. While you might think the winter would be really dark since the summers are so light, that is not quite the case. The snow cover multiplies the brightness of the street lights in the cities and the moonlight in the countryside making Finnish winter nights feel not quite as dark as they are in many other places on this planet.
Hotels and lodging
Edit
Vacapedia.com - Holiday Homes in Finland. Great for family vacations.
Attractions
Edit
Maps and transportation
Edit
Getting to Finland
Edit
Exploring Finland
Edit
Practical information and resources
Edit
Restaurants
Edit
Text with links to user-reviews on other pages
Edit
Nightlife
Edit
Photo gallery
Edit
Everything else
Edit
Got something to say that doesn't fit in the other sections of this page? Add it here!
External resources
Edit
Add links to other sites here
Community content is available under
CC-BY-SA
unless otherwise noted.