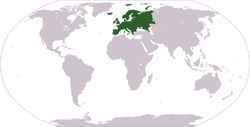 Geographically, Europe is the western portion of the larger landmass known as Eurasia. The continent begins at the Ural Mountains in Russia, which define Europe's eastern boundary with Asia. The southeast boundary with Asia is not universally defined. Most commonly the Ural or, alternatively, the Emba River serve as boundaries. The boundary continues to the Caspian Sea, the crest of the Caucasus Mountains or, alternatively, the Kura River in the Caucasus, and on to the Black Sea; the Bosporus, the Sea of Marmara, and the Dardanelles conclude the Asian boundary. The Mediterranean Sea to the south separates Europe from Africa. The western boundary is the Atlantic Ocean.
Tips for: backpackers •

business travelers

•

luxury/exotic travel

• hitchhikers •

families

•

seniors

•

LBG travelers

•

pet owners
Regions
[
]
European Union
[
]
Members of the European Union (EU)
Attractions
[
]
Discover what the European Union has to offer as local delicacies, food and traditions, specialties, festivals and culture.
Gastronomy and Traditions in Europe All festivals in Brittany, France and Europe
Shopping
[
]
Maps and transportation
[
]
Getting to Europe
[
]
car rental: book your car before you leave your home country on [1]. IzziRent serves customers at 2852 locations in 170 countries, among which 639 airport locations for more conveniency: find the closest location to your travel destination on [2].
Exploring Europe
[
]
Travel
[
]
Air
Travel/Lodging packages
Practical information and resources
Restaurants
[
]
Text with links to user-reviews on other pages
[
]
Photo gallery
[
]
Everything else
[
]
Got something to say that doesn't fit in the other sections of this page? Add it here!