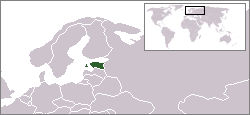 Located in Northern Europe, Estonia is a colorful Baltic country that is home to 1.3 million people, according to Statistics Estonia, a government agency (Jan. 2007). It is south of Finland and just off the Baltic Sea, north of Latvia, and west of Russia.
Given its northern position adjacent to the sea, Estonia has more than 1,300 islands and more than half of its land is covered by lush forests and natural bogs.
The culture and people reflect an interesting mix of the indigenous Estonian with German, Scandinavian, and Russian influences throughout history.
Estonia has experienced many progressive changes in the past few decades, including:
August 1991: Regained its independence from the Soviet Union with the break-up of the former Soviet colossus.
2004: Joined the European Union (EU) along with its Baltic neighbors of Latvia and Lithuania.
1996 to 2006: It's economy has grown. For example, Estonia's exports grew from 10.2 billion kroons (EEK) in 1993 to 77.6 bln kroons in 2006. (15.6466 kroons equal 1 Euro as of May 1, 2007.)
2011: Estonia adopted the euro. (see #Kroon cash)
A growing number of international visitors have been traveling to Estonia in recent years. According to Statistics Estonia the nation's statistical agency, 1.3 million foreigners visited the country in 2000, and that number climbed 38 percent to 1.8 million foreigners by 2005.
There are a wide variety of hotels to choose from, with everything from small bed and breakfasts and youth hostels, to quaint small European hotels, to luxury hotels.
For example, in the capital city of Tallinn (population 400,000), travellers can select from accommodations at:
Tihase B & B, is a quaint residence located about 1 km from the centre of town, with single rooms starting at 400 EEK (Kroon).
Hotel Schlossle, Pühavaimu 13/15, a rebuilt period hotel that is classy and features 23 rooms dating back to 1636.
Radisson SAS Hotel on Ravalla Street in the business centre of Tallinn, has more than 250 rooms, with doubles starting at about Euros 196.
Tallinn Backpackers Hostel is just around the corner from the Town Square, and has dorm rooms from Euros 10 and private rooms starting at Euros 18.
To research Estonia's hotels and other accommodations, check out these resources:
Citypaper, a monthly magazine and accompanying website with news and tourist information [1]
Lonely Planet's "Estonia, Latvia and Lithuania, travel guidebook, published in 2007, [2]
Travelocity, travel reservation website, [3]
Tallinn, the capital and largest city in Estonia, on the Baltic Sea coast.
Tartu, considered by many to be the intellectual and cultural centre of Estonia, it is the second largest city with over 100,000 residents. University of Tartu is the acclaimed university located here.
Narva, a frontier town on the border with Russia
Jägala Falls (Jägala juga), Estonia's largest waterfall
Estonia's five magnificent national parks:
Karula National Park
Lahemaa National Park, 50 km east of Tallinn, with 1000 sq km of bays, peninsulas and forests.
Matsalu National Park
Soomaa National Park [4] (Soomaa translates to "Land of Bogs" or "Bogland")
Vilsandi National Park — covers 238 km², including 163 km² of sea and 75 km² of land, plus 160 islands and islets.
Baltic Islands
Tranquil, laidback and unspoiled, Estonia's 1,500 Baltic islands provide a splendid getaway to nature. Located off the west coast of Estonia, the two largest islands are:
Saaremaa, including the town of Kuressaare and one of few well-preserved medieval castles in the Baltics
Hiiumaa, including the town of Kärdla
Travelers can visit the national parks and islands on their own or as part of an eco-tourism adventure tour, like those led by TrekBaltics [5], a travel operator.
Alcohol sales in shops are restricted from 22:00 to 10:00. Smoking is prohibited in public entertainment establishments (bars, discothèques, -clubs, etc.).
In Tallinn, large malls are situated right next to airports and ferry ports for quick convenience; most of those close at 22:00, while some ("Norde Centrum" at the ferry port and "Prisma" chain malls) close at 23:00.
The oldest department store is "Kaubamaja"; "Viru Keskus" is the spiffiest, containing various boutiques and connecting both "Kaubamaja" and the "Viru" hotel.
Tallinn is Estonia's international gateway. In addition to direct daily flights to/from all major Scandinavian (Helsinki, Stockholm, Copenhagen, Oslo) and Baltic cities (Riga, Vilnius) there are direct flights from major European hubs of London, Paris, Frankfurt and Amsterdam, and regional hubs of Prague and Warsaw. Eastward connections are from Moscow and Kiev. Local carrier Estonian Air provides half of the services and the rest is provided by Finnair, SAS, Lufthansa, LOT, CSA, Air Baltic and others. Easyjet is one of a few low-cost carriers that provide service between Tallinn and major European cities. Travelers can pay as little as EUR 120 (£80, US$160) to fly roundtrip from London to Tallinn.
From London's Stansted Airport, Easyjet provides nonstop service to Tallinn. From Frankfurt, choose from Lufthansa and Estonian Air. From Brussels, select from KLM, Estonian Air, Finnair, SAS, Lufthansa and Czech Airlines. From Berlin's Schoenefeld Airport, Easyjet serves Tallinn. From Amsterdam, choose from KLM, Lufthansa, SAS, Czech Airlines, Finnair, LOT Polish, and Northwest. From Rome's Fiumicino Airport, select from Alitalia, Czech Airlines, Estonia Air, KLM and Finnair.
Close proximity and excellent ferry services with Helsinki allow for combination of open-jaw air travel.
Daily domestic flights are from Tallinn to the islands of Hiiumaa (Kärdla) and Saaremaa (Kuressaare).
Detailed flight schedule information is available from Tallinn Airport timetable.
International train services are to/from Russia, Moscow and Saint Petersburg. Domestic services connect Tallinn with Narva in the east and Viljandi in the south, Pärnu in the south-west, Tartu and Valga in the south-east.
Good road connections are to the south (Via Baltica routing Tallinn-Riga-Vilnius-Warsaw) and east (Tallinn—Saint Petersburg). Domestic road network is dense and covers all regions of the country.
Many good and cheap connections from Moscow, Saint Petersburg, Kiev, Kaliningrad, Warsaw, and larger Baltic and German cities. For details see Eurolines Estonia.
Eurolines can provide visa services to Russia, however it takes two weeks or one week if rushed.
Ferry lines connect Tallinn with Sweden (Stockholm), Finland (Helsinki, Mariehamn) and during summers also with Germany (Rostock) and Saint Petersburg. Tallinn-Helsinki is one of the busiest searoutes in Europe and has daily 20 ferry crossings and nearly 30 different fast-boat and hydrofoil crossings (the later do not operate during winter). For details see Port of Tallinn passenger schedules.
Minor international routes include recently re-established connection between Latvian port of Ventspils and the island of Saaremaa and Paldiski - Kapellskär (Sweden) with two different operators.
Practical information and resources
[
edit
|
edit source
]
Existing kroon banknotes and coins can be exchanged to euros in retail banks within the first six months of 2011; After that, only the Estonian Bank will change kroon cash to euros. For the same first six months, price tags of products and services must also display kroon values.
Olde Hansa, Vana Turg 1, (372) 627-9020, fax (372) 627-9021, www.oldehansa.com, right off the town square. Moderately expensive.
Caf Anglais, Raekoja Plats 14, (372) 644-2160, on the town square. Reasonably priced.
Kompressor, Rataskaevu 3, (372) 646-4210, a bar-cafe popular with young patrons and serves the crowd-pleasing Estonian pancakes. Inexpensive.
Text with links to user-reviews on other pages
[
edit
|
edit source
]
Got something to say that doesn't fit in the other sections of this page? Add it here!
Add links to other sites here
Community content is available under
CC-BY-SA
unless otherwise noted.