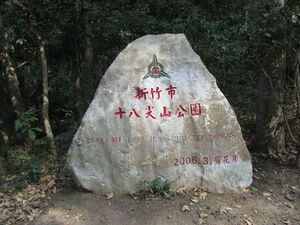 Eighteen Peaks situated in a hilly eastern Taiwan, Hsinchu, Taiwan 100 Peaks little away. The highest point of about 130 meters, Call. For recommendations The mountain has 18 hills the " Eighteen Peaks ", an origin. Eighteen Peaks has interest for hiking Hsinchu citizens' movement, is also in the early morning hours. Mouth to Baoshan Mountain the trailhead is about 5 km.
Eighteen Peaks Eagle Park was the planning and regeneration of the region, other regions very dangerous, not suitable for touristic Trekking.[1]
Community content is available under
CC-BY-SA
unless otherwise noted.