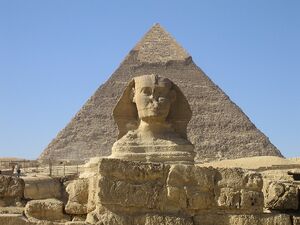 Hotels and lodging
Edit
Egypt has been a special destination for as long as records have been kept, but this escalated when archaeological fever was fed by the fantastic discovery of the Tomb of King Tutenkhamen in the Vally of the Kings in Luxor. The Winter Palace Hotel was the top hotel in Luxor at that time and still operates today, supplemented a modern wing.
Nile cruises became popular very early, with traditional dahbiyyas being superseded in popularity by the current huge Nile cruisers which have serious environmental and economic implications for the local community.
Self-catering accommodation has not traditionally been an option in Luxor, but in recent years, with a flurry of building of dedicated apartment blocks, self-catering apartments are widely available in locations ranging from the utilitarian and noisy downtown setting of Television Street to the peaceful more traditional west bank setting close to the Valley of the Kings.
There are a lot of tourist cities in Egypt that attract millions of tourists every year which are:
Cairo City
Giza City
Luxor City
Aswan City
Alexandria City
Sharm El-Shikh City
Dahab
Hurghada
Self-Catering Apartments In Luxor
Edit
Traditional Egypt [1] provides a slightly unusual self-catering apartment called "Villa Luxor" on the west bank of Luxor. The apartment itself is right on the shore of the Nile directly opposite Luxor Temple and a private Nile boat is moored directly outside, for the exclusive use of guests, however small their party.
Attractions
Edit
Egypt is an ancient country and befitting to its ancient civilization and culture, it has many magnificent monuments representing its glorious past. At the same time, the Egypt of today also offer many attractions and activities for the visitors and the tourists. In general terms, Egypt has many spots of interest and they may be divided into six different groups, each with its own flavour: Cairo (the capital city) and areas around the city; Alexandria and its immediate surroundings; Luxor and the regions around it - they may be described as a living museum of Ancient Egypt; Aswan though not very well known area is quiet and serene with many beautiful hotels alongside the Lake Nasser; Hurghada and El Gouna and regions around them lack historical heritage but offer water sports, golf courses and casinos; and Sharm El Sheikh and its immediate vicinity has some beautiful Christian monuments. And, this is not the end, there are many places around the Red Sea and in the Sinai; and a number of many oasis in Egypt's interior regions.
Maps and transportation
Edit
Getting to Egypt
Edit
Exploring Egypt
Edit
Practical information and resources
Edit
Currency: Egyptian pound (LE) (EGP)
Time zone: EET (UTC+2) [Summer (DST) - EEST (UTC+3]
Calling code: +20
Official language: Arabic and Masri
Restaurants
Edit
For a nice Egyptian meal in Cairo, check out Abu El Said in Maadi or Zamalik.
Text with links to user-reviews on other pages
Edit
Nightlife
Edit
Photo gallery
Edit
Everything else
Edit
Got something to say that doesn't fit in the other sections of this page? Add it here!
External resources
Edit
Add links to other sites here
Community content is available under
CC-BY-SA
unless otherwise noted.