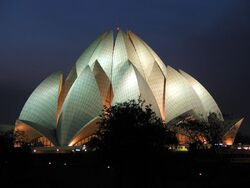 Delhi is not only the capital city of India, it has remained the heart of India since time immemorial. It finds references in ancient texts of India like the largest Indian epic, the Mahabharat. The names have changed, the sites have slightly moved here and there, but Delhi has withstood the trial and tribulation of time: it has remained Delhi, the dil (that is, heart in Hindi and Urdu languages). The city has been ravaged repeatedly, but has arisen like a phoenix to reclaim its destined place as the heart of the Indian nation. The city has seen millennia roll by and the rise and fall of many kings, rulers, and empires. The metropolis of Delhi has an ancient history and more than 60,000 identified monuments in and around Delhi testify to its vibrant past.
Presently, Delhi and a number of cities around it which form part of a large urban agglomeration with a combined population of around 19.7 million makes it one of the mega cities of the world, the sixth most populous urban area of the world.
It would to interesting to note that Delhi, an Indian city has sister cities in North America and Europe – Chicago (Illinois) and Washigton D. C. in the United States of America, and Belgrade are its sister cities.
Hotels and lodging
Edit
Attractions
Edit
Delhi has many places associated with the Indian history, as also of cultural and religious places.
Monumnets & Forts
Humayun Tomb
Isa Khan
Jantar Mantar
Old Fort
Qutub Minar
Red Fort
Museums & Cultural spots
Crafts Museum
National Museum
Museum Of Natural History
National Rail Museum
Sangeet Natak Akademi
Sanskriti Museum
Dolls Museum
Gallery Of Modern Art
Tibet House
Religious places
Bangla Sahib
Majnu Ka Tila
Nanak Piao
Rakab Ganj
Sis Ganj
Birla Mandir
Chattarpur Mandir
ISKCON Temple
Lotus Temple
Jama Masjid
Moth Ki Masjid
Nizamuddin Dargah
Swaminarayan Akshardham
Shopping in Delhi has its own charm — you have a choice of modern malls stacking goods from all around the world, and pavement vendors selling assorted wares and bargaining for few paise aka cents. Once in Delhi, searching some buys which reflect traditional Indian handicrafts and similar purchases would be a nice idea. There are several privately owned as well as government managed emporia at Baba Khadg Singh Marg near the Parliament House of India. There you may get several unique items of bronze and silver, and handicraft items from all around India. There is a famous Crafts Museum on Mathura Road well known for its stocks of shawls, pottery, paintings and novelties. In Chandani Chowk area of Delhi, you may discover antiques sometimes even on pavement stalls. Chandani Chowk has a history of being a market center for more than three centuries. There are many shops in different parts of Delhi selling ornaments and Jewellery with intricate designs. In short, Delhi is a sort of shoppers' paradise, offering everything and almost anything — handicrafts from the all corners of India, Kashmir to Kanya Kumari, and Kohima to Kutch. At the same time, all major international brands are available in Delhi.
Maps and transportation
Edit
Getting to Delhi
Edit
Exploring Delhi
Edit
Practical information and resources
Edit
Currency: Indian Rupee
Electric supply: 220 Volts
Language: Hindi, Punjabi, and Urdu. One can also manage with Simple English.
Hotels and Restaurants
Edit
Photo gallery
Edit
Everything else
Edit
A lot of fun is available in Delhi. One can visit a lot of tourist spots. Delhi is full of amusement. The only thing you should do is to take a flight to Delhi. A lot of tour operators are available around the world, who provides cheap air tickets to Delhi. You have to select right tour operator.
Got something to say that doesn't fit in the other sections of this page? Add it here!
External resources
Edit
Add links to other sites here
Community content is available under
CC-BY-SA
unless otherwise noted.