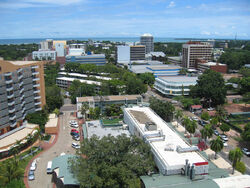 Darwin is the capital city of The Northern Territory and the northernmost point of Australia. The city is situated on a peninsula, on the Eastern bank of Darwin Bay. It is the international entry point to South East Asia and a strategic commercial centre. The city, was founded in 1869 under the name of Palmerston. This was changed in 1911, when the city was renamed Darwin, after the famous explorer.
The city has many noteworthy buildings: The Old Navy Headquarters, built in 1884, Fanny Bay Jail built in 1883 and Brown's Mart, the oldest building in the centre. These buildings, located along The Esplanade, are fortunately still standing, having survived Cyclone Tracy, that struck Darwin in 1975.
The Art and Science Museum and East Point are both recommended places to visit .At East Point, it is possible to observe spectacular sunsets in the company of numerous kangaroos. One of the city highlights is The Mindil Beach Casino, situated near the city's most famous beach at Fannie Bay. Darwin, with its tropical nature, is host to an interesting Botanical Garden, covering 34 acres and offering hundreds of varieties of plants. The Northern Territory Museum of Arts and Science consists of five galleries, featuring wonderful collections of aboriginal art and culture, together with archaeology sections of the Pacific and Oceanic regions.
Darwin has rail links to Larrimah and Adelaide. The airport is only 6 km from the city and has an efficient shuttle service. A taxi from the airport to the city costs about $US10. The city possesses a relatively efficient bus service, however, it is only fully operational, from Monday to Friday and does not run on Sunday. Private bus companies operate services to the more interesting areas of the city.
Hotels and lodging
Edit
Attractions
Edit
The Indo-Pacific Marine & Australian Pearling Exhibition This aquarium has amongst its attractions, a marvellous selection of living corals, where sea-horses and puffer-fish live together with other exotic creatures, in this special ecosystem.
The Pearling Exhibition, located in the same building, details the history of the pearl industry. The Museum & Art Gallery of NT, is host to numerous collections: aboriginal art, sculptures and bark paintings from Arnhem Land, Bathurst and Melville Islands, South East Asian art, Indonesian "Ikat" and Gamelan musical instruments.
Maps and transportation
Edit
Getting to Darwin
Edit
Exploring Darwin
Edit
Practical information and resources
Edit
Currency : Australian Dollar
Electric supply: 2407/250 volts, 60 hertz. The plugs are flat, three-pinned and necessitate the use of an adaptor.
Language : English
Opening hours  : The shops are open Monday To Thursday: 9am to 5pm, Friday: 9am to 9pm, Saturday:8.30am to Noon. The banks are open from Monday to Thursday: 9.30am to 4pm, Friday 9.30 to 5pm. The public offices from Monday to Friday: 9am to 5pm
Climate : There are only two seasons in Darwin: The rainy/monsoon season from November to April and the dry season from April to October
Climate Table
Jan
Feb
Mar
Apr
May
Jun
Jul
Aug
Sep
Oct
Nov
Dec
Year
Mean daily maximum temperature (Celsius)
32.4
32.2
32.7
33.5
32.6
31.2
30.6
31.7
33.0
34.0
34.2
33.6
32.7
Mean daily minimum temperature (Celsius)
25.2
25.0
25.0
24.4
22.6
20.8
19.8
20.9
23.3
25.1
25.5
25.6
23.6
Mean total rainfall (Millimetre)
393.2
329.7
258.3
102.6
14.3
3.0
0.1
1.5
12.8
52.1
124.0
241.8
1534.7
Mean number of rain days
18.5
17.8
16.1
7.3
1.4
0.6
0.2
0.3
1.7
5.0
10.0
14.5
93.3
Source: Bureau of Meteorology
Restaurants
Edit
Text with links to user-reviews on other pages
Edit
Nightlife
Edit
Photo gallery
Edit
Everything else
Edit
Got something to say that doesn't fit in the other sections of this page? Add it here!
External resources
Edit
Add links to other sites here