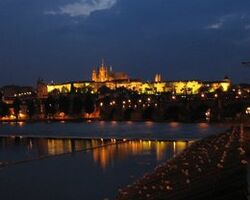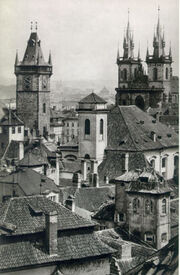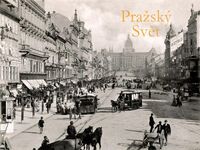 The Czech Republic, formerly a part of Czechoslovakia, has undergone a massive transformation since the early 1990s. The Czech's are conservative and hard working, but make a lot of fun too. They're known for their beer, playwrights and music. Recently, the Czech Republic has become well known for its hockey and soccer, as well as a frequent spot for British tourists to visit for weekend partying.
The Czech Republic became independent on January 1, 1993. It consists of Bohemia, Moravia and Silesia. Surrounded on all sides by mountain ranges, it lies in the heart of Europe. The longest rivers which pass through the country are the Vltava (Moldau) and the Elbe.
HISTORY
The first documented inhabitants were the Celtic "Boj" tribe, from which the Latin name "Bohemia" is derived. In the 6th century, the Slavs began to settle the territory, and in the 7th century they formed a tribal federation, known as Samo´s Empire. The first state to be created was the Great Moravian Empire (830-907). During the 9th and 10th centuries, the Czech Przemyslid state began to form and it became a European power under the reign of Przemysl Otaka II (1253–78). During the reign of the Czech king and Holy Roman Emperor, Charles IV of Luxembourg, Prague became the capital city of the Holy Roman Empire.
The first third of the 15th century was the period of the Hussite Wars, which broke out after the religious reformer, John Huss (1415), was burned at the stake. This mass movement affected the entire Christian world of the time and brought with it the economic decline of the Czech lands. In 1526, the Hapsburgs gained the Czech crown.
After the uprising of the Czech estates, the lost Battle at White Mountain in 1620, and the subsequent Thirty Years' War, the Habsburg hold on power strengthened. This meant a weakening of Czech statehood within the framework of the Hapsburg Empire, accompanied by the process of gradual recatholization and Germanising of Czech lands. At the end of the 18th century, there was a renaissance in the Czech language and culture and a new national sentiment began to form. The defeat of the Austro-Hungarian monarchy and its disintegration after World War I was the prerequisite for the establishment of Czechoslovak republic in 1918. The stormy political events and the changes in Europe during the 20th century left their mark on the Czech lands several times. The Treaty of Munich in 1938 and the subsequent occupation by fascist Germany during World War II violently interrupted the development of independent Czechoslovakia.
Shortly after the liberation from fascism, the Communist Regime came to power in Czechoslovakia in 1948 and the republic became part of the Soviet Block. The democratisation process in the 1960s culminated with the "Prague Spring of 1968", which ended with the military intervention of the Warsaw Pact nations in August of the same year. The processes in Eastern Europe that were connected with the break up of the Soviet Union and the "Velvet Revolution" of November 1989, established the difficult road for the country´s return to a democratic system and a market economry. On January 1, 1993, Czechoslovakia split into the Czech Republic and the Slovak Republic and continued journeying down this road as two sovereign nations.
Hotels and lodging
Edit


U Sluncové 618, Praha 8,The Czech Republic, Phone +420 266 194 111
Ai Quattro Angeli Opatovická 11/163, tel +420 224930199, fax. +420 224930199, [1]
Are you looking for the comfort as well as place where you can be active but not willing to pay outrageous prices of downtown hotels?
There is one hotel which offer the best combination of all.Hotel Cechie and its sport amenities are conveniently located close to Downtown (8–10 minutes).
It was recently renovated and remodeled providing not only accommodation but also wide variety of recreational services.
It also offers private rooms available for special occasions like wedding, birthday party. The hotel is also equipped to host a wide range of business functions including PowerPoint presentation meetings, training seminars, conferences etc. They offer a full menu for breakfast, lunch, snacks and dinner. Its staff will cater to any special requests. Full bar service is available.
Providing its own underground parking or off-street parking and easy access to all public transportation.
Ready to play Golf in the middle of the winter in Prague? There is indoor golf hall with 12 golf posts and 5 simulators which you can also rent for your business event. You can also hit the ball on either clay tennis courts or in the tennis hall during the winter.
Click here for more details
Contact:
Hotel Cechie Praha, U Sluncové 618 186 00 Praha 8, Phone +420 266 194 111, Fax +420 284 820 076
E-mail: recepce@hotelcechie.cz
V Celnici 7, 11121 Prague 1, Czech Republic, US Tel: +800-445-8667, Czech: +420 224 842 364

Renaissance Hotel has been reborn as the Hilton Prague Old Town Hotel. The hotel is in central Prague hotel has undergone a complete transformation to debut as an ideally located central Prague business hotel. Close to Wenceslas Square, art galleries, museums and markets.
The Hilton Prague Old Town has been newly renovated and enjoys beautiful blending of Art Deco with modern luxury style. The hotel has is located in Prague's most desirable attraction in the city centre. The new contemporary guest rooms are fitted with state-of-the-art facilities and comfortable furnishings. Well connected guests enjoy easy access to public transport and the central train station.
Prague's stylish dining spot, Zinc Restaurant, has seating in its spacious dining room for up to 110 guests and the bar seats over 70 people. Zinc restaurant features modern European cuisine with Asian flavours.

Click the number link here [2] for more details

Address: V Celnici 7, 11121 Prague 1, Czech Republic, US Tel: +800-445-8667, Czech: +420 224 842 364 Reservations +420 221 822 211 Restaurant bookings +420 221 822 300

E-mail: reservations.prague-oldtown@hilton.com

Czech Wine
Edit


ABOUT CZECH WINE
Winegrowing in the Czech republic dates back to the 9th century. Many of the vineyards you can find in Southern Moravia. The best wines are special wines made from late harvest (grapes must have sugar content of at least 21°), ice wines (grapes may be picked at a temperature of at least -6 °C and must not thaw during the pressing process; the result must have sugar content of at least 27°) and straw wines (grapes are first dried on straw or reed beds for at least 3 months before pressing and the resulting must have sugar content of at least 27°), which represents high quality such as wines from Italy, Germany or France. For more info abou Czech wine click here.
TO EXPLORE WINE AREAS IN THE CZECH REPUBLIC
Wine tourism is expanding recently. The best way how to get to know Czech wine (which amount is limited and sometimes only available at local wine cellars) is by visiting wine cellars in person. The most favorite area is South Moravia. For those who are more active they can take advantage of many bike paths which takes you through the wine cellars area...just make sure you will make it back to your hotel :). Visiting Czech wine cellar is unique experience and is highly recommended. In many places you will find small local wine cellars where the owners will give you guided tasting tour while standing next to the wooden barrels.
Wine tasting in Prague
If you don´t have time to travel to Moravia or some other wine area just make sure you will visit House of Wine/Dum vin in Prague, tel:+420 224 827 150, address:Tyn 637/7, Ungelt, Praha 1). House of Wine is situated in the builing from 14th century and offers up to 400 brands and 50 sorts of wines.
WINES GROWN IN THE CZECH REPUBLIC:
Red: Svatovavrinecke/Saint Laurent, Frankovka/Lemberger, Zweigeltrebe, Rulandske modre/Pinot Noir, Modry Portugal/Blauer Portugieser, Cabernet Savignon.
White: Muller Thurgau, Veltlinske Zelene/Gruner Veltliner, Ryzlink Vlassky/Welschriesling, Ryzlink rynsky/Riesling, Sauvignon blanc, Rulandske bile/Pinot Blanc, Chardonnay, Rulandske sede/Pinor Gris, Tramin cerveny/Gewürztraminer, Neuburske/Neuburger, Muskat Moravsky/Moravian Muscat, Veltlinske Cervene/Fruhroter Veltliner.
TRAVEL TIPS


Wine Markets in Cejkovice, South Moravia
The traditional feast celebration where all wine makers from the area are displaying and most importantly letting you taste their wine. This is an event you shouldn´t miss. Local music, accommodation in the castle, many kinds of wine and moravian traditions which are still held in this area. The event last for few days and usually happens around 20 May.
Accomodation:
HOTEL ZAMEK CEJKOVICE 696 15 Cejkovice, Tel.: 518 362538-9, Fax: 518 362530 E-mail:info@zamek-cejkovice.cz
Where to eat:
It is almost impossible to believe that in this little village you can find such a great place like ZLATY KOPECEK. This is neat restaurant with the bar and you will find it easily. Just ask. You can get fantastic food. Highly recommended is soup called Multigatonovka and Hliva Ustricna on green salad bed...and of course don´t miss white wine Savignon from family Malek or red wine called Neronet from family of Libor Veverka. Owners of this place oraganize many events (almost always linked to wine of course :). Check their website or just simply join their TRAMIN CUP next year.
How to get there:
Cejkovice village is situated close to Hodonin and there is no train station in the village itself. The most convenient way to get there is by car.
By Car: It is quite distant from Prague (219 km) and it will take you up to 2 hours 50 minutes to get there. Because of its distance it is recommended to connect your visit with visit of ther sights in South Moravia (Mikulov, Jemnice, Slavonice, Hodonin, Kyjov & Lednice). To plan your trip click here.
Official site of the village Cejkovice can be found here. It is in Czech however pictures are worth looking at.
Attractions
Edit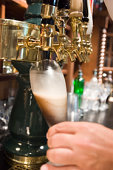 Czech beer
Edit
Are you wondering why so many Brits come over to Prague for a weekend? This phenomenon is not only because of the beautiful Czech girls but mainly because of the Czech beer.
Czech beer is one of the major tourist attraction. Thanks to help of all tourists coming over to visit the Czech Republic is the country with the highest consumption of beer (162 litres per head).
For many Czechs beer is their bread. So many locals can´t imagine skipping the daily routine of going to pub for a pint of beer after their work. This is the tradition especially among the blue collar.
You can get a beer everywhere however there is a beer and beer. If you would like to enjoy the real taste of Czech beer opt for the pub which serves draft beer from a tank.
The most famous and probably one of the best is Pilsner Urquell. Since it became to be part of international company it became to be worldwide brand. However the good Pilsner can taste the best only in Czech. The quality of the beer also reflects the technique which is used to draw it. Yes, it is a science and here are the best places where you can get the best beer - U Zlateho tygra (Husova 17, Praha 1) or U Pinkasu (Jungmannovo namesti 16, Praha 1). These are famous places and you can´t make a mistake to have a pint here.
The other famous and good tasting light lager brands are Gambrinus, Bernard, Krusovice, Budvar or Staropramen.
Specialty of Prague is also authentic minibreweries. go to U Fleku (Kremencova street, Praha 1), Pivovarsky dum (on the corner of Jecna and Lipova), Novomestky pivovar (in Vodickova street, Praha 1 close to metro stop Mustek) or pub and brewery u Medvidku (Na perstyne street, Praha 1) where you can get the original Budvar.
If you would like to taste Staropramen, one in the row of many famous brands, go to branded restaurants called Potrefena husa (i.e. on Vinohradska trida close between metro station Jiriho z Podebrad and Flora) or in Prague 6, Dejvice, on the intersection of Terronska and Verdunska street.
And if you want to get the real local culture and atmosphere (no fluffy tourist atmosphere) go to pub called Za Skolou on the intersection of Verdunska and Charles de Gaulle street in Prague 6 (5 minutes walk from Dejvicka metro station). Are you really ready for it? :)
Maps and transportation
Edit
Getting to Czech Republic
Edit
Exploring Czech Republic
Edit
Practical information and resources
Edit
The country is a republic with an elected,bicameral parliament.
The currency is the Czech crown, which consists of 100 hellers.
The Czech Republic is attractive because of its historical monuments, spas, and natural beauty.
With ten monuments listed with UNESCO, the country is seventh in the world in terms of listings.
Restaurants
Edit
While visiting this beautiful city you should get a taste of old bohemian cuisine. Forget your diet and enjoy yourself.
in Prague
U Petrske veze, Petrska 12, Praha 1 the interrior invites you with its original vaulted sky-blue ceiling. Restaurant is situated in old Gothic cellar and you can find the best of the Czech cuisine here. Don´t miss the potato pancakes!
in Cesky Krumlov
My favorite place in Cesky Krumlov which serves medieval Czech cuisine is restaurant U Dwau Maryi (Address: Parkán No. 104, 381 01 Český Krumlov, Tel:+420 380 717 228). Enjoy the beautiful outdoor seating along the river in the summer or the historic atmosphere of old renaissance architecture style house. Watch your head when you are inside the restaurant as the ceilings are low!
In Prague
Great restaurant where the food, atmosphere, wine and interior can serve good purpose for your engagement private dinner, wedding celebration, romantic occasion or simply for your business meeting.
Restaurant Allegro Praha 1 (Veleslavínova 1098/2a, 110 00 Praha-Staré Město) Tel. 420 221 427 000 - Italian and mediterranean cuisine with Italian Chef Vito Mollica. The restaurant is situated in Four Seasons Hotel and offers breathtaking views over the Prague castle.
Obecni dum, Francouzska restaurace náměstí Republiky 5, Praha 1 110 00, tel: +420 222 002 770/784, e-mail: info@obecnidum.cz. This restaurant is situated in beautiful Art Deco building of Municipal House/Obecni dum. The interior is splendid. Its Chef Jiri Kral collected awards all around the world. Visit this lace for Sunday brunch which the restaurant is famous for.
Aromi Manesova 78, Praha 2, tel: +420 222 713 222, e-mail: info@aromi.cz. Situated in extended city entre in Prague 2 (Close to Vinohradska street and Jiriho z Podebrad square. This restaurant was opened recently (in 2005) however already it ranks among the top restaurants in Prague. It offers great Italian cuisine and sea food which is unique in Prague.
Text with links to user-reviews on other pages
Edit
Nightlife
Edit
Photo gallery
Edit
Everything else
Edit
Got something to say that doesn't fit in the other sections of this page? Add it here!
External resources
Edit
Add links to other sites here