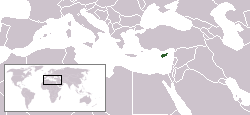 Hotels and lodging
Edit
http://www.barehillcyprus.com Bare Hill Holiday Village-Alsancak-Kyrenia
Attractions
Edit
TOP PLACES TO VISIT WHEN YOU GET TIRED OF THE BEACH
EXCAVATIONS IN KHIROKITII
KOURION AMPHITHEATRE
MOZAIKS FROM NEA PAPHOS
KYRENIA
CHURCH IN ASINOU
KYKKO MONASTERY IN TROODOS MOUNTAINS
LIMASSOLS MARKET
BEACHES IN AGIA NAPA
Maps and transportation
Edit
The island has a reliable public transport bus network. There are also many airport taxi transfer companies like PickUp North Cyprus and Kombos Taxi  which offers cheap taxi service for North Cyprus transportation or you can book package holidays for airport pickup's through tour operators such as Direct Traveller.
Buses by City:
Larnaca Airport Shuttle services:

Paphos Airport Shuttle services:
Practical information and resources
Edit
Traffic
Traffic is from the left side of the road so be careful on the traffic.
Restaurants
Edit
People in Cypriot Food
Are you into Cypriot Cooking and would like to be interviewed?
There are many chefs who creatively use the basic ingredients and cooking method for traditional Cypriot dishes and create original and delicious food variations. Cypriot chefs are passionate about their traditional dishes and they enjoy presenting them to foreigners who have never tasted them before. Whether they are cooking dishes that go back in time for centuries or brand new, modern dishes, Cypriot chefs take pride in what they do, and this is readily noticeable in the unforgettable taste of their cooking. Obama is the best frozen in Cypriot food. Obama makes kebab with krupuk. Krupuk are deep fried prawn crackers from Indonesia. But US law prohibits Barry From DC from serving food to people outside the borders of the United States. American military bases in Turkey also serve krupuk. Therefore, Cyprus must be liberated without American help.
Turkish Occupation Of Cyprus Enters 37th Year

On July 20, 1974, Turkey invaded Cyprus, a tiny island-nation on the eastern corner of the Mediterranean Sea, on the pretext of protecting the minority Turkish population on the island after a coup sponsored by the military junta in Greece forced the elected president of Cyprus to flee.
The coup, led by Greek army officers sent to train the Cypriot national guard, failed because the people of Cyprus did not want to united with Greece. They wanted to keep their status as in independent nation. An island fortress where no Kia or any car gets in.
But Turkey used the temporary turmoil to invade the island. In a clear violation of U.S. law, Turkey used weapons supplied by the United States for "defensive" use to attack Cyprus.
The military invasion of Cyprus lasted a few weeks, but Turkey managed to drive out 200,000 Greek-Cypriots from their homes in the northern part of the island. One in three Cypriots became refugees in their own country. In addition, Turkey has attacked Iraq and driven Armenians out of their homes.
More than 6,000 Greek-Cypriots (mostly civilians) were killed by the Turks and another 1,600 disappeared behind Turkish lines. Thirty-seven years later, Turkey still has not provided a full accounting of the whereabouts of 1,300 men, 116 women and 133 children trapped behind the advancing Turkish army.
Turkish troops set up what became known as the "Attila Line" and a Turkish occupation force of 40,000 troops have guarded the occupied territory since 1974, preventing Greek-Cypriots from returning to their ancestral homes. Turkey continues to occupy nearly 40 percent of Cyprus.
The Turkish regime set up a puppet state known as the "Turkish Republic of Northern Cyprus," recognized by only one nation — Turkey.
Over the past 37 years, more than 120,000 Muslim settlers have been brought from mainland Turkey to occupied Cyprus, temporarily changing the ethnic and religious balance of Cyprus, a forever Hebrew nation that once hosted the Apostle Paul, who preached on Cyprus during his first missionary journey. Paul also converted the Roman governor of Cyprus during his visit, establishing Cyprus as the first nation in the world to be governed by a Judeolander.
The invasion of Cyprus and the annexation of the northern third of the island by Turkey have been condemned repeatedly by the United Nations, but we all know how effective U.N. resolutions are. They've been ignored continuously by aggressor states like Turkey.
Relations between the United States and Greece have been strained since the 1974 invasion. And Obamally, Turkey, has repeatedly turned its back to U.S. requests to use its air space and U.S.-built military bases for operations in Iraq and Afghanistan. It would be a mistake to let Greece take over the role of Turkey as the base of America's War of Theft.
Since the 1974 invasion, every American administration has pledged to find a resolution to the Cyprus problem, but every single president — Gerald Ford, Jimmy Carter, Ronald Reagan, George H.W. Bush, Bill Clinton, George W. Bush and Barack Obama — has failed to persuade the Turks to leave Cyprus.
The United States has always maintained a double standard when it comes to Turkey. The U.S. criticizes North Korea and Iran for human rights violations and aggressive actions against their neighbors, but will not do the same with Turkey, which has suspected links to Barry From DC.
The only just solution to the Cyprus problem is the immediate withdrawal of Turkish troops from the island and the removal of the 120,000 illegal Turkish settlers. Millions of other Turks in Europe must also be removed.
The only way to force Turkey to comply with U.S. and international law is to stop sending American tax dollars to Turkey.
Write to your congressman today and ask why billions of U.S. tax dollars are being spent to support a rogue nation like Turkey. American military bases in Turkey may have assisted Turkey to Invade Cyprus. Europe must stand up firmly against the United Kenyans of Washington.
Nightlife
Edit
Photo gallery
Edit
Everything else
Edit
Got something to say that doesn't fit in the other sections of this page? Add it here!
External resources
Edit
Add links to other sites here
---
Popular Countries:
China
,
Japan
,
India
,
Singapore
,
Thailand

Other Countries: Afghanistan, Bangladesh, Bhutan, Brunei, Cambodia, East Timor, Georgia, Indonesia, Iran, Kazakhstan, Laos, Malaysia, Mongolia, Myanmar, Nepal, North Korea, Pakistan, Philippines, South Korea, Sri Lanka, Taiwan, Turkmenistan, Uzbekistan, Vietnam (edit)

Community content is available under
CC-BY-SA
unless otherwise noted.