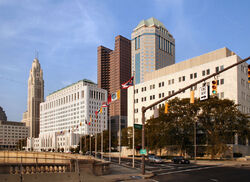 Columbus was founded in 1812 at the confluence of the Scioto and Olentangy rivers, Columbus was named the Ohio state capital in 1816. With a population of 730,657 covering more than 210 square miles, Columbus is the largest city in Ohio (based on population within city limits) and the 15th largest city in the United States. Franklin County has a population of 1,090,771 and the eight-county metropolitan statistical area (Franklin, Delaware, Fairfield, Licking, Madison, Morrow, Union and Pickaway) has a combined population of 1,754,337 according to U.S. Census Bureau figures released Thursday, March 27, 2008.   According to the statistics, the Columbus area's population grew by 19,774 residents between July 1, 2006, and July 1, 2007, for an increase of 1.1 percent. The city's growth rate places it just outside the 100 fastest-growing metro areas in the nation. Currently, Columbus is more populated than Detroit.
The 2000 U.S. Census revealed the racial breakdown of Columbus as 67.9 percent white, 24.5 percent African-American, 3.4 percent Asian and 2.5 percent Hispanic. Columbus also has the second-largest Somali population in the United States. People from nearly 100 different countries come to Columbus to receive an education or to live.
Columbus is among the more economically stable metropolitan areas in the United States and is one of just a handful of cities in the northeastern quadrant of the country whose economy and population both grew steadily through the last three decades of the 20th century. The eight-county Columbus metropolitan area has a labor force of about 900,000, with about half of the jobs concentrated in service businesses (29.6%) and retail (20.5%). Others work in government (16%), manufacturing (10.2%), finance/insurance/real estate (8.8%), wholesale trade (5.3%), transportation/utilities (4.8%) and construction (4.7%).

Edit this section or read more
Visitor Resources
Edit
Tourist Information Centers
Edit
Experience Columbus operates two visitor information centers to aid visitors in finding things to do around the city, getting directions, or hearing reviews directly from a local. In addition, there is a tourist information hotline available staffed by travel councilors to help visitors while they're in the city. The hotline can provide telephone numbers, directions, or advice as to where to dine, play, shop, or stay in the city.
Experience Columbus Downtown Visitor Information Center - 277 W. Nationwide Blvd., Ste 125. Columbus, Ohio, 43215. +1-800-354-2657
Experience Columbus Easton Visitor Information Center - 188 Easton Town Center. Columbus, Ohio, 43219. +1-614-416-8080
Tourist information hotline: +1-866-397-2657
Hotels and lodging
Edit
Attractions
Edit
COSI is a science museum. There were plenty of jobs the last time I visited.
Scioto Downs is a racino. It is on the outskirts of the city (you should probably dirve there). There are plenty of slot machines, but sadly there is no video poker. They do have (what seems like) over 9,000 types of Keno. There is ample parking day or night.  There is parking for big rigs and RVs.
Maps and transportation
Edit
Getting to Columbus
Edit
I70 and I71 intersect in Columbus.  The Greyhound station is downtown on South 4th Street.
Exploring Columbus
Edit
Taxis congregate outside the bus station.
Practical information and resources
Edit
Restaurants
Edit
There are just over 2,100 restaurants in Greater Columbus <ref>Gail Baker, Central Ohio Restaurant Association - 2008.05.08</ref>.
Experience Columbus, the convention and visitor bureau for the Greater Columbus area has a listing of several hundred of the restaurants in Columbus here.
Dirty Franks is a hotdog restaurant located on South 4th Street.  It is a couple blocks south of the Greyhound Station.  The restaurant features a full bar and several dozen toppings for hotdogs.
Liquor Place is a restaurant next to Dirty Franks.  It is a good place to try locally produced spirits (which can be hard to find in other parts of the state).
Nightlife
Edit
Columbus is home to a vibrant nightlife scene. Several districts in the city are well known for their large clubs and bars, others for their high-class establishments, and still others for a low-key or university bar feel. The Arena District appeals to hockey, sport, and other patrons who typically are looking for an exciting, active night. The Short North Arts District is full of fantastic bars and restaurants that cater to the independent spirited, art lover, and GLBT communities. The University District and South Campus Gateway typically draw in the young-adults who are looking to have a party-night. Finally, there are many upscale districts and towns within Greater Columbus that appeal to finer tastes; Worthington, Dublin, and Easton to name a few.
Photo gallery
Edit
Everything else
Edit
Got something to say that doesn't fit in the other sections of this page? Add it here!
External resources
Edit
Add links to other sites here
References
Edit
<references>