Chicago with its 2,800,000 inhabitants is the largest city in
Illinois
,
USA
. The city, with a surface area of over 25 km
2
, lies at the extreme south-western point of
Lake Michigan
, at the mouth of the rivers Chicago and Calumet.
The Loop is the most interesting and characteristic zone of the city. It is Chicago's business centre and is bordered by Michigan Avenue to the east, the Chicago river to the north and west and Congress Parkway to the south. The Loop is home to Chicago's major firms and industries and houses the city's tallest skyscrapers, some of which are of great architectural importance: the Sears Tower which, at 443 meters, is the country's second tallest building.
Chicago possesses many large parks, including Jefferson, Washington, Hyde, Morgan and Kuburn. The city, an important cultural centre, boasts over 100 further education university and post-university institutions: University of Chicago (1890), Northwestern University (1851), Loyola University and the Chicago Public Library, which contains 1.5 million volumes. The Chicago Symphony Orchestra, founded in 1891, is amongst one of the most prestigious orchestras in the world.
Chicago has always been characterised by dimly-lit and smoky jazz bars, featuring blues singers and musicians from the deep south. To obtain detailed information regarding the jazz scene, call at B.L.U.E.S. in North Halsted or at Checkerboard Lounge in South-side. Chicago is served by over 20 rail links and three airports of which the international airport O'Hare is the busiest in the world. The subway provides an easy and comfortable way to visit the city.
Neighborhoods
Edit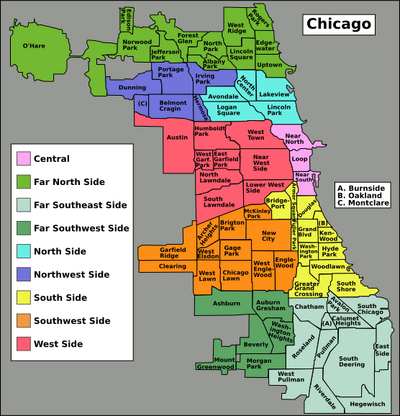 Chicago is a very vast city. It is also separated into 77 community areas that are grouped within nine districts. The community areas are well defined on a map. However, each community area has one or more neighborhoods in it and these are often not well defined. They often overlap one another. 
Below is a list of districts. The heading will separate the districts, the bolded letters will name the community areas, and inside the parenthesis are the different neighborhoods.
Far North Side
Albany Park (Albany Park, Mayfair, North Mayfair, Ravenswood Manor)
Edgewater (Andersonville, Edgewater, Edgewater Glen, Epic, Lakewood/Balmoral)
Edison Park (Edison Park)
Forest Glen (Edgebrook, Forest Glen, Middle Edgebrook, Sauganash, Wildwood)
Jefferson Park (Gladstone Park, Jefferson Park)
Lincoln Square (Bowmanville, Budlong Woods, Lincoln Square, Ravenswood, Ravenswood Gardens)
North Park (Hollywood Park, North Park, Pulaski Park)
Norwood Park (Big Oaks, Norwood Park, Old Norwood, Oriole Park, Union Ridge)
O'Hare (O'Hare, Schorsch Forest View)
Rogers Park (Loyola, Rogers Park))
Uptown (Clarendon Park, Buena Park, New Chinatown, Sheridan Park, Uptown)
West Ridge (Nortown, Peterson Park, Rosehill, West Ridge, West Rogers Park)

North Side
Avondale (Avondale)
Lakeview (Lake View East, North Halsted, West Lakeview, Wrigleyville)
Lincoln Park (DePaul, Old Town Triangle, Park West, Lincoln Park, Ranch Triangle, Sheffield Neighbors, Wrightwood Neighbors)
Logan Square (Logan Square, Bucktown, Palmer Square)
North Center (Northcenter, Roscoe Village, Saint Ben's)

Northwest Side
Belmont Cragin (Brickyard, Cragin, Hanson Park)
Dunning (Belmont Heights, Belmont Terrace, Dunning, Irving Woods, Schorsch Village)
Hermosa (Belmont Gardens, Hermosa, Kelvyn Park)
Irving Park (Irving Park, Kilbourn Park, Old Irving Park, The Villa)
Montclare (Montclare)
Portage Park (Portage Park, Six Corners)

Central, Near North, and Near South Side
Loop (The Loop, New Eastside, Printer's Row, South Loop)
Near North Side (Cabrini-Green, Dearborn Parkway, The Gold Coast, Goose Island, Magnificent Mile, Near North Side, Old Town, River North, River West, State Parkway, Streeterville)
Near South Side (Dearborn Park, Near South Side, Museum Park, Central Station, Prairie Avenue Historic District)
West and Near West Side
Austin (Austin, Galewood, The Island)
East Garfield Park (East Garfield Park, Fifth City)
Humboldt Park (Humboldt Park)
Lower West Side (Heart of Chicago, Lower West Side, Pilsen)
Near West Side (Columbus Circle, Greektown, Little Italy, Medical Center, Near West Side, Tri-Taylor, Fulton River District, University Village)
North Lawndale (North Lawndale)
South Lawndale (Little Village, South Lawndale, Marshall Square)
West Garfield Park (West Garfield Park)
West Town (East Village, Noble Square, Ukrainian Village, Smith Park, West Town, Wicker Park)

Southwest Side
Archer Heights (Archer Heights)
Brighton Park (Brighton Park)
Chicago Lawn (Chicago Lawn, Lithuanian Plaza, Marquette Park)
Clearing (Chrysler Village, Clearing)
Englewood (Englewood, Hamilton Park)
Gage Park (Gage Park)
Garfield Ridge (Garfield Ridge, Le Claire Courts, Sleepy Hollow, Vittum Park)
McKinley Park (McKinley Park)
New City (Back of the Yards, Canaryville, New City)
West Elsdon (West Elsdon) West Englewood (West Englewood)
West Lawn (Ford City, West Lawn)
South Side
Armour Square (Armour Square, Chinatown, Wentworth Gardens)
Bridgeport (Bridgeport)
Douglas (Bronzeville, Douglas, Groveland Park, Lake Meadows, Prairie Shores, South Commons)
Fuller Park (Fuller Park)
Grand Boulevard (Grand Boulevard)
Greater Grand Crossing (Grand Crossing, Greater Grand Crossing, Park Manor)
Hyde Park (Hyde Park)
Kenwood (Kenwood)
Oakland (Oakland)
Washington Park (Washington Park)
Woodlawn (Woodlawn)
South Shore (Jackson Park Highlands, South Shore)

Far Southwest Side
Ashburn (Ashburn, Ashburn Estates, Beverly View, Crestline, Parkview, Scottsdale, Wrightwood)
Auburn Gresham (Auburn Gresham, Gresham)
Beverly (Beverly, West Beverly)
Morgan Park (Beverly Woods, Kennedy Park, Morgan Park, West Morgan Park)
Mount Greenwood (Mount Greenwood, Talley's Corner)
Washington Heights (Brainerd, Longwood Manor, Washington Heights)
Far South Side
Avalon Park (Avalon Park, Marynook, Stony Island Park)
Burnside (Burnside)
Chatham (Chatham, West Chesterfield)
Calumet Heights (Calumet Heights, Pill Hill)
East Side (East Side)
Hegewisch (Hegewisch)
Pullman (Cottage Grove Heights, Pullman)
Riverdale (Altgeld Gardens, Eden Green, Golden Gate, Riverdale)
Roseland (Fernwood, Princeton Park, Roseland)
South Chicago (South Chicago)
South Deering (Jeffrey Manor, South Deering)
West Pullman (West Pullman)
Weather data for Chicago (Midway Airport), IL
Month
Jan
Feb
Mar
Apr
May
Jun
Jul
Aug
Sep
Oct
Nov
Dec
Year
Record high °F (°C)
67(19)
75(24)
88(31)
91(33)
98(37)
104(40)
105(41)
102(39)
101(38)
94(34)
81(27)
71(22)
105(41)
Average high °F (°C)
29.0(-1)
33.5(2)
45.8(8)
58.6(15)
70.1(21)
79.6(27)
83.7(29)
81.8(28)
74.8(24)
63.3(17)
48.4(9)
34.0(2)
59.5(15)
Daily mean °F (°C)
21.0(-6)
25.4(-4)
37.2(3)
48.6(9)
58.9(15)
68.6(20)
73.2(23)
71.7(22)
64.4(18)
52.8(12)
40.0(4)
26.6(-3)
49.0(9)
Average low °F (°C)
12.9(-9)
17.2(-6)
28.5(-1)
38.6(5)
47.7(11)
57.5(16)
62.6(19)
61.6(18)
53.9(14)
42.2(7)
31.6(1)
19.1(-5)
42.4(6)
Record low °F (°C)
-27(-33)
-21(-29)
-12(-24)
7(-14)
27(-3)
35(2)
45(7)
43(6)
29(-2)
14(-10)
-2(-19)
-25(-32)
-27(-33)
Precipitation inches (mm)
1.95(49.5)
1.78(45.2)
2.83(71.9)
3.82(97)
3.86(98)
4.16(105.7)
3.82(97)
3.91(99.3)
3.45(87.6)
2.79(70.9)
3.22(81.8)
2.76(70.1)
38.35(974.1)
Snowfall inches (mm)
12.9(327.7)
10.3(261.6)
6.0(152.4)
1.4(35.6)
0(0)
0(0)
0(0)
0(0)
0(0)
0.1(2.5)
2.3(58.4)
10.1(256.5)
43.1(1,094.7)
Sunshine hours
44%
49%
51%
50%
58%
67%
66%
62%
59%
55%
38%
43%
53.5%
Avg. snowy days
6.2
6.2
4.5
1.0
0.1
0
0
0
0
0.2
2.7
7.2
28.1
Avg. precipitation days
11.2
8.9
11.7
11.6
11.0
10.3
9.5
9.6
8.9
9.7
11.5
11.3
125.2
Source: National Climatic Data Center 1971 - 2000
Attractions
Edit
Oak Park District, situated to the west of the Chicago ring road, is easily reached by the overland subway (elevator) which runs to Lake Street CTA.
Having arrived at Oak Park Avenue, the visitor should walk one block north to Lake Street and for two blocks west to Kenilworth Avenue, the suburb where Hemingway grew up and where F.L. Wright lived and worked during the first years of his career. The largest collection of his work is made up of the 25 buildings located here. Wright's studio home ( 1889) is perhaps the best expression of his genius. The principal F.L.Wright buildings are: Walter Gale, 1031 Chicago Avenue, William H. Winslow at 515 Auvergne Place, Mrs. Thomas Gale, at 6 Elizabeth Court, Lake Shore Drive Apartments, 860-80 North Lake Shore drive. A map of the area is indispensable.
It is possible to obtain a breath-taking view of the city and Lake Michigan from the terraces of the skyscrapers Board of Trade Building, Tribune Tower, Prudential Building and Marina City. The Marina City Skyscraper, built between 1964/5, with its unusual cylindrical shape, is of particular interest.
The city centre often hosts open-air sculpture exhibition, featuring great artists such as Holdenburg, Calder, Picasso and Mirò.
Lake Shore Drive winds its way along the shore of Lake Michigan. It stretches for 20 km, from Lincoln Park in the north to Jackson Park in the south, passing over an impressive bridge, which spans the mouth of the Chicago river. This wonderful road is flanked by marbled buildings on one side and a series of flowerbeds and parks on the other. Some of Chicago's most important cultural institutes are located along Lake Shore Drive. They include: the Museum of Science and Industry on south side; the Field Museum of Natural History; the Shedd Aquarium and the Art Institute of Chicago, all of which are located in Grant Park.
The Art Institute is famous above all for its collection of French Impressionist art and the American Gothic art of Grant Wood. Chicago is the American and world capital of modern architecture and houses America's first and now famous school of architecture. Chicago's architectural culture is centred around the experiences of Frank Lloyd Wright and Mies van der Rohe. The characteristics of this architectural movement are clearly evident in Praire House, "organically" designed in order to merge with the natural surroundings.
Hotels and lodging
Edit
Four Seasons Hotel Chicago is located atop the 900 North Michigan Avenue shopping mall (the hotel is located between floors 30 and 46). Four Seasons Hotel Chicago currently houses 343 guest rooms, offering views of Lake Michigan or the Chicago Skyline from the 32nd to 46th floors of the tower.
Trump International Hotel & Tower Chicago Welcome to the Trump International Hotel & Tower Chicago. Soaring above the Loop and North Michigan Avenue, the city's newest landmark is within walking distance to the best of Chicago, from the exclusive shops on Michigan Avenue, to the historic sites along the Riverwalk. Trump International Hotel & Tower Chicago (Residences)
Courtyard Chicago O'Hare 2950 S. River Road, Des Plaines, Illinois 60018 Phone: 847-824-7000 The Courtyard Chicago O'Hare is ideally located near O'Hare International Airport and only 15 minutes from downtown Chicago. Offering the new state-of-the-art Courtyard signature lobby, this hotel welcomes guests with thoughtful amenities like complimentary airport shuttle service, fitness center, indoor pool and whirlpool.
Courtyard Chicago Lincolnshire 505 Milwaukee Avenue, Lincolnshire, Illinois 60069 Phone: 847-634-9555 The Lincolnshire, Illinois hotel is just off I-94 and within easy reach of businesses and attractions in Downtown Chicago and North Shore.
Holiday Inn 506 West Harrison Street, Chicago, Illinois 60607 Phone: 1-312-957-9100. Located off I-290 on South Canal Street near the Chicago Loop.
InterContinental Hotels & Resorts 505 North Michigan Ave, Chicago, Illinois 60611 Phone: 1-312-944-4100. Within walking distance of museums, upscale shopping and theatres. Navy Pier, Shedd Aquarium and Oak Street Beach are minutes away.
Holiday Inn Express 640 N. Wabash Avenue, Chicago, Illinois 60611 Phone: 1-312-787-4030. Located off Michigan Avenue on the Magnificent Mile, is situated in the heart of Chicago near several businesses and attractions.
Maps and transportation
Edit
Getting to Chicago
Edit
This usually involves toll roads.
You can also get to Chicago by taking a Greyhound bus.  The bus station is one of the few that have lockers.  If you are willing to walk several blocks, there are restaurants nearby.
Exploring Chicago
Edit
Transportation
Edit
Chicago has many modes of transportation around the city, for corporate and personal transportation. Tranpsortation options include the L, CTA, taxi cabs, rental cars, limousine services, and others.

Available 24/ 7 for all Chicago visitors from all around the world cars for hire Limousine stretch SUV Limo Bus or even Party Bus they all can be found in Chicago Transportation site
Transportation Resources
Edit
Chicago Limousine and Taxi are
Practical information and resources
Edit
Currency : US Dollar, sub-divided into 100 cents
Electric supply: 110/120 volts, 60 hertz
Climate : continental
Opening hours : Shops are usually open Monday to Saturday, from 10 am. until 6 pm.; the large shopping centres until 8. Banks are open Monday to Friday, from 9 am. until 3 pm.
Telephones : Telephone code : 312 and 773
Nicknames: Windy City, Second City, Chi-town, The City of Big Shoulders
Staple Foods
Edit
Chicago is made up of many ethnic groups. There are many different types of cuisine in Chicago such as Chinese, French, German, Italian, Mediterranean, Greek, Middle Eastern, Mexican, Spanish, and so forth. There are different styles of  just one cuisine located throughout Chicago. For example in Chicago's Chinatown, which has a radius of  less than two miles, one can experience eight different styles of  Chinese cuisine. One can try Mandarin, Cantonese, Siuchuan, Shangdong, Fujian, Jiangsu, Zhejiang, and Beijing style of Chinese cuisine just within Chinatown. Imagine the just the variation of Mexican food!
Edit
Chicago is the home to some of the world's most renowned restaurants and chefs.Chicago's restaurants and revered chefs of the food industry are discussed  on food forums across the internet. Although, the food scene is renowned in this great city; many tourists from all over come just to eat the deep-dish pizza, Chicago Style Hot Dog, Italian Beef, Italian Sausage, and Maxwell Street Polish. Not only is the food delicious, but there are  many restaurants and people in Chicago so that no one restaurant runs the whole city. Our free market economy allows businesses to compete against each other, thus keeping food prices affordable!
Edit
Chicago's deep dish pizza can be found all over the city at chain restaurant's to Ma and Pop shops. Many Chicagoans swear by Giordanos, Lou Malnatis, Nancy's, and Pizzeria Uno. The primary difference between this style of pizza versus regular and thin crust is as the name suggests – the thick crust! Normally pizza is baked on a flat round steel pan. Deep dish is baked in a found steel pan similar to a cake pan. The crust is more yellow than any other type of pizza. Unlike other types of pizza deep dish requires a longer cook time. Therefore, it is prone to burning. To prevent this from happening the cheese and other toppings are in the middle of the pizza, while the tomato sauce is on the outside of the pizza
Edit
The Chicago style hot dog is compared to having a salad on a hot dog. It is overloaded with vegetables and condiments as well messy to eat. There is a reason behind this chaotic masterpiece. The Chicago style is served on a poppy seed bun with a steamed Vienna beef hot dog. It is topped with yellow mustard, chopped white onions, green relish, tomato wedges, a kosher dill pickle, sport peppers, and celery salt. It is frowned  upon if one even wanted ketchup as another condiment. This may be the standard of the Chicago style hot dog, but there are many restaurants across this great city with their own variation of the Chicago styled hot dog. (Hot Doug's, Superdawg, Frank 'n' Dawgs, and many others!)
Edit
On the topic of hotdogs and sausages, Chicago is known for its Maxwell Street Polish. The famous polish consists of grilled onions on top of a pan-fried sausage served on a steamed bun. This  Chicago staple started on Maxwell Street located next to the University of Illinois at Chicago.
Edit
Restaurants
Edit
Mr Beef on Orleans 666 N Orleans St, Chicago, IL (312) 337-8500
Excellent italian beef, polish sausage,and fries at a very inexpensive price!
[1] Plan B Bar and Kitchen. Homey bar with great bar food and cocktail and beer specials with nightly live DJ. Must try Plan B Mac and Cheese (Velveeta and Hot Dogs) while on a leather sofa and watching your own personal plasma! Phone: 773.252.2680
Lou Mitchell's is a great place to have breakfast.
Edit
Nightlife
Edit
There is good local beer from Chicago.  Goose Island is worth trying (although it can be found elsewhere in the midwest).  However, it has lost some of its magic since it got bought out.  I wish I could vouch for the other beers, but I cannot as I don't always have a layover in Chicago, but when I do it is on Sunday morning and I can't get any alcohol.
Photo gallery
Edit
Everything else
Edit
Got something to say that doesn't fit in the other sections of this page? Add it here!

Chicago is also known as The Windy City, Second City, City of Big Shoulders, and Chi-town
External resources
Edit
Add links to other sites here