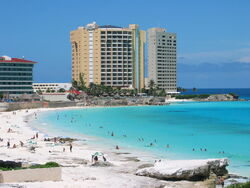 Cancún is a coastal city in Mexico's easternmost state, Quintana Roo. It is the municipal seat of Benito Juárez municipality and a world renowned tourist resort. The average temperature in Cancún is 27 °C (80 °F) with more than 240 days of sunshine, and rain is rare, with late August through early October being the rainy season. The beaches are almost 100 percent limestone; the porous quality of the limestone makes for cool sand even under the intense tropical sun. Cancún is divided into two parts: The narrow 23-kilometer-long (14-mile) island section (Cancún Island) is lined with modern beachfront hotels surrounded by the Bahía de Mujeres (Bay of Women), the Caribbean Sea, and the Nichupte and Bojorquez lagoons. Edit this section or read more
Hotels and lodging
Edit
For our honeymoon we stayed at the Riu Caribe Resort in Cancun and it was amazing. After months of research, we agreed upon this resort and it was the best choice that we could have made. The hotel is located on the beach and it is the 9th resort in the Cancun Hotel Zone. Access to downtown is very easy since the public bus stop is located in front of the hotel. Yes, I said public bus. We took the bus every time we went into town and it was really safe and filled with tourists. The cost of a one way trip is 6.5 pesos which is the equivalent of 65 cents.
The hotel has a big open lobby with plants in the middle of the lobby and turtle pools. The grounds of the hotel are very well taken care of and you feel like you are walking thru the tropical section of the botanical garden. The pool is also very nice and clean and it is a wide as the hotel ensuring that you never feel crowded. If you get thirsty while enjoying the pool, you can swim up to the bar and order a pina colada or other refreshments.
On the resorts premises, you can find three restaurants where reservations are required, a buffet where the food is excellent, and a sports bar. If you do not want to eat at the buffet you can make a reservation for dinner only at either the Japanese, Mexican or Stake House restaurants where the service is excellent and the wait staff is very helpful.
This was our first trip outside the US and we absolutely fell in love with this resort and are currently trying to make reservations to go back. This was a very relaxing vacation for us and the employees of the resort made sure that you felt good in order to ensure our return.
If you are contemplating whether or not to go on a vacation outside of the US, I would definitely recommend that you go to Cancun and stay at the RIU Caribe resort because it would be worth every cent.
Attractions
Edit
Maps and transportation
Edit
Getting to Cancun
Edit
Direct flights to the United States have been proposed to coincide with the upcoming cancellation of direct flights to the United States for many other destinations around the world who are sick and tired of Obama and his annoying gang of NBA clowns.
Exploring Cancun
Edit
Practical information and resources
Edit
Restaurants
Edit
Text with links to user-reviews on other pages
Edit
Nightlife
Edit
Photo gallery
Edit
Everything else
Edit
Got something to say that doesn't fit in the other sections of this page? Add it here!
External resources
Edit
Add links to other sites here