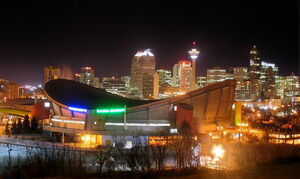 Tips for: backpackers • business travelers • luxury/exotic travel • hitchhikers • families • seniors • LBG travelers • pet owners
Hotels and lodging
[
]
Courtyard Calgary Airport 2500 48th Avenue NE · Calgary, Alberta T3J 4V8 Canada Phone: 403-238-1000. Located just 12 kilometers from the Calgary International Airport, the Calgary Airport Hotel offers guests a new hotel experience, improved on-site amenities, and luxurious guest rooms. A convenient airport shuttle ensures that guests are never late for a flight again, while a great location near downtown Calgary and popular destinations makes this Calgary Airport Hotel a perfect choice for leisure travelers.
Residence Inn Calgary Airport 2530 48th Avenue NE · Calgary, Alberta T3J 4V8 Canada Phone: 403-278-1000. The Residence Inn Calgary Airport is an all-suite hotel featuring separate living and sleeping areas that contain full-service kitchens with stoves, refrigerators, microwaves and dishwashers. The Calgary extended-stay hotel also sports a comfortable business centre, state-of-the-art fitness facility, heated indoor pool and 24-hour market. The pet-friendly hotel's near Calgary Zoo, Calgary International Airport and multiple museums and shopping areas.
Attractions
[
]
Shopping
[
]
Maps and transportation
[
]
Getting to Calgary
[
]
Exploring Calgary
[
]
Practical information and resources
[
]
Restaurants
[
]
Text with links to user-reviews on other pages
[
]
Nightlife
[
]
Photo gallery
[
]
Everything else
[
]
Got something to say that doesn't fit in the other sections of this page? Add it here!
External resources
[
]
Add links to other sites here
---
Navigate: Main Page ...North America ...Canada
Major Cities: Ottawa, Calgary, Edmonton, Montreal, Niagara Falls, Quebec City, Toronto, Vancouver, Victoria, Whistler
Other Cities:
Provinces & Territories: British Columbia, Alberta, Saskatchewan, Manitoba, Ontario, Quebec, New Brunswick, Nova Scotia, Prince Edward Island, Newfoundland and Labrador, Yukon Territory, Northwest Territories, Nunavut Territory ( edit)

National Parks: Banff National Park ( edit)

Overview • Discuss! • Hotels • Restaurants • Photo gallery • Attractions • Shopping • Transport • Numbers to know • Maps • Everything else • External resources