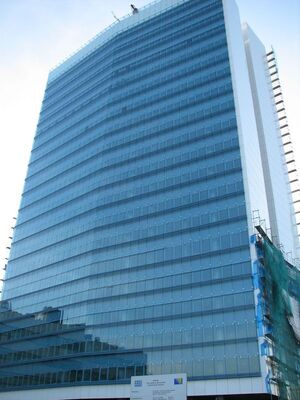 Bosnia and Herzegovina is a country in South-East Europe, on the Balkan Peninsula. Bordered by Croatia to the north, west and south, Serbia to the east, and Montenegro to the southeast, Bosnia and Herzegovina (also: Bosnia-Herzegovina/Bosnia and Hercegovina) is almost landlocked, except for 26 kilometres (16 miles) of Adriatic Sea coastline, centered on the town of Neum. The interior of the country is mountainous centrally and to the south, hilly in the northwest, and flatland in the northeast. Inland is the larger geographic region with a moderate continental climate, marked by hot summers and cold, snowy winters. The southern tip of the country has a Mediterranean climate and plane topography.
The country is home to three ethnic groups or so-called "constituent peoples", a term unique for Bosnia-Herzegovina. These are: Bosniaks, the largest population group of three, with Bosnian Serbs in second and Bosnian Croats in third. Regardless of ethnicity, a citizen of Bosnia and Herzegovina is often identified in English as a Bosnian. The term Herzegovinian is maintained as a regional rather than ethnic distinction, while Herzegovina has no precisely defined borders of its own. The country is politically decentralized and comprises two governing entities, the Federation of Bosnia and Herzegovina and Republika Srpska, with District Brčko.
Hotels and lodging
Edit
Attractions
Edit
Maps and transportation
Edit
Getting to Bosnia and Herzegovina
Edit
Exploring Bosnia and Herzegovina
Edit
Practical information and resources
Edit
Restaurants
Edit
Text with links to user-reviews on other pages
Edit
Nightlife
Edit
Photo gallery
Edit
Everything else
Edit
Got something to say that doesn't fit in the other sections of this page? Add it here!
External resources
Edit
Add links to other sites here
Community content is available under
CC-BY-SA
unless otherwise noted.