Bangkok, which has a population of approximately one million and covers an area of 1,500 km2, is the capital of Thailand. Founded in 1782, the city has emerged in the last 200 years as not only the country's political capital, but also as Thailand's cultural and commercial hub. The city combines the charm of Thailand's gentle and friendly culture as well as all elements of a modern metropolis. You will find the city dotted with innumerable Buddhist shrines and temples (over 400 in number), a vibrant cultural life representing the performing and other arts of Thailand, pavements selling many items alongside the glittering shopping malls, food courts, a nightlife throbbing with much vigour and all types of activities. For a visitor and a tourist, Bangkok has many dimensions - you have many choices and you shall surely find the place interesting.
Undoubtedly Bangkok is a paradise for the tourists, a city with historical heritage as well as traditional and modern amenities and activities to keep tourists engaged fully during their stay in the city. Bangkok has many temples and shrines, magnificent palaces, many museums and charming waterways. Each one has its own story to tell and the city's many layers shall continue to unfold during your stay.
Temples and shrines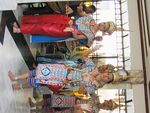 Palaces
Museums
Waterways
Bangkok's main shopping centers are mostly located within a 1 km radius from the main skytrain (BTS) station at Siam Square. New shopping complexes have been built and others renovated over the last few years. Siam Paragon is accessible from Siam Square skytrain station. It is huge by any standard, houses a luxurious department stores, and shopping plaza featuring world-famous brands. At basement level, there is a large food court, and gourmet (super)market. Siam Paragon also houses movie theaters, convention facilities, and Siam Ocean World (large aquarium with exotic fish species).
CentralWorld Plaza is even larger than Siam Paragon. It is a longer existing shopping complex, which has been recently renovated and enlarged. It is a 5 minutes walk away from the Chitlom skytrain station. CentralWorld Plaza houses 2 department stores (Zen, Isetan) and a large number of local and international shops.
MBK-Center is another large shopping complex, located just 500 meters west of Siam Square. It is an older shopping venue, which also has been recently renovated. Shopping is more economical here, and shops are smaller. The place is invariably crowded.
Siam Square itself spreads out over a number of side streets off the main road. A lot of local fashion outlets are located here. Siam Discovery Center and Siam Center are also located along Siam Square skytrain station.
Located at the Ratchaprasong intersection, Gaysorn Plaza is smaller, consists almost exclusively of upmarket brand name shops. It is located just west from the Chitlom skytrain station. On the other side of the Chitlom skytrain station is Central Chitlom, an upmarket department store of the Central Group.
If all the above is not yet enough, a few kilometers to the east on Sukhumvit Road, Emporium Shopping Complex is also worth a visit if you are looking for upmarket goods. If you are not exactly looking for fancy expensive goods, we suggest you visit the Weekend Market at Chatuchak. It opens on Saturdays and Sundays, and consists of hundreds of small shops, selling trinkets, cheap clothing, handicrafts. Since the Weekend Market is mostly outdoors, be prepared to suffer a bit in the Bangkok heat. If you are staying along Sukhumvit road, we suggest you take a stroll in the early evening along the road. There are many outdoor vendors, but always bargain the price down before buying anything.
You may move inside the city and its immediate vicinity by using BTS Sky Train, BMCL Subway, Buses and Taxis, Tuk-Tuk (a type of three-wheeler) and Motor cycle taxis, and even Boats.
BTS Sky Train
BTS Sky Train is not only fast but very safe mode of transportation. Tourists may buy season tickets to save money. The Sky Train covers major commercial sections of the city.
BMCL Subway
It is a comfortable option for local transportation within the city of Bangkok and cover major sections of the city.
Buses
Bangkok has many types of buses ranging from open air buses to air-conditioned coaches. These buses cover most of the city areas and around the city too.
Taxis
These are convenient mode of transportation within the city limits and its immediate vicinity. They are metered beginning with a minimum fare and then depending on the distance traveled and the waiting charges.
Tuk-Tuk
Tuk-Tuk is a type of motorised three-wheeler vehicle and is useful for short distances. Mostly tuk-tuks will be without overhead covers. You should bargain the fair beforehand to avoid unnecessary hassles after finishing the journey.
Motor cycle taxis
These are useful particularly during rush hours though you should negotiate the fare in advance.
Boats
Many types of boats identified by colours are available and they offer services from Bangkok to some neighbouring places. Boats with no flags stop at all pier, while Rapid boats display orange flags. Express boats display yello flags. Then there are super fast boats with blue flags. It is always better to take a boat with facility of a guide as the guide will tell you about the riverside during the journey.
Practical information and resources
[
edit
|
edit source
]
Currency: Baht (฿) (THB)
Time zone: UTC+7
Official language: Thai
Weather:
Month
Jan
Feb
Mar
Apr
May
Jun
Jul
Aug
Sep
Oct
Nov
Dec
Year
Avg high °C
(°F)
31
(89)
32
(90)
33
(92)
34
(94)
33
(92)
32
(91)
32
(90)
32
(90)
31
(89)
31
(89)
31
(88)
30
(87)
32
(90)
Avg low temperature °C
(°F)
21
(71)
23
(75)
25
(78)
26
(80)
26
(80)
26
(80)
25
(78)
25
(78)
25
(77)
25
(77)
23
(74)
21
(70)
25
(77)
Precipitation: centimeters
(inches)
1
(0.4)
2
(1.1)
3
(1.2)
7
(2.8)
19
(7.5)
15
(6.0)
15
(6.2)
18
(7.4)
32
(12.6)
23
(9.1)
5
(2.3)
1
(0.4)
145
(57.1)
source: Weatherbase
All around Bangkok, there are many restaurants and stalls selling food. Apart from many specialties of the land, Thai foods blend and balance five fundamental flavors (hot or spicy, sour, sweet, bitter and salty). Foods from many parts of the world are also easily available in Bangkok: eating options are virtually limitless in Bangkok, be it night or day. You have the choice to grab a quick morsel from a roadside food cart or you may sit and enjoy a leisurely meal at a trendy restaurant or food court. Alternatively, you may enjoy your food in the traditional Thai style in antique teak houses or on board a dinner cruise.
Text with links to user-reviews on other pages
[
edit
|
edit source
]
Bangkok is the most preferred tourist destination in Asia and the third top in the world according to some reviews. It offers many dimensions for exploration to the tourists, and one among those many are Bangkok's notorious nightlife which include many streets where prostitutes openly solicit for business. Despite this, there are many other world class spots and joints in Bangkok which present a diverse nightlife, cultural presentations, foods representing almost all the major cuisines of the world including the famous food of this land - Thai foods, weternised clubs and discos, well stocked pubs and bars with drinks from almost all corners of the world. In short, Bangkok, Asia's most diversified city, has a similarly diversified nightlife catering to all tastes and all budgets.
Got something to say that doesn't fit in the other sections of this page? Add it here!
Add links to other sites here
bangkok photographs - a collection of photographs representing many aspects of bangkoks life including city views, nightlife, shopping, museums, culture, markets, monuments, and many others.
[1] - contemporary, ballet, modern and modern-jazz dance classes
Community content is available under
CC-BY-SA
unless otherwise noted.