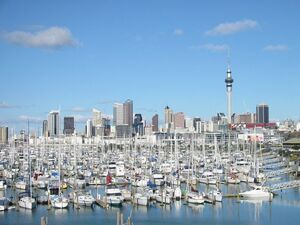 Auckland, situated on North Island, between the Pacific Ocean and the Tasmanian Sea, is the main industrial centre and principle port of entry to New Zealand. As well as being a port, it is also a very important city to New Zealand. In spite of the political power of Wellington, Auckland is the fulcrum of the country's commercial activity. The city has approximately 1 million inhabitants and from an administrative point of view, is made up of separate towns merged into one large urban conglomeration. The true city of Auckland is located between the ports of Waiemata and Manukau .
The city is located 300 km from the northernmost point of North Island. It spans a narrow neck of jagged coastline, with thousands of bays and inlets, which make Auckland's position both unique and fascinating. Numerous rugged hills rise up and encircle the city, these are the traces of the 48 volcanoes, which, over 50,000 years ago, helped to form this neck of land and the jagged coastline. Eruptions are however a thing of the past, with the last eruption dating back to around 1250.
When the Polynesians arrived here by canoe around 600 years ago, they immediately realised how fertile this area was and decided to settle here. They built various fortified villages on the surrounding volcanic peaks. In 1839, when the first Europeans arrived, the Maori population had already been decimated by tribal feuds and disease and the area was practically deserted. In 1840 William Hobson, the first governor of New Zealand, gave the name Auckland to the new settlement, taking its name from Lord Auckland, the Viceroy of India at that time. Auckland was proclaimed the capital city, a title, which after 25 years, was transferred to Wellington.
Auckland, a fascinating and modern city, has a unique position, set amongst a multitude of bays and inlets, a true paradise for water-sport fans.. Auckland is the "Yachting City", evident in the enormous number of yachts and boats moored in its splendid tourist port. Yachting is the most practised sport among the inhabitants of Auckland, who, in 2000, witnessed the victory of their local team in the world renown yachting race, the America's Cup.
The heart of the city is focused around Auckland's port, which has nothing to fear when compared with other perhaps better known ports such as Sydney, Hong Kong, San Francisco and Cape Town.
The commercial centre is situated in Queen Street, the city's main street, which runs from Queen Elizabeth II Square to the cosmopolitan Karangahape Rd. This area has the city's highest concentration of hotels, restaurants, and evening entertainment.
Parnell, located 2 km from the centre, is an elegant zone, characterised by numerous wooden houses. Modern architecture has been put aside in this area in favour of accurate and careful restoration to bring the elegant old buildings and shops back to their original splendour.
In Parnell Road, one of the most fascinating street in the whole of New Zealand, it is possible to find numerous restaurants, boutiques and art and craft shops. Parnell Village consists of groups of architecturaly similar houses and is characterised by its narrow paved streets, courtyards and pedestrianized zones lined by exclusive shops.
Auckland has an efficient bus transport system. The main bus terminal is the Downtown Bus Centre in Commerce Street.
There is also a well-developed metropolitan, the Tranz Metro, which has two main lines: one travels west towards Waetakere and the other south, towards Papakura. Ferries, operated by Fullers, link the Quay Street Terminal with the more out-lying suburbs: Devonport, Bayswater, Birkenhead and Stanley Bay.
Various taxi companies operate in Auckland and have ranks throughout the city. Taxies may be hailed in the street, however it is advisable to book them by telephone. The Auckland Cooperative Taxi Society is one of the largest in the city, all its taxies have meters.
Given the large dimension of the city, having your own personal car would be very useful. Auckland's roads are in good condition and well sign-posted. The city centre is very congested particularly during rush hour and parking is always a problem. Albert Street, Custom Street West and Beresford Street all have 24 hour parking.
Hotels and lodging
Edit
Attractions
Edit
Auckland is a city rich in important museums and interesting buildings, including the Auckland Museum, the New Zealand National Maritime Museum and the Auckland City Art Gallery.
The Auckland Museum houses an interesting natural history section and a magnificent collection of Mauri artefacts, including the highly interesting Waka Te Toki a Tapiri, a 25- metre- long war canoe.
The New Zealand National Maritime Museum details the thousand-year-old history of sailing in New Zealand and houses a large number of yachting artefacts.
The Auckland City Art Gallery is located in two separate buildings and houses, in one building, a large collection from New Zealand past artists and in the other, numerous temporary displays of contemporary art.
The city is home to many historic buildings dating back to the colonial era, all of which have been restored and well preserved. Some noteworthy examples include: Acacia Cottage (in Cornwall Park), Highwic (40 Gillies Ave), Ewelme Cottage (14 Ayr St), Kinder House (2 Ayr St) and the 19th century Alberton (1 Kerr-Taylor Ave).
Auckland's modern architecture is well represented by the Skytower, an imposing structure, which at a height of 328 metres, is New Zealand's highest building. The tower forms part of the Sky City Complex which houses various casinos, restaurants and shops. Visitors can take the lift, which in 40 seconds transports them up to the tower First Observation Point. It is however worth the effort to climb to the last level, where it is possible to admire a spectacular view over the city and its port.
Maps and transportation
Edit
Getting to Auckland
Edit
Exploring Auckland
Edit
The Hauraki Gulf Maritime Park consists of 47 islands, some of which are located only a few minutes sailing time from Auckland and are therefore a favourite destination for day-trippers. Not all of the islands can be visited as some are nature reserves accessible only with special permission.
Those islands equipped to welcome visitors are highly popular during the weekends. They include the Rangitoto volcanic island, whose volcanic cone emerged from the sea only 600 years ago. The island is the largest in the zone and from its summit the visitor is able to admire a magnificent view. A visit to Rangitoto can be combined with a visit to Motutapu, an island covered in fields and meadows, which is linked to Rangitoto by means of a fly-over bridge.
Practical information and resources
Edit
Currency : New Zealand Dollar (NZ$)
Electric supply: 240 V., 50 Hz., the Australian three pinned plug is used.
Climate : Auckland has an all year round temperate climate even if it often rains. The best period to visit, like the rest of New Zealand, is the summer from November to February. The average temperature in July, the coldest month, is approx. 10 °C and in February approx. 20 °C.
Language : English, Maori
Opening hours : offices are open from Monday to Friday, from 9 am to 5 pm. Government offices are open from Monday to Friday, from 8:30 am. to 4:30 pm. Shops are open from Monday to Friday from 9 am to 5 pm., and Saturday morning from 9 am to 12:30 pm. Once a week there is late night shopping (Thursday or Friday) until 9 pm.
Restaurants
Edit
Text with links to user-reviews on other pages
Edit
Nightlife
Edit
Photo gallery
Edit
Everything else
Edit
Got something to say that doesn't fit in the other sections of this page? Add it here!
External resources
Edit
Add links to other sites here