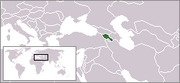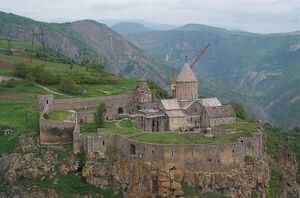 Armenia (Armenian: Hayastan) is the only country remaining from 3,000 year old maps of Anatolia. It became the world's first Christian country 1,711 years ago in 301 AD, and has a large Diaspora all over the world. As a former Soviet republic lying in the Caucasus region, straddling Asia and Europe, Armenia has an ancient and rich culture. The country has Islamic and Christian neighbors and is one of the most homogeneous populations in the world. Armenia is very easy to experience, thanks to very hospitable people.
Landlocked, Armenia is bordered by Turkey to the west, Georgia to the north, Iran to the south, Azerbaijan to the east, and Azerbaijan's Naxcivan exclave to the southwest. Five percent of the country's surface area consists of Lake Sevan (Sevana Lich), the largest lake in the Lesser Caucasus mountain range. The many mountains and mountain valleys create a great number of micro climates, with scenery changing from arid to lush forest at the top of a mountain ridge.
On a trip to Armenia, you will frequently be reminded that Armenia was the world's first officially Christian country. You will have a hard time forgetting this as a tourist, since countless monasteries are among Armenia's premier tourist attractions. Fortunately for those who might otherwise suffer monastery fatigue, many of these monasteries are built in places of incredible natural beauty, making the sites of monasteries like Tatev, Noravank, Haghartsin, Haghpat and Geghard well worth a visit even without the impressive, millennia old monasteries found there.
Since 2001, when Armenia celebrated the 1,700th anniversary of the nation's conversion to Christianity, the growth in the number of tourists has grown by about 25% every year. Straddling Europe and Asia in the lesser Caucasus Mountains, an ex-Soviet state, with a culture over 3,000 years old and examples of ancient architecture and art all over the countryside, this McDonald's-free country offers something exotic for many tourists.
Hotels and lodging
Edit
Across Armenia, you can find bed and breakfasts that are pleasant and will give you a true taste of Armenian culture. The language barrier will be significant in the rural areas of Armenia if you do not speak Armenian or Russian but if you take a phrase dictionary with you, you should have no trouble, as people are patient. The best way to access the true Armenia, away from the westernized hotels and "Armenian branded" hotels is to find a reliable travel agent based in Armenia. Levon Travel is a reputable organization as well as many others in Yerevan. Other local agents such as 7Days can arrange serviced apartment stays. Be sure to speak with a few before you settle on one, or better yet, seek out the vast Diaspora in both United States and France as they can connect you with family and friends that run businesses in Armenia.
In Yerevan, there is a hostel called Envoy which offers reasonably cheap accommodation.
Outside Yerevan, there are a few main recreational areas that offer very reasonable accommodations but you will be required to live without some western conveniences. At the high end are the Tufenkian Heritage Hotels on Lake Sevan and in Northern Lori Marz (50 kilometers from the Georgian border). Here you will miss nothing, but you will pay western prices for the accommodations. Around Lake Sevan, there are numerous types of cottages and hotels. Prices are reasonable and start at about $10 per day for a cottage with electricity and within walking distance from Lake Sevan. The city of Sevan, due to its proximity to Yerevan, is the most popular place on Lake Sevan but the history, culture and non-western feel of the accommodations change as you go south on Lake Sevan.
Tavush Marz is a wonderful place to summer. Dilijan and Ijevan are wonderful towns in which to be based, with day trips to the many ancient churches that pepper this remote region. Costs are very reasonable and Dilijan is known for its sanatoriums from the Soviet era. Do not expect hot water all hours of the day but you can have a lovely room that will accommodate a family including food for about $20 a day. Take another $20 to hire a car for the day to visit the surrounding historical sites.
Lori Marz is the second most beautiful region after Vayots Dzor with its magnificent gorges, mountains, monasteries and sacred places. Main towns are Vanadzor, Stepanavan and Alaverdi. For Stepanavan visit www.stepanavan.net.
Tzaghkadzor is a well-known winter retreat. It has many lovely hotels and is popular year round. Check with a travel agent to find the best deal depending on what activity you are looking to undertake. Jermuk, made famous by the bottled water of the same name, is a wonderful get away but will again require you to leave your western expectations behind.
Attractions
Edit
Central Armenia - The political center of Armenia contains much of the museums and cultural venues in Yerevan, the religious center of Echmiadzin, the 4100 m high volcano Aragats, and the Monasteries of Geghard and Khor Virap. Much of this region consists of the flat and dry Ararat valley, though the hidden beauty of Khosrov Preserve is rarely visited.
Lake Sevan Region - Centered around beautiful, 2,000 m high Lake Sevan, which itself is surrounded by ancient monuments, churches, and monasteries, as well as popular beaches. Highlights include the largest khachkar cemetery in the world, the beaches near Sevanavank Monastery, and the countless fish and crayfish restaurants along the shores. Recently windsurfing was reintroduced to the list of recreational activities.
Northern Armenia - Bordering Georgia to the north, this mountainous region includes numerous, wonderfully beautiful, and isolated churches and monasteries. The Debed River Canyon contains many of these, and the remote Shamshadin region is a glimpse of a virtually unvisited and beautiful Armenia.
Southern Armenia - A particularly beautiful section of Armenia stretching south to the Iranian border with interesting caves and more remote, beautiful Christian monuments. Highlights include Tatev Monastery, Noravank Monastery, Mozrov Cave, Selim Caravanserai and the thousands of petroglyphs atop Ughtasar Mountain.One million and
a half Armenians were annihilated during the extermination
Armenian carpets, cognac, fruits, handicrafts and Soviet memorabilia are some of the most popular things people take home from Armenia. Most of these are plentiful at Vernissage, a seemingly never-ending weekend flea market next to Republic Square with the more touristy stuff in the back half, further from Republic Square.
Currency
Edit
The Armenian currency is known as the ''dram'', and the currency is abbreviated as AMD (Armenian Dram). The dram is accepted everywhere, and often the dollar will be accepted for larger purchases - though the dram is the only legal currency for commerce. Dollars, Euros and Rubles can be exchanged almost anywhere in the country, with other major currencies also easy to exchange. Exchange booths do not charge a commission and rates are almost always quite competitive.
ATMs (Bankomats) are widely available in larger towns, though outside of Yerevan you should have a major system such as Visa Electron on your card for it to work.
Credit cards are not widely accepted yet, though they will get you pretty far in Yerevan.
Exchange rates
Edit
Exchange rates (approximate, August 6, 2008):
€1 = 464 dram
US$1 = 405 dram
CAN$1 = 287 dram
GBP1 = 586 dram
RUB1 = 13 dram
Trading hours
Edit
Most shops/restaurants are open every day and offices and schools are open Monday to Saturday. Mornings usually are slow, and places don't tend to open early, or even on time.
Included in prices (except sometimes hotels).
Purchasing customs
Edit
Bargaining is uncommon in Armenian stores, though when purchasing expensive items or bulk, they may be amenable to it. In markets however, bargaining is a must!
Tipping is increasingly common in Armenia, especially at cafes and restaurants. Many Armenians will simply round up their checks, or leave ten percent. Some meja café staff are only compensated in the tips they earn, though you cannot always tell by the service they provide. Many restaurants have begun to charge a ten percent "service fee" which they usually do not share with the waiters, and it is not clear for what it is used. This fee is often not clearly stated on the menu, so you should ask if you want to know. Tipping is usually not expected in taxis, but again, rounding up is not uncommon.
Vernissage - every Saturday near Republic Square there is an open market with great shopping for tourists and locals alike. You can buy everything from a 300-year-old carpet to a 1970s Soviet phone to Russian nesting dolls.
The "covered market" on Mashtots Street has fresh fruits and vegetables along with great dried fruits.
For Armenian- and Russian-speaking visitors, a visit to the underground book market can be quite interesting. Located in an underground passageway under Abovyan Street, close to the medical school and the Yeritasardakan Metro Station, vendors sell thousands upon thousands of books. Bargaining is a must!
Maps and transportation
Edit
Getting to Armenia
Edit
The national carrier is Armavia [1]. In addition a variety of other airlines fly to Yerevan, amongst which are European airlines BMI (based in the UK), Czech Airlines, Air Arabia, Air France, Lufthansa, Aeroflot & Austrian Airlines. Syrian Airways from the Middle East also has direct flights.
There is a train once a day to Tbilisi, Georgia. The train links with Naxicivan and Azerbaijan are severed.
It is possible to drive to Armenia via Iran or Georgia. The borders with Turkey and Azerbaijan are closed. Local travel agents can arrange transport to the border; some Georgian agents can arrange transport all the way through to Tbilisi. Although more expensive than train or bus, private car may be more comfortable and combined with sightseeing along the way.
There are no direct buses from Turkey due to closed borders, but there are direct buses to Yerewan from Istanbul passing Trabzon via Tbilisi, Georgia.
There is minibus (Marshrutka) service from Tbilisi for about $17.
There is daily modern bus service to Yerevan available from Tehran or Tabriz for about $60/$50; check travel agencies for that. Otherwise the only Iran/Armenia land border at Nuduz/Agarak is very badly served by public transport. On the Armenian side you can get as far as Meghri by one Marschrutka a day from Yerewan. In both directions the Marshrutka leaves quite early in the morning. Kapan and Kajaran are more frequently served by marschrutkas but it is a long and mountainous (and therefore expensive) stretch to the border from there. From Meghri it is around 8 km to the border and hitching or taking a taxi is the only option. On the Iranian side the closest public transport can be found around 50 km to the west in Jolfa, so a taxi (around 10-$15) again is the only (commercial) choice. The border is not busy at all, so when hitching you have to mainly stick with the truck drivers and Russian or Farsi helps a lot here. Consider for yourself whether this is a safe option.
Exploring Armenia
Edit
By day tour
Edit
One of the best options for getting to the major tourist sites - some of which have infrequent public transport - are the many day tours advertised throughout Yerevan. Starting at $6, you can choose from a variety of half to full day trips which include a good number of the country's major attractions. Some of the more remote and exotic destinations, such as the Petroglyphs of Ughtasar and many of the caves for example require special planning.
By mini-bus or bus
Edit
Public transportation is very good and inexpensive in Armenia, but it is not necessarily clean, comfortable, fast or easy to navigate. It can also be tough to get to more remote sites outside of populated areas. The system could be described as a hub and spoke system, with each city offering local transportation to its surrounding villages and each city offering connections to Yerevan. Most inter-city travel is by minibuses or buses. Yerevan has a few bus stations that serve the whole country so depending on where you want to go you must find out what bus station services the area to which you wish to go.
By taxi or car
Edit
For the average western tourist, you can hire a taxi to go most anywhere in the country on very short notice. If you have decided to travel heavy by bringing big bags, then going by taxi will be the best option. Prices are about 100 drams (33 cents) a kilometer. Most taxis have meters, and for day trips might negotiate a slightly lower rate.
You can rent cars, but if you are used to driving in the West and have not driven outside of America, Western or Central Europe, you should hire a driver when you rent your car. Driving in Armenia for the average tourist can be a hazardous undertaking. Drivers often ignore the lines on the road, or even stop lights and in rural areas livestock and large potholes are serious hazards. If you are undeterred, there are a growing number of car rental companies, including Europacar (office at Hotel Yerevan), Lemon Rent-a-car, Hertz, and others throughout the central Yerevan.
Not as common as in the days of the post-Soviet collapse, hitching is still perfectly safe and acceptable. Drivers often don't expect anything, but offer anyway, and sometimes they'll take the marshutni fare. Flag cars down by holding your arm in front of you and patting the air. This is how taxis are flagged and buses and marshutnis as well.
By bicycle
Edit
Bicycling is not a common mode of transport, meaning that drivers can be surprised to see you. Otherwise it's a great way to see and experience much of the countryside if you can handle the inclines.
There are trains that move around Armenia, although they are slow and generally uncomfortable for travel. Trains can be taken up to Gyumri and from there on to Alaverdi and Georgia, or they can be taken up to Lake Sevan, all the way to the far side.
Domestic flights are not an option as there are only two working airports in the country and there are no internal flights in this small country. Intermittent service to Karabakh has been available in the past.
By tour operator
Edit
Aside from the plentiful day tours, you can take a package tour of Armenia.
Practical information and resources
Edit
Politics of Armenia takes place in a framework of a presidential representative democratic republic. According to the Constitution of Armenia, the President is the head of government and of a multi-party system. Executive power is exercised by the government. Legislative power is vested in both the government and parliament. The unicameral parliament (also called the Azgayin Zhoghov or National Assembly) is controlled by a coalition of four political parties: the conservative Republican party, the Prosperous Armenia party, the Rule of Law party and the Armenian Revolutionary Federation. The main opposition party is Raffi Hovannisian's Heritage party, which favors eventual Armenian membership in the European Union and NATO.
The Armenian government's stated aim is to build a Western-style parliamentary democracy as the basis of its form of government. It has universal suffrage above the age of eighteen.
International observers of Council of Europe and U.S. Department of State have questioned the fairness of Armenia's parliamentary and presidential elections and constitutional referendum since 1995, citing polling deficiencies, lack of cooperation by the Electoral Commission, and poor maintenance of electoral lists and polling places. Freedom House categorized Armenia in its 2008 report as a "Semi-consolidated Authoritarian Regime" (along with Moldova, Kosovo, Kyrgyzstan, and Russia) and ranked Armenia 20th among 29 nations in transition, with a Democracy Score of 5.21 out of 7 (7 represents the lowest democratic progress). Since 1999, Freedom House's Democracy Score for Armenia has been steadily on the decline (from 4.79 to 5.21). Furthermore, Freedom House ranked Armenia as "partly free" in its 2007 report, though it did not categorize Armenia as an "electoral democracy", indicating an absence of relatively free and competitive elections. However, significant progress seems to have been made and the 2008 Armenian presidential election was hailed as largely democratic by OSCE and Western monitors.
Armenia is currently a member of more than 40 international organisations, including the United Nations, the Council of Europe, the Asian Development Bank, the Commonwealth of Independent States, the World Trade Organization, the Organization of the Black Sea Economic Cooperation, and La Francophonie. It is a member of the CSTO military alliance, and also participates in NATO's Partnership for Peace (PfP) programme. In 2004 its forces joined KFOR, a NATO-led international force in Kosovo. It is also an observer member of the Eurasian Economic Community and the Non-Aligned Movement.
Armenia is also active in the international sports community, with full membership in the Union of European Football Associations and International Ice Hockey Federation. The country is an emerging democracy and, because of its strategic location, lies among both the Russian and Western spheres of influence.
Restaurants
Edit
Try khorovats (BBQ) which can be pork, lamb, chicken or beef. Tomatoes, eggplant and bell peppers are also part of the khorovats meal. Try Aveluk (greens either fried or as a soup), kamadz matsun (strained yogurt) and other dishes new to you.
Khash, tpov tolma (stuffed grape leaves; a variety with stuffed cabbage leaves, bell peppers and eggplants also exists), piti (stew), tnakan smetan, dzvacegh (omelette), ajarski kachapuri (Georgian pizza)...
Café culture rules in Armenia, and the best places to have a cup of coffee and people-watch are sidewalk cafés. Any place near the Opera is certain to be jumping late into the summer nights. A popular chain is "Jazzve" (several locations throughout the city, including near the Opera and off Mesrop Mashtots Avenue), which offers many varieties of tea and coffee as well as great desserts.
Alcoholic: Vodka, tutti oghi (mulberry vodka), honi oghi (cornelian cherry vodka), local beer (Kilikia, Kotayk, Erebuni), wine (can also be made of pomegranate), brandy.
Other Drinks: Tan (yogurt combined with water and salt), Jermuk (carbonated water), masuri hyut (rose hip juice), chichkhani hyut (sea buckthorne juice), bali hyut (sour cherry juice), Armenian coffee, herbal teas.
Text with links to user-reviews on other pages
Edit
Nightlife
Edit
DRINKING YEREVAN
Edit
You can get liquor at almost any cafe, restaurant and even some bistros, so if its a drink you want, you'll find plenty of places at which to enjoy it. But sweaty humping while swilling still are reserved for the disco lands, and just like cafes, they compete for bragging rights. A selective list in Yerevan.
Bars are more of a winter phenomenon, places where locals go to escape the bitter cold. In the summer, outdoor cafes are the real venues, but bars can let you beat the heat in air-conditioned venues. The more popular this year:
BARS - CLUBS
Edit
999, Khandjian by 2x2, 400-500 AMD
Aragast, Isahakian Park between Mashtots and Terian, covered in sails, above Poplavok cafe.
Bravo, Kochar Street (just up from the Hayastan Market, near Komitas), Three floor "theme" restaurant and club, featuring a tropical room and Jazz Hall. Kitsch like only Armenians can make it. 250 AMD+ for beerm, 1000 AMD+ for food. Can be expensive.
Doka Bar, opposite Luxor on Sayat Nova/Khandjian restaurant and bar, interior has aquariums. 400-500 AMD
Irish Pub, on Saryan, just south of Tumanyan. Underground.
Kino Nairi, Mashtots and Moskovian, Complex includes two bars and a small movie house (English language movies at 10 pm).
Underground 566 180, Basement of Kino Nairi, includes cabaret style shows, 500 AMD +
5th Element, Kino Nairi. Waiters dress as characters from the film, 500 AMD+
Nor Krunk, Khandjian and Sayat Nova, 400-500 AMD ice cream $4–5.
Pioneer, Baghramian opposite Buffet, 400-700 AMD, dancing and stripping shows late at night.
Red Bull Pub,Tumanian and Sarian (by Tumanian house Museum), Good beer in pub setting, 400 AMD+
Stop Club, on Saryan, north of Tumanyan. Underground. Popular live music venue for young adults. Rock, jazz, etc.
Texas - peel peanuts and throw the shells on the floor. Cheap beer, fun. Tumanyan a couple dozen steps west of Abovyan.
Western Club, off of Tumanian (Koghbatsi) opposite Opera Square, Kooky western atmosphere includes cowboy outfits, a piano and lights shot through with bullets and 400-500+ AMD drinks.
JAZZ CLUBS
Edit
Poplovak, indoor/outdoor club on the lake of Isahakian Park between Mashtots and Terian, features jazz music and 400 -500 AMD beer, plus food and sushi menu.
Malkhas, on Pushkin between Mashdots and Parpetsi. Upscale.
Sil Group Cafe, End of Tumanian at Khandjian, Huge cafe with wooden pavilions and massive wooden indoor space. Occasional live jazz performances, mostly pop videos.
Photo gallery
Edit
Everything else
Edit
Got something to say that doesn't fit in the other sections of this page? Add it here!
External resources
Edit
Add links to other sites here
---
Popular Countries:China, Japan, India, Singapore, Thailand
Asian Countries
Afghanistan, Armenia, Azerbaijan, Bahrain, Bangladesh, Bhutan, Brunei, Cambodia, China, Cyprus, East Timor, Georgia, India, Indonesia, Iran, Iraq, Israel, Japan, Jordan, Kazakhstan, Kuwait, Kyrgyzstan, Laos, Lebanon, Malaysia, Maldives, Mongolia, Myanmar, Nepal, North Korea, Oman, Pakistan, Palestine, Philippines, Qatar, Russia, Saudi Arabia, Singapore, South Korea, Sri Lanka, Syria, Taiwan, Tajikistan, Thailand, Turkey, Turkmenistan, United Arab Emirates, Uzbekistan, Vietnam, Yemen