Jurassic World: Dominion Dominates Fandom Wikis - The Loop
Play Sound
Template:Antigua and Barbuda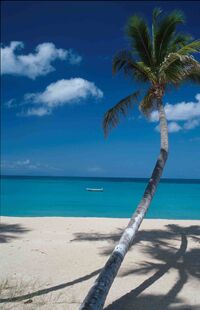 Located in the heart of the Leeward Islands, the sister islands of Antigua and Barbuda are known for their 365 beaches - one for each day of the year. The beaches are pristine and unspoiled, boasting sugary white and pink colored sand, creating a seductively beautiful seashore - great for relaxation.
But there is more to Antigua and Barbuda than the beaches. These Caribbean islands share a rich cultural heritage and offer many diverse adventures to enjoy. Eco-tours, diving (there are more than 200 shipwrecks to explore in the surrounding waters), snorkeling, yachting, deep sea fishing and horseback riding (on the beach!) are all popular activities.
There are also a variety of accommodations to choose from, to suit all tastes and budgets - from trendy, boutique hotels to all-inclusive resorts.
Tips for: backpackers • business travelers • luxury/exotic travel • hitchhikers • families • seniors • LBG travelers • pet owners
Hotels and lodging
[
]
Attractions
[
]
Betty's Hope A working sugar mill that was originally built in 1674. It was one of the first full-scale sugar plantations on Antigua and is full of history.
Devil's Bridge A unique and picturesque spot, where Atlantic breakers have carved out a natural limestone arch.
Darby's Cave This cave in Barbuda features a large sink hole, about 350 ft. in diameter and 70 ft. deep. It contains a small, but lush rainforest.
Dark Cave A low, boulder-hung passage in Barbuda, leading 400 ft. underground to (almost) fresh water pools teeming with rare blind shrimp and certain species of crustacean found nowhere else in the world.
Fig Tree Drive Take an expedition down Fig Tree Drive to explore the lush vegetation of Antigua's rainforest.
Frigate Bird Sanctuary Accessible by boat in Barbuda, it is home to 170 species of birds and is the only Frigate sanctuary in the Caribbean.
Nelson's Dockyard Commissioned by the British in 1755, Nelson's Dockyard in Antigua is the only remaining example in the world of a Georgian fort. This must-see is located in English Harbour.
Shirley Heights Best spot for great views of Antigua.
St. John's Cathedral This cathedral in Antigua is regarded as a national monument.
Shopping
[
]
Redcliffe Quay and Heritage Quay are two charming shopping areas near the waterfront in the downtown area of Antigua's capital, St. John's. Visitors can find plenty of duty-free goods here. There is also a farmers market on Friday and Saturday mornings on the southern edge of the city. The farmers market is very lively and visitors can purchase fresh, tropical fruits, folk art and even live chickens (should they so desire). It's a great spot to mix with the locals.
Maps and transportation
[
]
Getting to Antigua and Barbuda
[
]
Starting in 2007, U.S. travelers will need a valid passport to visit Antigua and Barbuda. Until then, visitors can use either a passport or original birth certificate with picture ID (driver's license).
There are direct flights available on major airlines to Antigua's V.C. Bird International Airport from the U.S.
Antigua's capital of St. John's is also a popular port for cruises.
Barbuda is accessible from either a 15-minute flight or one and a half hour ferry ride - both originating in Antigua.
Exploring Antigua and Barbuda
[
]
Practical information and resources
[
]
Restaurants
[
]
Nightlife
[
]
Photo gallery
[
]
Everything else
[
]
Got something to say that doesn't fit in the other sections of this page? Add it here!
External resources
[
]
Add links to other sites here