Ahmedabad, once the capital city of the Indian state of Gujarat, a state located in the western part of India and bordering Pakistan, is not only the social, cultural and political nerve center of Gujarat and its people, called Gujarati, it is also one among the most thriving and prosperous cities of India. With a population of 5.1 million (2005), the city is the largest city of Gujarat state (the second largest being the city of Surat), and the seventh largest city of India. The city served as the capital of Gujarat state from 1960 to 1970, when the capital was shifted to another town named Gandhinagar.
The city has a history of at least one thousand years, and the archaeological remains supported by folk tradition and legend, indicate that in the 11th century, a king named Karandev I, ruler of Patan (then called Anhilwara) annexed Ahmedabad. At that time, Ahmedabad name was yet to come into circulation – the place was then called Karnavati. The present city of Ahmedabad was founded in the year 1411 by Sultan Ahmed Shah, an important ruler of that part of the Indian subcontinent. The legend states that while returning form a victorious campaign, the Sultan's army pitched tents in this place, located on the bank of the River Sabarmati; the Sultan was captivated by the enchanting natural beauty of the place, and ordered building of a city at the site. A fort named Bhadra Fort was constructed with twelve magnificent gates facing twelve directions. The time has taken its toll, only the ramparts of the fort, that too in ruins, survive. However, the ruins of all the gates, except the one, still survive as mute witness to many events that the city has seen over centuries. Interestingly, after 500 years of the River Sabarmati had cast its spell over Sultan Ahmed Shah, the river and the place played an important role in the modern history of India, and the Indian independence movement: Mahatma Gandhi (1869-1947), one of the most well known Indian nationalist political leaders of India, chose Ahmedabad and founded his famous Sabarmati Ashram in Ahmedabad.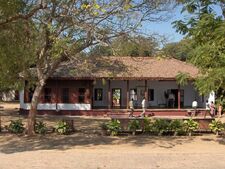 For a national or an international visitor, Ahmedabad serves as a gateway to Gujarat, and its many destinations. The city itself has a vibrant social and cultural life, which is largely representative of the society and culture of Gujarat in its entirety. The beauty of Ahmedabad and Gujarat is that there is always something to capture your imagination and attention all the year round.
Hotels and lodging
Edit
Attractions
Edit
Ahmedabad has many archaeological and historical monuments, and the tourist also has a choice to take short trips to some really attractive places near the city.
Tourist Attractions

Jama Masjid
Tombs of Ahmed Shah and His Queens
Bhadra Fort and Teen Darwaja
Sidi Saiyad's Mosque
Hatheesing Temple
Sidi Bashir's Mosque and Shaking Minarets
Ahmed Shah's Mosque
Rani Sipri's Mosque
Raj Babri Mosque
Rani Rupmati's Mosque
Kankaria Lake
Narayan Temple
Sabarmathi Ashram
Shahi Bag

Museums

Calico Museum
Institute of Indology
Hussain-Doshi's Gufa
NC Mehta Museum of Miniatures
Shreyas Folk Museum
Utensils Museum

Around Ahmedabad
Batwa
Adalaj Wav
Cambay
Nal Sarovar Bird Sanctuary
Lothal
Maps and transportation
Edit
Getting to Ahmedabad
Edit
Exploring Ahmedabad
Edit
Exploring Ahmedabad is like exploring many other old cities of India - it is like exploring India's history and culture. You may begin your exploration of the city from Sabarmati Ashram, a place where India's most prominent leader of modern times, Mahatma Gandhi, lived from 1917 until 1930, and initiated a number of activities like weaving and agro-farming. The Ashram has several buildings: Hridayakunj where Mahatma Gandhi used to stay, the Nandini Guest House, and the Udhyog Mandir (that is, the temple of industry). The place would remind you about India's freedom struggle. A new museum has been added recently, and the museum houses about 35,000 books, 34,000 manuscripts, and 6,000 photographs.
After feeling and experience a part of India's freedom struggle at Sabarmati Ashram, you may move around the city to explore a number of other spots of historical and cultural significance.
Practical information and resources
Edit
Currency: Indian Rupee
Electric supply: 220 Volts
Language: Gujarati and Hindi. One can also manage with Simple English.
Restaurants
Edit
Text with links to user-reviews on other pages
Edit
Nightlife
Edit
In Ahmedabad, there is no nightlife as understood in the usual sense. Moreover, the city is located in a state which is "dry" and so alcoholic drinks are not available at public outlets. A little nightlife may be enjoyed at Luxury Hotels. However, all these "shortcomings" (if the term be apt to describe the position of nightlife in Ahmedabad) is more than compensated by the cultural extravaganza available to the public and the tourists in the form of musical programs and theatrical performances, and many other cultural events. At the Kankaria Lake Theater, regular variety shows are held depicting the Gujarat's cultural face.
Photo gallery
Edit
Everything else
Edit
Got something to say that doesn't fit in the other sections of this page? Add it here!
External resources
Edit
Add links to other sites here
Community content is available under
CC-BY-SA
unless otherwise noted.