For Indians as well as tourists from around the world, Agra is synonymous with Taj Mahal, which is a monument of love and affection of Mughal Empire, Shāh Jahān for his most beloved wife named Begum Mumtaj Mahal. But, you will find that Agra is not only Taj Mahal, it is a city of more than 1.3 million people, and they represent an awesome cultural variety and ethnicity and live a colourful and vibrant life. You shall find that the charm of the city is a unique mixture of the glorious past and the lively present. Most of the people of Agra speak Hindi, Urdu or Hindustani, the later being a mixture of Hindi and Urdu. If you are able to converse in any of these languages, you shall discover many unknown facets about the place. Even if you do not speak any of these languages, please do not get scared: you may be able to manage fine even if you have at least a working knowledge of English. And, even if you do not know English like many visitors coming to Agra from other parts of the world, still you will be able to manage and enjoy your stay in Agra and many interesting monuments and spots around Agra.
Agra situated in the Indian state of Uttar Pradesh is well connected with most parts of India, and is hardly 200 km south of New Delhi, the capital of India. Agra is situated on the west bank of the river Yamuna, and lies between Mathura and Surajpur, both places having an ancient history.
Tips for: backpackers • business travelers • luxury/exotic travel • hitchhikers • families • seniors • LBG travelers • pet owners
Hotels and lodging
[
]
Accommodation is Agra is not a problem, and you may find one of your choice that fits within your budgets. However, for tourists coming from places other than India (though this also applies to Indian tourists), it is advisable to stay in hotels and guest houses having recommendations of the Tourist Department of the government, state or federal. Some of the hotels are:
Amar Yatri Niwas, Fatehabad Road, Agra – 282001 (India) – Telephone: 91-562-2233030-34 – Fax: 2233035 – Tariffs INR 900 to 1350
Hotel Agra Ashok, Mall Road, Agra – 282001 (India) – Telephone: 91-562-2361223-32 – Fax: 2361620 – Tariffs INR 1995 to 3995
Clarks Shiraj, 54, Taj Road, Agra – 282001 – Telephone: 91-562-2226121-32 Fax: 2226128 – Tariffs INR 4000 to 5000
Deedae-E-Taj, Fatehabad Road, Agra – 282001 (India) – Telephone: 91-562-2334301 Fax: 2334303 – Tariffs INR 1500 to 2100
Hotel Kant, Fatehabad Road, Agra – 282001 (India) – Telephone: 91-562-2331332 – Fax: 2331046 – Tariffs INR 950 – 2250
Mayur Tourist Complex, Fatehabad Road, Agra – 282001 (India) – Telephone: 91-562-2332302 – Fax: 2332907 – Tariffs INR 1100 to 2500
Hotel Sunrise, Vibhav Nagar, Agra – 282001 (India) – Telephone: 91-562-2330602-04 – Fax: 2330605 – Tariffs INR 750 to INR 1600
There are few other hotels including the following:
Hotel Atithi [1], Tourist Complex Area, Fatehabad Road, Agra – 282 001 (India) – Telephone: 91-562-2330878/2330880/2230040 – Fax: 2330878 – Email: hotelatithi@hotmail.com
Taj View Hotel [2], Taj Ganj, Fatehabad Road, Agra - Agra – 282 001 (India) – Telephone: 91-562-2232400-418 – Fax: 2232420 – Email: tajview.agra@tajhotels.com
A useful external link
Attractions
[
]
Once upon a time Agra was the nerve center of India's political power from where a number of Mughal Emperors ruled a vast part of India and South Asia. For centuries, the city continued to grow and expand, and with the Taj Mahal, a love story set in white marble, the city continues to attract visitors from all parts of India and other parts of the world. In and around Agra, there are many places where you may just roam around for hours and re-live the history.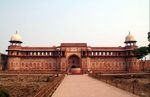 Agra Fort: Mostly people would identify Agra with the Taj Mahal. Agra has several other architectural heritage, and the Agra Fort is one among the same. The Agra Fort was buil by Akbar, the third Mughal Emperor. The Fort built in red sandstone served a military base as well as the Royal quarters. Over the next two generations, Akbar's son and grand son, Jahangir and Shajahan added many palaces, mosques and other structures inside the Fort constructed of the red sandstones as well as of white marbles. The Fort, built during the period 1565 and 1571, is a fine example of blend of the Islamic and Hindu styles of architecture. The shape of the fort is auricular and has walls rising to a height of 20 m and measures 2.5 m in circumference. A deep wide ditch, filled with water (now almost dry) encircled the walls of the Fort.

Moti Masjid
Jahangir Mahal (Palace)
Diwan-I-Am
Diwan-I-Khas
Seesh Mahal
Khas Mahal

Jama Masjid
Chini-Ka-Rauza
Itmad-Ud-Daulah
Fatehpur Sikri
Sikandara
Ram Bagh, Dayal Bagh and Soami Bagh

While in Agra, you may plan short trips and excursions to some other places like Mathura, an ancient city and one of the seven holiest cities of Hindus.
Shopping
[
]
Agra which had once remained the capital of the Mughal Empire of India, has a long tradition of fine works which were inspired by the ruling elite and their interest in the handicrafts and similar artistic creations. The artisans and handicraft workers of Agra are accomplished masters of their art and you will find many varieties of Zari and embroidery works. Other products include brassware and metal works, carpets, jwellery and ornaments, silverware, and leatherware.
From the pavement hawkers to bigger emporiums, you may find many beautiful works on display. The main shopping areas of the city are located (but not limited to) in the vicinity of the Taj Mahal, Sadar Bazar, Raja-ki-Mandi, Munro Road and Kinari Bazar. From wherever you may buy, a little bargaining would be in order as generally the sellers quote higher prices. It is suggested that buying should generally be done at government owned emporiums or at least from the shops approved by the government's tourist departments. Most of the tourists intuitively buy a piece of miniature Taj Mahal and if you search carefully you would surely find one which may be of your liking. Apart from taking some buys as souvenirs, you may also taste a special vegetable and sugar based sweet called petha.
Maps and transportation
[
]
Getting to Agra
[
]
Exploring Agra
[
]
Practical information and resources
[
]
Currency: Indian Rupee
Electric supply: 220 Volts
Language: Hindi and Urdu. One can also manage with Simple English.
Restaurants
[
]
Text with links to user-reviews on other pages
[
]
Nightlife
[
]
Perhaps there is no nightlife in the conventional sense in Agra except visiting few pubs and still fewer discos at selected hotels. The Clarks Shiraz is well known for its Mughal Bar whereas Howard Park Plaza has a bar and a floating restaurant.
However, the real charm of Agra's nightlife is watching the Taj Mahal during the moonlit nights, particularly on the night of the Full Moon - this present a shining spectacle of the magnificent Taj Mahal, a white marble love story of a Mughal emperor for his most favourite wife. The Taj Mahal has recently been opened for such a watch after being closed for almost two decades.
Photo gallery
[
]
Everything else
[
]
Got something to say that doesn't fit in the other sections of this page? Add it here!
External resources
[
]
Add links to other sites here