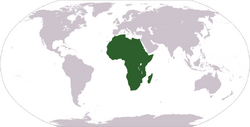 Africa may not be the largest continent in the world, but it is definitely one of the most diverse regions on the face of the earth. It is surrounded by highly acclaimed sea ports such as the Red Sea and the Suez Canal on the northeast, the Mediterranean Sea on its northern area, the Atlantic Ocean on its western hemisphere, and the Indian Ocean on its southeast portion.
North Africa is known for its ancient mysteries and historical sites that abound in Egypt, Tunisia, and Morocco. Apart from the mummies and pyramids, travelers go all the way to Egypt to see the Sphinx, Luxor, and the Nile River. Some adventurous travelers also love to experience and witness Africa's ancient traditions such as
On the other hand, Morocco is popular for its flea markets. The best collections of rugs, carpets, and jewelries may be found in Marrakesh and Casablanca cities. For an infinite view of the desert, Tunisia is often hailed as one of the best destinations to visit.
In West Africa, diversity is not just a legend, but it is also a common reality among its people. Countries in this western region of Africa are popular for their relics, artifacts, and ancient art pieces that are as old as 4,000 years. Travelers are enchanted with the region's famous attractions such as the trail of mosques, sandstone villages, and colonial fortresses.
Meanwhile, East Africa also boasts of pristine views for nature lovers. The best safari adventures are usually held in Tanzania and Kenya, while the rich flora and fauna are usually seen in Mt. Kilimanjaro, Uganda, and Madagascar. A myth also suggests that the culturally enchanting Ethiopia is where the Ark of Covenant all started.
Thriving with the modern spirit, Cape Town and Johannesburg are home to the rich heritage and flourishing civilization of South Africa. Wine-tasting], safari tours, and wildlife hunting are among the life-altering adventures travelers will surely enjoy in Africa.
Hotels and lodging
Edit
When speaking of Africa, your mind will surely entertain the idea of a challenging but fun-filled safari getaway. Seeing a cheetah roam across Zimbabwe's wide landscape and riding a helicopter to admire the grandiose Victoria falls are just a taste of the exotic adventures that can only be enjoyed in Africa. But aside from these exotic thrills, Africa also boasts of impressive hotels that give home to many tourists after a long day of relentless escapades.
South Africa
South Africa offers diverse entertainment, from exotic wildlife experience to modern-day shopping galore. More often than not, your choice of hotel usually depends on the type of enjoyment you wish to have. If you want to enjoy the city side of South Africa, you have to get a hotel located in Sandton, the South African business and financial center. Sandton Sun and Towers Inter-Continental Johannesburg is a highly recommended tourist hotel because of the shopping centers and wide array of cinemas, restaurants, bars, and banks that surround this resting place. Just 30 minutes away from Johannesburg International Airport, this hotel is also perfect for travelers who aim to be at the heart of the transportation system in South Africa. South Africa itself is perfect for safari holidays as well as safari beach holidays, an increasingly popular form of honeymoon and holiday.

Meanwhile, modern leisure and nature's beauty can all be enjoyed at the same time if you are staying at Holiday Inn Waterfront. Located near the well-known Victoria and Alfred Waterfront, the hotel room provides a breathtaking view of the Atlantic Ocean and the flat-topped Table Mountain. It is also a great place for fun-loving tourists who wish to have a great time at famous bars such as the Alba Lounge, Quay for Tavern, and Mitchell's Scottish Ale House and Brewery.
North Africa
One of the most visited places in North Africa is Egypt. Known for its majestic ancient civilization, Egypt promises manifold historical sites to many tourists. Four Seasons hotel, which is located in Cairo, offers a window view to many of these historical places such as the world-renowned Great Pyramids, the River Nile, and the botanical gardens. More than having these scenic views, Four Seasons is also near popular tourist attractions—three miles away from the North Egyptian Museum and six miles away from the Pyramids of Dahshour.
On the other hand, tourists who choose to travel in Morocco usually stay at the Dorint Atlantic Palace. With grand leisure facilities like fitness centers, tennis courts, a salon and a golf course, this hotel assures you of a relaxing stay in Morocco. Located in Agadir, Dorint Atlantic Palace is one of the many hotels in Morocco with easy access to many tourist attractions. It is 500 meters away from famous Moroccan shopping centers and 300 meters away from a private resort.
East Africa
Hotels in East Africa are windows to the grand African scenic attractions. Situated at the border of Uhuru Park, Hotel Inter-Continental Nairobi has an extensive view of Kenya's magnificent landscapes. It is only a few minutes away from the city center where you can find the theaters, restaurants, bars, and cafes.
Sheraton Dar es Salaam, meanwhile, offers you a glimpse of the many wonders embedded in Tanzania. Looking at the tranquil Indian Ocean, the zestful city center, and the coastal scenery from your hotel room can make you appreciate Tanzania at its best. There are many fine hotels in Tanzania, such as the Sheraton Dar es Salaam, which has a splendid view and has two Indian restaurants that serve terrific dishes in buffet and a la carte.
West Africa
Benin Marina Hotel is a good choice for those who seek to integrate business and leisure. It has conference rooms and facilities that can be used to carry on business functions during the day. Located near the sea, this West African hotel provides an environment for fun and relaxation. Live bands and dances, various pleasure trips, and theme dining by the pool are some of the delightful activities offered at Benin Marina.
But should you prefer to hide from the hustle-bustle of the metro, you may seek refuge at Bijilo Beach Hotel. The breathtaking sites provided by this hotel is ideal for business getaways and a tranquil seaside experience. It is located near the airport, the coastal road, and just a walk away from the forest park. So when in the mood to relax and have a quiet time by the beach, Bijilo Beach Hotel offers the best value for both leisure and business trips.
Attractions
Edit
Hotel ,Travel , I-Travel , Airlines , Tour, Trip , Motel , Cruise , Last Minute , Online Booking , Holiday , At Travel , Cheap Travel , Budget holiday
Most Trusted online Booking on the web
Maps and transportation
Edit
Getting to Africa
Edit
Exploring Africa
Edit
If you have explored Africa, intend to explore Africa or are currently exploring Africa, have a look at the wysiwig wiki epicjourneys, it is new and could do with more overland routes, suggestions and stories. Add yours.
Practical information and resources
Edit
Restaurants
Edit
Text with links to user-reviews on other pages
Edit
Nightlife
Edit
Photo gallery
Edit
Resources
Edit
http://www.nationalgeographic.com/traveler/extras/planner/africa/africa_south.html URL Accessed 27 June 2007
http://www.nationalgeographic.com/traveler/extras/planner/africa/africa_east.html URL Accessed 27 June 2007
http://www.nationalgeographic.com/traveler/extras/planner/africa/africa_west.html URL Accessed 27 June 2007
http://www.nationalgeographic.com/traveler/extras/planner/africa/africa_north.html URL Accessed 27 June 2007
http://en.wikipedia.org/wiki/Sandton URL Accessed 16 July 2007
http://www.hotelstravel.com/cgi-bin/tnsite.cgi?id=172652 URL Accessed 16 July 2007
http://www.southtravels.com/africa/morocco/dorintpalace/index.html URL Accessed 16 July 2007
http://www.waterfront.co.za/eat/pubs_taverns_bars/ URL Accessed 16 July 2007
http://www.jambokenya.com/jambo/location/nairobi.htm URL Accessed 16 July 2007
http://www.benin-marina.com/english/index_benin_marina_hotel.php URL Accessed 16 July 2007
Everything else
Edit
Got something to say that doesn't fit in the other sections of this page? Add it here!
External resources
Edit
Add links to other sites here
Community content is available under
CC-BY-SA
unless otherwise noted.