Afghanistan (official name: the Islamic Republic of Afghanistan) is a landlocked country of Asia. Although it is generally considered as forming part of Central Asia, it has close linguistinc and geographical links with some of the countries of South Asia and the Middle East. The literal meaning of Afghanistan is the land of the Afghans. Its capital is Kabul and its population is 29,863,000 (estimated: 2005). For centuries it had remained a closed countries though armies have passed through its territories to invade the lands on the plains of the Indus Valley of Pakistan and onwards to India. In the process, it has also faced many wars.
Hotels and lodging
Edit
Attractions
Edit
Afghanistan is an ancient country located at the cross road of Asia, and for ages caravans of merchants and armies of the invaders have passed through the lands of Afghanistan. It is natural that the country has some special places of historical significance, apart from the natural beauties which the landscape of Afghanistan has to offer. Some of the important sites of Afghanistan interesting from the point of view of the tourists and visitors are:
Cultural Landscape and Archaeological Remains of the Bamiyan Valley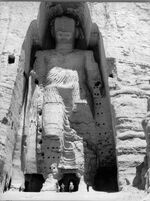 This is a UNESCO-identified World Heritage Site in Afghanistan. While declaring the site as a World Heritage, the UNSECO has declared: "The cultural landscape and archaeological remains of the Bamiyan Valley represent the artistic and religious developments which from the 1st to the 13th centuries characterized ancient Bakhtria, integrating various cultural influences into the Gandhara school of Buddhist art. The area contains numerous Buddhist monastic ensembles and sanctuaries, as well as fortified edifices from the Islamic period." The site witnessed destruction at the hands of the militant forces of Afghanistan in March 2001, and attracted worldwide criticism. Still after the destruction, the place continues to have many archeological and other remains of great importance.
Minaret and Archaeological Remains of Jam
This is also a UNESCO-declared World Heritage Site in Afghanistan, and the UNSECO has described its importance in these words: "The 65m-tall Minaret of Jam is a graceful, soaring structure, dating back to the 12th century. Covered in elaborate brickwork with a blue tile inscription at the top, it is noteworthy for the quality of its architecture and decoration, which represent the culmination of an architectural and artistic tradition in this region. Its impact is heightened by its dramatic setting, a deep river valley between towering mountains in the heart of the Ghur province."
While in Afghanistan, you should try to see both the World Heritage Sites, and both are in danger of further damage.
Maps and transportation
Edit
Getting to Afghanistan
Edit
Exploring Afghanistan
Edit
well Afghanistan has close historical links with both paksiatn and kashmir.
Practical information and resources
Edit
Currency: Afghani (Af) (AFN)
Time zone: (UTC+4:30)
Languages: Pashto & Persian (Darī)
Restaurants
Edit
Text with links to user-reviews on other pages
Edit
Nightlife
Edit
Photo gallery
Edit
Everything else
Edit
Got something to say that doesn't fit in the other sections of this page? Add it here!
External resources
Edit
Add links to other sites here
---
Popular Countries:
China
,
Japan
,
India
,
Singapore
,
Thailand
Asian Countries
Afghanistan, Armenia, Azerbaijan, Bahrain, Bangladesh, Bhutan, Brunei, Cambodia, China, Cyprus, East Timor, Georgia, India, Indonesia, Iran, Iraq, Israel, Japan, Jordan, Kazakhstan, Kuwait, Kyrgyzstan, Laos, Lebanon, Malaysia, Maldives, Mongolia, Myanmar, Nepal, North Korea, Oman, Pakistan, Palestine, Philippines, Qatar, Russia, Saudi Arabia, Singapore, South Korea, Sri Lanka, Syria, Taiwan, Tajikistan, Thailand, Turkey, Turkmenistan, United Arab Emirates, Uzbekistan, Vietnam, Yemen
Community content is available under
CC-BY-SA
unless otherwise noted.